The New York Jets have arrived in Cortland, NY for the start of training camp looking to turn over a new leaf after the 8-8 finish last season. Rex Ryan has vowed that he is done making guarantees after learning his lesson last season. The attention will be non-stop for this Jets team after acquiring Tim Tebow in the offseason.Mark Sanchez is saying all the right things about Tebow. Darrelle Revis has also elected to show up to camp on time to avoid any contract controversy. This Jets team has a lot to prove and their head coach is more motivated than ever to prove his critics wrong. Here's the Jets trio at the start of training camp on ESPN New York.(Photo's Courtesy of Ryan T. Hurley of 98.7 ESPN New York)Mark Sanchez joined ESPN New York with The Michael Kay Show to discuss Tim Tebow not being a distraction for the New York Jets this season, Tim Tebow being a threat to his starting job and not being upset if Tim Tebow is brought in for goal line packages to score touchdowns.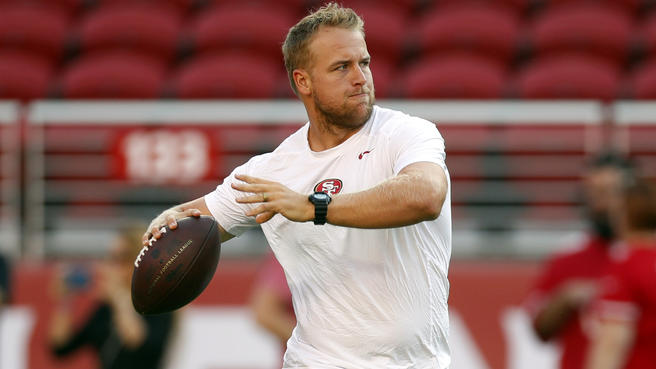 Let's talk about the elephant in the room: Mark Sanchez vs. Tim Tebow. Is that going to be a distraction?"It would be real weird if we were married? No, it's great. He's a huge help for our team. He's a hard worker and he pushes everybody. He's fun to have around. He's great in the meeting room. He's sharp. He really understands the system and he's going to help out on special teams. He's going to help out on offense and if we need him to play defense he'll do that too." Do you consider Tim Tebow a threat to your starting job?"I am not worried about that. I know I am the quarterback. I feel comfortable in my role. I feel confident in my role. It's my job to lead these guys and Tim's here to help just like we are all here to help each other."Would you be upset if the offensive coordinator brings Tim Tebow in the red zone to score?"Look we need to score. Whatever it takes. [Michael Kay: No ego at all?] No. None at all. Think about the running backs that do that all the time.
We rush the ball eight times in a drive and complete one pass on a 'roll out' touchdown or Shonn Greene takes us down to the 1-yard line and I ran it in with a keeper last year or we get down to the 5-yard line and we did one of those quarterback draws. How many of those did we do? If I was Shonn Greene and I had a big ego? I'd be mad, but it's not that way. You see the way the guys celebrate in the end zone and how excited we are? That's the same way it would be."Listen to Mark Sanchez on 98.7 ESPN New York hereRex Ryan joined ESPN New York with The Michael Kay Show to discuss Tim Tebow not being a distraction to the Jets, learning from last season's failures and being humbled last season in not making the playoffs.Will there be a distraction with Tim Tebow?"Well again I guess it may be a distraction to some people, but I don't think it will be to us. I really don't. I think we are so focused on winning and building a football team.
I don't feel like we will be distracted. Now how it will be played out in the media may be a lot different."How have you changed as a coach since you came here?
"You can't buy experience. That's for sure. Some of the things we went through quite honestly as a team last year I had to learn from. You just can't make assumptions. You go to back-to-back AFC Championship Games. You have a close group. They feel great about each other and all that type of stuff, but you don't just stay at that level. You go back to ground zero again and I think that's something where I learned from."Were you humbled last year?"I was humbled a little bit. When you don't even get into the playoffs it's humbling. There's no question about it. I came here to win and be special. We feel short last year, so humbled a little bit? Yeah. But I can tell you one thing: More driven. Cause I am about as driven as a person is, but I know what I want and we are going to go get it this year."