Brandon Marshall Is Maturing On And Off The Field, Believes Bears Have Established Their Identity
The Brandon Marshall you are seeing line up for the Chicago Bears on Sundays is very different from the one you saw on the Denver Broncos and Miami Dolphins. He even admits to it. The game was completely different for the wide receiver five years ago and having Borderline Personality Disorder has changed who he has become as a football player.Marshall is humbled by the game of football and has become a student of the game. The Chicago Bears' No. 1 wide out looks to steal the show on Monday Night Football against the Detroit Lions.Brandon Marshall joined 670 The Score (WSCR) in Chicago with The McNeil and Spiegel Show to discuss being a vital weapon on the Chicago Bears offense, the Bears knowing the identity of their football team, maturing both on and off the field, turning around his image and being excited to play the Detroit Lions on Monday Night Football.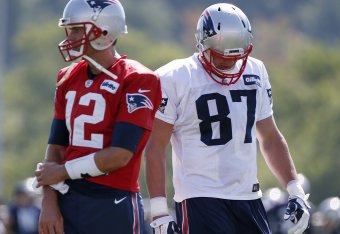 The threat of having you on the field has an effect on the offense and the opposing defense. Have you noticed that?
"Yeah it's the same for any great player or good player. When I look at Matt Forte and the things he's able to do, it makes my job easier. When he's going and he's running, I think two of my longest plays has been when teams loaded the box up to try to stop him and Michael Bush, so whenever you have a good player, teams are going to try to take him out and it's the same with me. When I'm making plays, teams are trying to double team me or roll coverage to me and that leaves one-on-one matchups all over the place, so it's always good when we can play off each other."
Do you guys know who you are as a football team yet?
"I think we do. We do. I think we definitely know who we are. We know where we are headed and where we want to go. We know where we are not. We are excited about our position right now. We still have a bunch of games left, so we have to stay focused and continue to gel together and get better. I think we are a team that has a great defense, possibly the best defense in the business, and we have the offense that is capable of really being explosive. But with a defense like that, we just need to play off of each other, so when a defense is playing well and getting us the ball in key positions, we have to capitalize on those opportunities. So we have a team that feeds off each other."
The way you talk about playing football and life is refreshing to us. Would you have been able to talk about football this way five years ago? Would you have been able to talk about your role on an offense and be accepting this way five years ago?
"Five years ago, I didn't know what conference I was in, probably. When you go back that far, the game was different. It was definitely different for me. I was seeing a lot of one-on-one coverages and we were out there just throwing it all over the place. Now, we have to be smarter. The looks that we're getting, the disguises, you have to be a student of the game. It doesn't matter how talented you are, if you're not a student of the game, you're definitely going to fail. I think the things you guys are hearing from me is just a maturity — learning the game more, learning the business and understanding the business more — so it's also refreshing to me to see the growth in myself and the guys around me."
You've been working very hard to turn around your image. Where does that come from?
"No, I don't agree with you when you say 'image,' because a lot of times people try to do damage control. When you say, 'clean up your image,' a lot of times that's fake. It's not a transformation. It may be a change on the outside, but it's not a transformation on the inside. For me, there's so much to life. There's so much to enjoy. There's so much family and friends to enjoy. When you're not in a good place mentally, it can create a lot of chaos and leave you sometimes just really down. Life passes you by, so for me, a lot of my inspiration comes from my wife and also my lord and savior Jesus Christ. I gave my life to Christ over a year ago and since then it hasn't been easy, but I tell you man, my spirits is in such a better place."