After Frank Gore Injury, Brian Westbrook Delivers in Big Way For San Francisco 49ers
Reason No. 1257 to love the NFL. Veterans left for dead by their previous team, the media and perhaps even their new current team providing a huge lift when finally given an opportunity to contribute.  Long-time Philadelphia Eagles running back Brian Westbrook, now with the San Francisco 49ers, had that type of moment this past Monday night when he filled in for the injured Frank Gore during San Francisco's much-needed and convincing win over the Arizona Carindals. Westbrook, who the Eagles allowed to walk this past offseason, had just five carries heading into Week 12. All Westbrook did against the Cardinals was amass 136 huge rushing yards and one touchdown on 23 carries. With Gore shelved for the year with a hip injury, the onus now rests on Westbrook to carry the load from the backfield for San Francisco as they try to climb back into contention after an 0-5 start. Despite sporting an ugly 4-7 record, the 49ers are more than in the hunt, trailing NFC West leaders Seattle and St. Louis by a mere single game heading into the final five weeks of the season.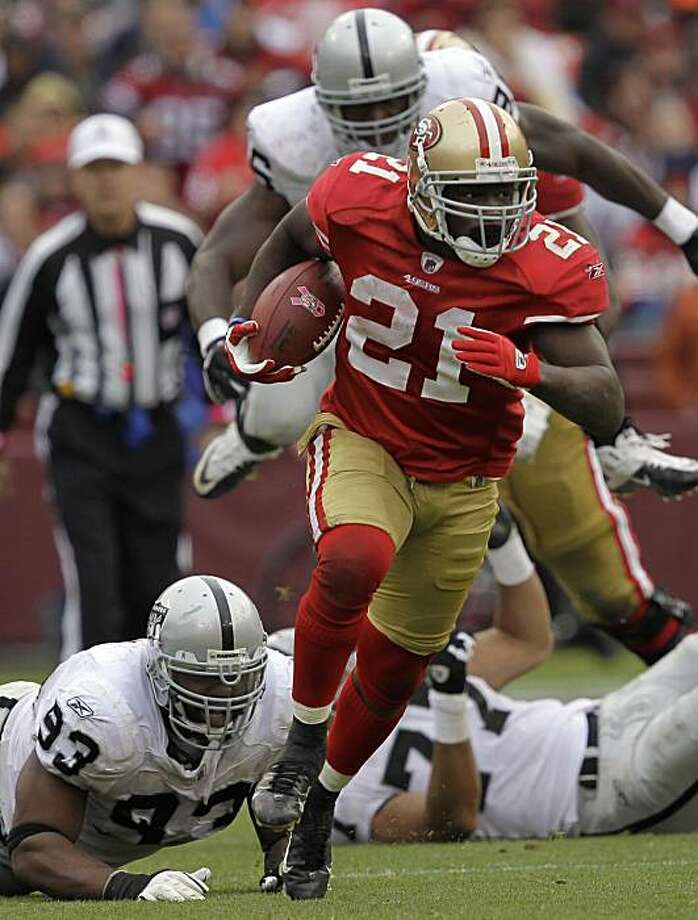 Westbrook joined KNBR in San Francisco to talk about getting the opportunity to contribute after having only having a handful of carries through the team's first 10 games, how much it may or may not have bothered him to be doubted and seemingly given up on this past year, his thoughts on loyalty in the NFL from both the team and player perspective, how he thinks nothing but the utmost respect and appreciation for Donovan McNabb the person, competitor and teammate, how he thinks McNabb's steadfast refusal to point fingers has caused him to be portrayed so negatively in the press, his thoughts on the 49ers maturation as a team in terms of being able to close out games, and if doubts ever started to creep into his mind about whether or not he could still produce while waiting so long for an opportunity to play.
On getting the opportunity to contribute after having only having a handful of carries through the team's first 10 games:
"Yeah I didn't really have a lot of opportunities last night, but I wanted to make sure I made the most of my opportunities last night. The offensive line did a great job of blocking, as well as the fullbacks, tight ends and receivers and we got it done."
On how much it may or may not have bothered him to be doubted and seemingly given up on this past year:
"Well it's definitely disappointing not getting to play and not getting  into the games like you want to, but I've said it so many times – Frank has meant so much to this team, and it's hard to get the guy off the field because he means so much to the team and to the game. Unfortunately he was injured, now I just have to make the most of my opportunity now."
On his thoughts on loyalty – how much is out there on both sides, whether or not he thinks it's as important as some make it out to be, etc.:
"I think in a perfect world, everybody would be loyal, and everybody would spend their career in one city and never would leave. But I think the truth of the matter in the NFL right now with free agency and everything else is it's hard for one player to stay in one place for his entire career. I think the team is constantly trying to look for younger and better, as well as a little bit cheaper, so that's the battle that a lot of older guys face. A lot of teams aren't upgrading, it's just they're taking a cheaper guy. So as veterans, you have to find a way to make a team. And you're kind of fighting an uphill battle, because no matter what you do, they don't want you because you're an older guy and probably cost a little bit more money than the younger guys do."
On what he feels comfortable sharing about Donovan McNabb – the type of person he thinks he is, teammate, and whether or not he's deserving of all the endless criticism he receives:
"Well I think Donovan is a great guy. I think highly of him, and I still talk to him to this day. He took me under his wing when I was in Philly and I definitely appreciate that. I think just because of his personality, he's not going to be the one to point the finger; he's not going to say it's someone else's fault, he's always going to take the blame. Unfortunately guys in the media, guys on the outside, always want to start a controversy. They always want to say this was his fault, and it was his fault, and Donovan's never been the type of guy to say it's been anybody else's fault other than his, whether it was his fault or not. So a lot of times when you don't go along and agree with what the media wants you to do, they paint you in a certain light and they take their shots at you, whether they're valid points or not. Donovan, you can't argue with his stats the things he's done in Philadelphia. I'm pretty sure he's their best quarterback in the history of their organization, and his stats speak for himself, Super Bowl appearance, Conference Championships, things like that. So, when I think about getting rid of a quarterback that's the best one ever in the history of your organization, I find it hard to get rid of Donovan McNabb."
On if he thinks the 49ers are close to knowing how to close out games:
"Well I think it's something that this team is learning. And no team just knows how to do it at the NFL level without people being around them telling them how to do it, teach them how to do it.  This team is learning how to do those things. For us, we've just got to be consistent. You see with a lot of young teams, there's a lot of ups and downs. And that's what our season has been – a good game followed by several bad games. And the good teams, when you watch them, they don't make the same mistakes twice; they don't go out and celebrate a win like it's the Super Bowl…unless it's the Super Bowl. Every win is one of 16 wins, and every loss is one of 16. So you have to respect it for what that is, then you have to go out the next week and prove yourself again."
On if he ever started to doubt whether or not he could still produce:
"Well, I have confidence in myself, and I have confidence that I can go out there and get things done. I think proving it to the team, I think more so anything, proving it to the coaches as well. But I've seen myself and I know the feeling I have when I know I'm ready to go out there and play. I've had the feeling all season long, and now I'm just going out and proving it to the guys around me…"