Tom Coughlin States That Osi Umenyiora Will Have A 'Heck' Of A Year, Won't Give The Eagles Chalk Board Material
by Steven Cuce
It has been a dreadful off-season for the New York Giants. First the lockout occurs. Then after the lockout finally ends the team decides to cut 40% of the starting offensive line by letting go of Shaun O'Hara and Rich Seubert. Osi Umenyiora has been sitting out because he is not happy about his current contract where he was being overpaid on a front-loaded deal a few years ago and now wants to be traded because he is somehow underpaid. The Philadelphia Eagles have signed free agent after free agent. Plaxico Burress signed with the New York Jets. One of Eli Manning's favorite targets, Kevin Boss, elected to sign with the Oakland Raiders. This year's first round selection, Prince Amukamara, broke his fifth metatarsal bone in his left foot and will need to have surgery in only his second practice of training camp. To top it all off after talking with the New York Giants wide receiver Steve Smith decided to sign on with the Philadelphia Eagles believing they would give him more playing time.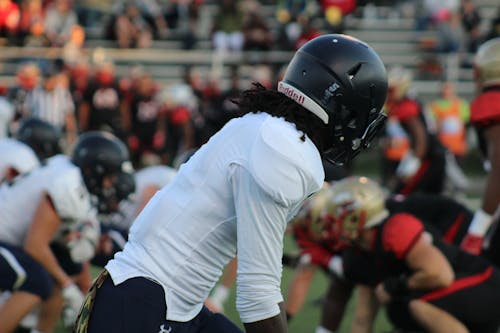 The G-Men have never been about being flashy and this organization has always seemed to bounce back in times of adversity, so I'm sure Tom Coughlin isn't sweating the tough start of training camp thus far. Coughlin was very short and thorough in the following interview with ESPN New York, but is emphatic that his team must learn one thing before this season, which is turn the ball over less. New York led the league in takeaways, but also lead the league in turnovers. Coughlin is confident that he can stop Ahmad Bradshaw's fumbling issues and that Osi Umenyiora will give the Giants all he's got despite sitting out the last two weeks.
[Photo courtesy of the official Michael Kay Show Twitter Page]
Tom Coughlin joined ESPN New York with the "The Michael Kay Show" live at Giants Training Camp to discuss the difficulty of adapting to the new practice rules of no two-a-days, why Eli Manning struggled so much last season, helping Ahmad Bradshaw reduce his fumbling woes, Osi Umenyiora's playing effort changing at all stemming from his contract dispute and the New York Giants being on the same level as the Philadelphia Eagles going into week one of the 2011 season.
How difficult has it been for the coaching staff to deal with the new practice rules? What is it like having no two-a-days?
"I tell you , once you start taking the segments of what you have been dealt with and once you get over the fact that yeah you are not going to have two practices a day or even a 2-1-2 as it became for most of us over the last few years…Once you analyze what you have and what the rules are going to allow you to do, to be honest with you Michael [Kay], you spend a ton of time in meetings and in jog-through, walk-through type of things with practice being probably the least thing you do. You only got probably a two-and-half hour, we  stretch to maybe two-and-half hours, but the majority of the time is spent in meetings and jog-through and walk-through. Now they are not full speed and that is the problem, so you do have to somehow someway catch up to yourself here, but it is going to take a little time."
Why do you think Eli Manning struggled so much last season throwing the football? Did he force the issue last year?
"I don't know that I would agree forcing the issue. I think if you looked at the beginning of our season there was the tipped balls that plagued us for quite awhile. We had one out here today and this afternoon. I think it is important for everyone to realize when you are putting a team together that sometimes to punt the ball is not a bad thing. Now it's an atrocity to turn it over. This is just a part of the learning experience. You remember in 2008 we set the all-time record for the fewest turnovers in the NFL since beaten by the Patriots a year ago. Miami and the Giants tied it in 2008, but we do know how to take care of the ball. Last year was a terrible year from that standpoint and if you would have told me we would lead the league in takeaways and lead the league in giveaways I probably would have told you that you were crazy, but we did."
You turned around Tiki Barber's career by having him switch the way he held the ball. Can you do the same for Ahmad Bradshaw this year?
"I think so. He hadn't had a real problem. When he does have problems normally it's the drive to gain extra yardage. What happens is when you get into that centrifugal force thing if you don't hold the ball close to your body, if your arm comes off your body in any way those other people are coming looking for the ball. I'm hoping by studying himself last year as we go into this year that we can straighten that our with Brad."
Do you worry that Osi Umenyiora won't go as hard for this football team this year because they didn't care of him financially?
"I don't think that is that young man. I think he has made the decision. I think he is coming on the field and I think he is a great competitor and really an outstanding player. He knows that he fits our team very, very well and we need him and that we want him. I've seen it these last two days just the way he has worked on the field against Will Beatty and I remember when Beatty first got here how he sort of allowed Will to grow up by having to try to pass protect against Osi, so I think we are going to get a guy that's committed to his teammates and his team and is going to give us a heck of a year."
What do you think of your team? The Philadelphia Eagles made a ton of big signings this off-season. Are you guys on that level?
"I think we are a good football team. I think we have every opportunity to be a better football team and certainly ten wins last year and let the chips fall where they may."