The Trail Blazers Are Playing Great Heading Into the Playoffs
The Portland Trail Blazers are one of the hottest teams in the NBA right now and are in a tough playoff race for the last three spots in the Western Conference.  On any given night, Portland, Oklahoma City and San Antonio can fluctuate from the sixth, seventh or eighth spot because they all have the same 48-30 record.  The Trail Blazers had to win fourteen of their last seventeen games just to get to the position they are in now.  With this torrid pace, you just have to wonder if their legs are going to give soon.  Although a playoff race is good for basketball fans to watch, it is not particularly fun for teams that are in the thick of it and need rest.  Due to the injuries Portland has had to deal with this season, they are in desperate need of some rest before the playoffs start.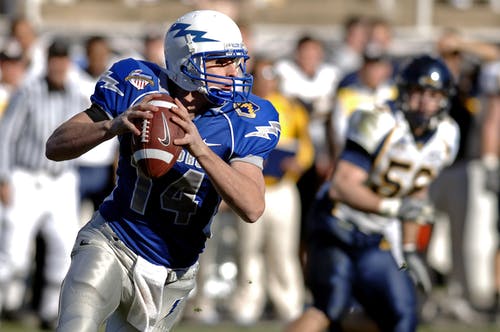 They lost both of their big men, Greg Oden and Joel Przybilla, for the season in December, Rudy Fernandez for an extended period, and Brandon Roy has been nursing a bum shoulder all year.Their schedule doesn't get any easier as they have a game left with Dallas at home, a road game against the Lakers, and then they head home to finish out the regular season against the Oklahoma Thunder and the Golden State Warriors.  If I were a fan of a Western Conference team, I would be scared to play the Blazers in the first round of the playoffs.  They have weathered the storm of an up-and-down season and that could come in handy during an exhausting seven-game, first-round series.LaMarcus Aldridge joined 1080 The Fan in Portland to talk about the difference in this year's playoff run vs. last year, whether there is a team that they would most like to play, and whether there is some sort of confidence they have against Dallas due to beating them every time this season.
The difference in this year's playoff run vs. last year:
"I think first of all the race to the playoffs are close and we feel like every game is important because you could fluctuate from sixth to eighth and I think being six or seven would be better being closer than a five seed or something like that.  We feel like every game is important to us right now.  We are just trying to find our rhythm so we can go into the playoff with rhythm."
Whether there is a team that they would most like to play:
"I mean I think people are saying that if we get Dallas we should be able to win that one easily because we have beat them three times this year and we have them tomorrow, but the playoffs are different.  Teams plays differently.  They are a good veteran team.  They have a lot of players that have been there.  We don't feel like the season is going to dictate any series so we don't really have any favorites you know playing anyone."
Whether there is some sort of confidence they have against Dallas due to beating them every time this season:
"I don't think that we feel like we can't beat anyone because I think every team that we end up playing, we beat or we should have beat, I say we should have beat because we were up by twenty-something on Utah and we kind of melted down and things went crazy for us,but we feel like every team that we could end up playing right now, we beat or should have beat.  It is really not us wanting to get Dallas or wishing for any team.  It is just on us for us to be ready to play."
What he thinks helped the team stay together the whole season:
"Well I think just having so much depth.  I think when the season started everyone said that guys are not going to play, how are guys going to fit in, you have so much depth.  They said that we were one of the youngest most talented teams and I think the issue came up now whether guys are going to play, now we need you.  We lost Greg, we lost Joel, we have Juwan Howard, a sixteen-year vet.  He steps up and plays a lot of baseball.  Brandon goes down, we have Fernandez and we have Bayless, so I think having all of these pieces and guys ready to play and guys that can play…"