Kaylie Reeves, Bartender To Big Ben On The Night Of His Alleged Incident, Shares What She Knows About Last Thursday Night
by BunkThe court of public opinion may have spoken, but the bottom line is there's going to be quite a bit of time until we know more about what happened last Thursday night in the college town of Milledgeville, Georgia with Ben Roethlisberger. Big Ben is dealing with his second legal related road block in a year after he was accused of sexually assaulting a 20 year old in a bar bathroom last Thursday. Before Roethlisberger arrived at the bar where the alleged incident took place, he stopped off with an entourage of seven friends (and maybe fellow teammate(s)?) at a neighboring bar to take in the Pitt hoops game. His server there was Kaylie Reeves, a college student at the same institution where the alleged victim is enrolled – or was enrolled I should say if you are to believe recent reports that she's returned home and withdrawn from school for the time being.Reeves joined Joe Bendel on 970 The Fox in Pittsburgh to talk about what it's been like in the small town of Milledgeville (population ~20,000) since last Thursday, how there doesn't seem to be a general consensus around town about Big Ben's guilt or innocence, how Big Ben and his crew were more or less calm and unassuming while at her establishment, and how the throng of people who wanted to get a glimpse and piece of Big Ben swelled once he left her place of employment to go continue his night elsewhere.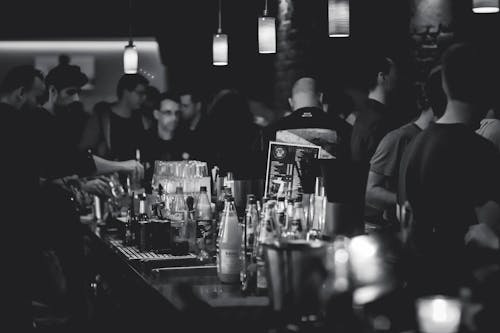 On what it's been like in the usually quiet town of Milledgeville since the alleged incident occurred last Thursday:

"Well there's been news cameras all over the place. That's been interesting for our very small town, but other than that, not much has changed"
On if there seems to be a consensus around town about whether or not Roethlisberger was guilty of any criminal wrongdoing:
"I think there's opinions on both sides – that it did happen, and that it didn't happen. There's not necessarily one overall opinion."
On what she noticed, if anything, about Ben Roethlisberger's behavior during the time she saw him in her establishment:

"Well he came in between 10:30 and 11. It was the early hours when there was maybe 10 patrons in the bar at that time.  He walked in with him and 7 other guys; they all got drinks, they sat at a table and watched the basketball game. They were here for maybe 15-20 minutes, finished their drinks, then they were on their way – before anyone had become aware that he was in town. Then once people became aware, there's large windows in front of our establishment, you could see the people rushing to the bar that he was at."
On if she noticed whether or not Big Ben was traveling with fellow Steelers players:
"Well they were all really large guys. You could tell they were probably athletes. People recognized who he was in the bar, then somebody said one of his linebackers was with him, but I don't know anything about professional football players except they're very large"
On if the town is shaken up over this and on if the community will at all struggle rebounding from the alleged incident:
"A lot of people thought it was actually comical, laughing about how Milledgeville has become this big deal just because of this one little incident. I don't think people are upset, we have been busier in our restaurant than we were previously before the incident. So that's helped our business, that's been a plus side of it."
Listen here to Reeves with Joe Bendel on 970 The Fox in Pittsburgh.