Hope Solo: "We'll be bringing home the Cup"
It was just four years ago when Hope Solo was last in the World Cup and was involved in one of ugliest controversies in the history of the U.S. women's national team. Four years ago, Hope Solo entered the World Cup tournament with a heavy heart after the passing of her father and dedicated the tournament to him. After beating out Brianna Scurry and leading the United States to the semifinals while posting three shutouts, the coach at the time Greg Ryan made the ridiculous decision to bench the red-hot backstop, the U.S. got routed 4-0, and lost their opportunity to capture the World Cup Championship.
After the loss Solo made some disparaging comments about Scurry and Ryan and she was dismissed from the team. She wasn't allowed on the bench for the third-place game, did not participate in the medal ceremony, and flew home on her own.This time around it has been a different story for not only her, but the women's national team as well. Solo has proven to be the best goalkeeper in the world and the Unites States is coming off one of the most memorable wins in World Cup history. Despite having to play with a player down for much of the match, despite having to overcome some incompetent officiating, despite having to overcome the Brazilians shenanigans and their flopping, the United States rallied to score a goal in the 122nd minute and send the match into penalty kicks. Then Solo stepped up and made the save of her life. And this time Solo's save on a penalty kick wasn't overturned by a ridiculous call by the ref. It was "the" save that sent the United States into the semi-finals and it also sent people in America into a frenzy.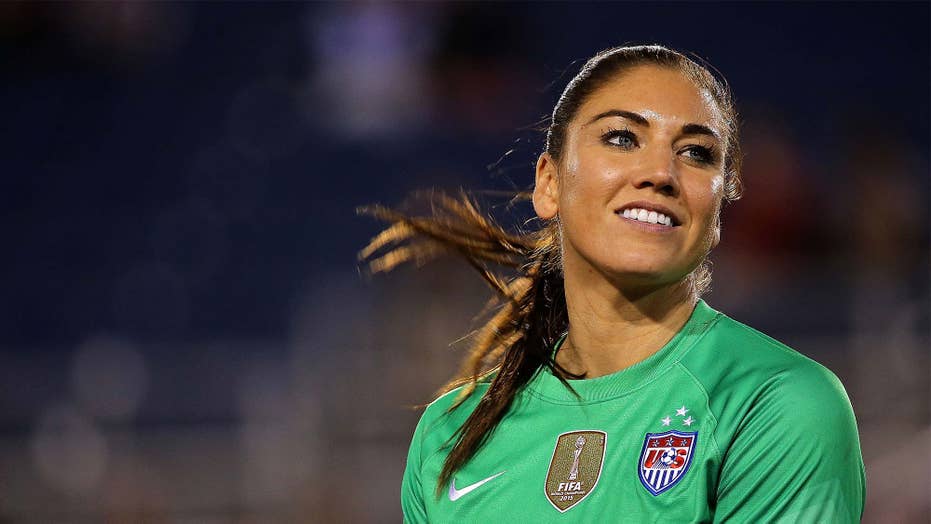 Four years ago in China, Hope Solo's World Cup experience was filled with misery, it was filled with controversy, and it ended with an early exit. Now Solo is just two wins from her World Cup redemption and maybe finishing the final chapter of her career with a storybook ending.Hope Solo joined The Jim Rome Show with fill-in host Dave "Softy" Mahler from KJR in Seattle to talk about whether or not she realizes how big the win was for the United States, how tough it will be stay focused on the remaining two games following such an incredible win, if she lost confidence after Brazil scored their second goal, overcoming what happened in 2007, and how tough it was for her to stay composed throughout the game with the poor officiating.
Whether or not she realized the magnitude of the win:
"I don't think we realized the magnitude of it until the day after. I'm starting to get told that LeBron James started tweeting about it and Tom Hanks. It's the NBA, it's the NFL, it's the celebrity fans, and it's all over the place. We had no idea. We're just taking care of business here in Germany and trying to get the job done. We have two more games to do it so for us it's getting control of our emotions and trying not to just remain in yesterday. We have to move forward."
On trying to move on after such an amazing win:
"I don't want to forget it. That was a moment in history. Never has that happened. Coming from behind, coming back from a man down, all the controversial calls, the officiating, the highs, the lows, and that's a moment that I never want to forget. I can tell you I took a moment to myself before the penalty kicks and I sat on the field and I took every aspect of what was going on around me. I just took it in, locked it in, and I will never forget that moment."
If she still believed to the very end that they could beat Brazil:
"I would've believed it. (Host: Come on!) I'm not lying to you. You know I'm as real as you're gonna find out there, but I'm not lying to you. I wasn't kidding myself. I knew that it may not be our destiny to win, I knew the clock was winding down, and I thought maybe it was not our time, but I did know that we were the best team out there and I did know that not one player lacked the confidence and the drive to find a way to win. Of course I knew that we were coming to the end of that third minute of stoppage time, but we were pushing. We were throwing people at the goal, we were throwing the ball into the six yard box, and doing everything we could to get Abby (Wambach) at the end of one of those crosses."
On moving on from what happened in 2007 and living in the moment:
"Absolutely. Everybody knows four years ago, everything that happened in 2007, I didn't get to enjoy the process, enjoy every step, enjoy the moment, enjoy the crowd, and enjoy that emotional side of the game and that was because I was grieving, I was grieving the loss of my father. You fast forward four years later and I took a moment to enjoy everything around me. The crowd, the energy in the stadium to see how far along women's soccer, women's sports has come, and you felt it. It's going to continue to grow and be even that much bigger way past my time. I feel like a part of it and it was a bigger moment than I could ever explain here on the phone with you but I had my moment and I enjoyed the process."
On keeping her emotions in check despite some poor officiating:
"I play with emotions. I play with intensity and passion. That can be a faulty line because it can go one of two ways. You can get too involved with the emotion of the game and not play, not continue your focus and not play to the best of your ability or you can manage those emotions. I found myself extremely overwhelmed with anger towards the ref, towards the Brazilians, the players, their antics, and their unsportsmanship. I found myself just incredibly angered, but I knew there was still a way to win this so I did everything I could to manage my emotions, to stay focused, to stay in the zone, and that's what I was able to do."
On her desire going beyond just the field:
"My entire career has been about playing for my family, playing to prove people wrong, playing for the little town of Richland, and I play for much more reasons than the game alone. Of course personally it's going to mean everything to me, to my family, to all the people that have supported my career along the way. With that said, this team, it's been 12 years since we brought the World Cup home. There's something special about this team and I do believe that this is the team to do it. We want to write our own storyline and we want to write our own destiny. To be honest we're tired of hearing about '99. It's time for a new team to come in here and make history."