After VCU's Magical Final Four Run, Shaka Smart Makes Wise Decision to Stay Put and Sign Long-Term Contract Extension with Rams
by Michael Bean
I'm like most of the sport loving country I enjoyed watching the Virginia Commonwealth Rams make an improbable run to the Final Four in this year's NCAA Basketball Tournament.  The Rams played an exciting brand of basketball, they had personable young kids that were easy to cheer for, and perhaps most importantly, their young charismatic head coach, Shaka Smart seemed like the type of young coach you'd be thrilled to have your young son go play for at college. With the praise out of the way — all of it sincere mind you — I do wonder if Smart is receiving a bit more credit than he's perhaps due for VCU's sensational streak during this year's March Madness. Again, don't get me wrong, he did a great job game planning, getting his team to believe in itself and play loose, and drawing up nice plays in key moments. But let's face it.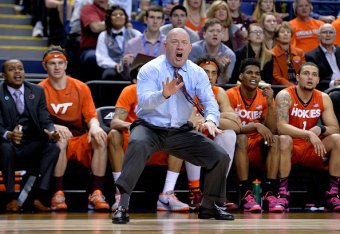 The Rams had four key seniors in their rotation that did far more than Smart did to help the team win an incredible five games en route to Houston and the school's first ever Final Four berth. In today's college basketball landscape, mid-majors with multiple senior contributors are going to have a great shot at making similar deep runs in the tournament so long as the traditional powerhouses keep seeing their rosters turn over year after year with 'one-and-done' departures.  That's why I think Smart was wise to sign a long-term deal to remain in Richmond as the VCU coach for the next eight years. Financial terms have yet to be disclosed, but you can bet your bottom dollar that Smart is now a multi-millionaire and secure financially for many moons to come. And so long as the rules presently in place remain unchanged, he'll have a great opportunity to keep his star bright as the head coach at VCU before potentially making a move to a bigger name school somewhere down the road.
Smart joined Ryen Russillo on ESPN Radio to chat about why he didn't watch any of Monday night's title game between Butler and Connecticut, whether or not he thinks it's common for coaches to avoid watching games after their team has been eliminated from title contention, what he thinks VCU's magical run to the Final Four indicates about the present and future state of college basketball, why he opted to sign a long-term deal to remain as the Rams head coach, how there's plenty of challenges there at VCU to keep him hungry, motivated and focused, and if his demonstrable excitement and passion on the sidelines as a coach carries over in any way to pickup games between players, coaches, or some combination of the two.
How much of Monday night's championship game did he watch:
"I caught none of it. When you're eliminated from the tournament, it takes some time obviously to get over the loss and it's a lot more difficult to turn on the TV and watch the next game."
So what did he watch on the tube last night instead?
"I watched nothing. I don't really watch T.V. other than basketball. So I took one of our staff members to dinner, it was his birthday. And I made some recruiting calls, and did not turn the T.V. on."
If he thinks it's common for coaches to not want to watch games after their team is eliminated from championship contention:
"Just as a coach — and in no way am I comparing losing to death — but there's a grieving process that you go through and you have to kind of work through it. The fact that you lost and that your season is over with…..  And what you do is… it's no problem to turn on the T.V. and watch more basketball, but for us it's still pretty fresh. It's only been a few days."
On what his team's magical run to the Final Four indicates to him about the state of college basketball and what's possible for smaller programs these days and in years to come:
"Well I think what it does is it really indicates to our players and our coaching staff and similar programs, if you hang in there and battle back from adversity and setbacks and you have a very good season, you can put yourself in position to make a deep run in the tournament. And I didn't watch the game last night, there were some people in the office when I got in this morning that told me about the game, and I think that game last night probably was a lot like our game against Butler and all of our games in the NCAA Tournament — it indicates that the NCAA Tournament is all about who is better that given night. It's not about who had the better season or who had the better seed, or who has better players even or a better coach. It's all about which team over a 40 minute period is able to put together the better effort and game. And that's obviously a huge difference from other sporting venues like the NBA where you obviously play in a series."
On why he opted to sign a long-term deal to remain the Rams head coach for the foreseeable future:
"Well I just feel like we've got a great situation here at VCU, and we've got a lot of things that we're still excited about accomplishing even though we just came off of a Final Four run. The support here at VCU, led by Dr. Rao our President and Norwood Teague our athletic director, is phenomenal. And I feel like we're all on the same page in terms of what we want to do moving forward with our basketball program. My family likes it here, and my coaching staff is such a great support system for me and for our players. So I didn't see any reason to change that."
How closely did he look at the NC State job for example while assessing what made the most sense for his coaching future:
"That's not really something I want to talk too much about. But suffice it to say, I've never really wavered from my excitement about staying at VCU and being the coach here."
If a seemingly competitive guy like him isn't interested in finding new challenges at a different program:
"Well coaches have challenges at all levels. Certainly there's major challenges here; there's challenges wherever you go. So I don't need to go somewhere else to find a challenge. I mean, we lose four great seniors. There's a terrific challenge right there in replacing those guys. As I've said many times before, I view my job maybe a little bit differently. To me, it's all about how fast and how well can we develop our players as people, as students, and as athletes. And I really view everything we do through that lens. If we can be successful with 13, 14 guys on our roster doing that, then I really think the winning will take care of itself. But it's a phenomenal challenge wherever you are. And I happen to be at a school where I love our players and I love the people around our program. So I didn't want that to change."
Has he ever pulled a muscle coaching his team at any point defense (the question was asked as a reference to Smart diving after loose balls in VCU's Friday practice session in an attempt to get his team ready to scrap and fight during Sunday's Final Four game against Butler):
"I tell you what, that's a great question. We play staff basketball sometimes, and a few months back I tweaked my hamstring. I don't know if I pulled it, but I definitely injured it in some form. And it's never really gotten all the way better, so when I dove on the floor in Houston when we went through that charge and loose ball drill, I certainly could feel it in the hamstring. But it was something we had to do, something that got our guys excited, and I'm willing to sacrifice a hamstring here or there."