Aaron Rodgers Couldn't Sound More Relaxed and in Control as Leader of 2-0 Defending Super Bowl Champs
So far, so good for Aaron Rodgers and the defending Super Bowl champion Green Bay Packers. After not doing much of anything during the lockout, the Packers look like they may just be the right team to avoid the Super Bowl hangover and make a legitimate run at defending their title in Rodgers has looked great so far through two weeks. He was obviously spectacular in the season opener against the Saints, and in Week 2, though Cam Newton got plenty of the headlines, Rodgers again played tremendous in the Packers' 30-23 win over Carolina. He's completing over 70 percent of his throws, is averaging over 300 yards per game, and has yet to throw an interception through two weeks. Look out NFL. Green Bay isn't going anywhere this season.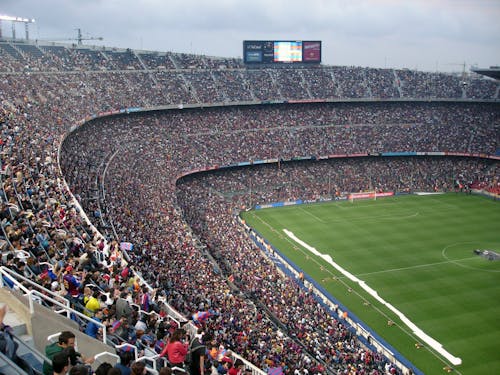 Rodgers joined WSSP in Milwaukee to talk about meeting Ric Flair recently, how the Packers' backup QB Graham Harrell was excited beyond belief, if there was a childhood hero of his that he's yet to meet, playing golf with Michael Jordan, considering MJ a friend now, how JerMichael Finley has handled not being targeted as much as perhaps he would like, what he said to Cam Newton after the game, what he thought of the rookie's performance in Week 2, if he can believe that he's now the type of veteran player that younger guys look up to and are excited to meet and talk to, if preparing for the Bears is any different because of how familiar they are with one another, why Brian Urlacher is his favorite guy to play against, and numerous other topics in a nearly 30 minute interview on Tuesday.
After sharing a story about meeting Ric Flair and how it was a dream come true for backup quarterback Graham Harrell, Rodgers was asked if there were any heroes from his childhood that he's yet to meet:
"I still have never met Joe Montana. I've been a big fan, he was my favorite quarterback for a long time, I've still never met him. I've gotten to play golf with Jerry Rice, Steve Young and I are buddies now, I've gotten to play golf with Michael Jordan."
What golfing with MJ was like:
"It was a lot of fun, a lot of fun. He's larger than life, but he's a nice guy though. It was a lot of fun to play with him the first year, I mean, he was really accommodating though — we walked down the fairways, got to talking, he answered questions and he was real complimentary. And then the second year, it was even a more comfortable feel. I don't want to step out of line here, but I think I could call us friends. That's kind of cool. I mean, the first year he remembered my name, that was the biggest kick for me — I mean, Michael Jordan knows my name! I was just like a kid giddy with excitement when I saw him and he remembered my name. And that was pretty cool for me just because he was my favorite sports athlete — him and Joe Montana — when I was eight years old and playing basketball out front."
How JerMichael Finley has handled not being targeted too often through two weeks:
"I think so, there hasn't been a lot of chatter. Again, the guys know how I'm going to play. But at the same time, we weren't as efficient as we could have been. We had 52 plays and I think we threw it 33 times maybe. We had one sack, a couple scrambles, and I think 30 pass attempts. That's just tough to get into a rhythm. We got the ball down 10-0, we ran three plays in the 1st quarter, as opposed to the previous week when we had 21 points, a bunch of first downs and a ton of yards — it just depends how the game goes. But I think everybody's pretty happy right now, we're 2-0."
On what he said to Cam Newton after the game and what he thought about the rookie's performance:
"I just told him I was really impressed. I thought he played a good game, I really did. I'm sure he wanted a few of those throws back that he made to our guys, but I was surprised by how well he threw the ball. And that's in no way disrespectful, but a rookie and the ball just jumps off his hand, but not only that he was accurate. I think a lot of guys come into this league, myself included, and not always throwing the ball on time, because really to be accurate you need that balance and timing. You need that footwork to be where it needs to be. And for a guy that played in the shotgun at Auburn, to be able to come in, he's obviously very well coached, because his footwork is a lot better than I expected. I didn't see his first week on film, but I saw a guy who really is starting to figure things out and he throws the ball really well. You look at the deep ball he threw to [Steve] Smith under two minutes, I mean, that's an incredible throw. Stepping up in the pocket, putting the ball right on the money; he had throws in the 1st quarter that were eye-popping throws; I think once he figures out how how to continue to use his incredible athletic ability to extend plays, he's going to really be a nightmare for defenses."
If he can believe that he's now the type of figure that younger players look up to and look forward to meeting and talking to:
"Yeah I'm humbled by that. I think there was in article in the paper recently that had me as old school and Cam Newton as new school. And I had to laugh at that because I thought 'I'm 27 years old and now I'm old school."
How far into his preparation for the Bears and how he goes about preparing for a team that he's accustomed to facing at least twice a year:
"The Bears are a common opponent so the preparation is a little bit different. I don't think it's less, it's just a familiar team that we've played so I think that the film you watch, you have more to draw from. You know, Lovie [Smith] has been there as long as I've been there; same with Brian [Urlacher], same with Lance [Briggs]. You know, so there's a lot of the guys I've played against now seven times, and so you watch film a little bit differently when you play these kind of opponents. But I think their defense has played well in both of these games, given up a couple of big plays against New Orleans, but they're a tough team to play and we always have tough battles. Other than the 2008 game at home, I think every other game has been decided the last couple of possessions. So it's always a tough challenge when you have a guy like Julius Peppers off the edge — it allows them to do a lot more four-man rushes and play their coverage they want to play. So it's going to be a tough challenge for us."
On the fun of going up against Bears linebacker Brian Urlacher:
"Well it's a lot of fun, it really is. He's my favorite player to play against and a guy I really respect. I think he plays hard, but he plays a clean game; he's not a dirty player or a reckless out of control player; I think he really appreciates the game and respects the game and has played it well for a long time. My heart goes out to him losing his mom, I can't imagine what that would be like. So I look forward to giving it my best on Sunday and trying to beat him. There's a lot of dummy calls going on, there's such a familiarity with the individual calls that we both use a number of dummy words mixed in with some words that mean something. So it's a chess match, but it's exciting to try to beat him at the mental game."