Tom Coughlin on Giants Win Over Eagles: "The thing that pleased me most was that all three phases complimented each other well."
The New York Giants got a dose of revenge against the Philadelphia Eagles on Sunday. New York was haunted all off-season after blowing 4th quarter leads to the Eagles twice last season. During training camp the Giants had made it a point of contention to finish games this season.The G-Men took an early 14-point lead before surrendering 16 straight points in the second and third quarters. But New York finished strong in the 4th after knocking Michael Vick out of the game. Now this was a big win on the road for a banged up Giants team, but let's point out that the Eagles may not exactly be the team that everyone built them up to be during the preseason. Tom Coughlin, for a change, was very upbeat about his team's performance. Now New York has to put the win behind them and get ready to head west to the desert to take on the Arizona Cardinals in Week 4.Tom Coughlin joined WFAN in New York with Mike Francesa to discuss the Giants 29-16 victory over the Eagles, what he was most pleased with by his team's performance, his defense knocking Michael Vick out of the contest in the second half, Victor Cruz stepping up and having two touchdowns, being happy that his team was able to finish an important game, and Antrel Rolle walking a fine line between bringing leadership and being out of control for the New York Giants.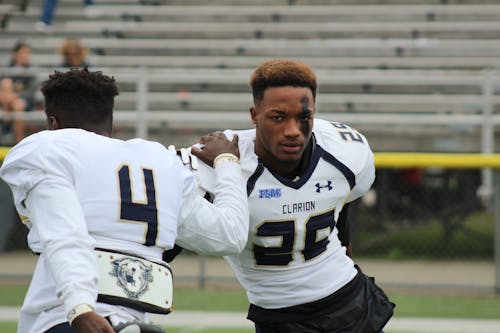 Congratulations on the win over the Philadelphia Eagles yesterday:
"Yes it was a good win for the Giants and the thing that pleased me the most was the fact that all three phases complimented each other well. The fact that we got the three interceptions. We did not turn the ball over. Of course we had outstanding goal line stands and big plays in the first quarter and the fourth quarter, but we kept hanging in there and playing and playing and playing. We were worried about time of possession coming into the game because offensively they've gotten the ball an awful lot to be honest with you. That is the way they played in the first 2 games this year, so we worried about that and we were able to overcome just 51 snaps. We would of liked to have had more, but it wasn't to be the case. We played well. We had real good effort and a lot of contributions from a lot of people."
It's a huge issue for the Philadelphia Eagles that Michael Vick cannot finish games the last two weeks, so credit your defense for knocking him out of the game:
"He is an incredible player in terms of being able to pull the ball down. As we know only too well he will put the burden of everything on his shoulders and he will take off. Now we did get him to do that a couple of times yesterday and he put the ball on the ground three times as well as the interceptions. Jason Peters made a heck of a play to get one fumble back for them, but he is the kind of player that he is going to come out of the pocket. He is going to run the bootleg. They will keep him as they have done in the past. They will allow him to keep it and run. He will just pull the ball down and take off, so you got an awful lot of your defense focused on containment and push in front of him and timing and not allowing the ball to be thrown so far down the field. He does take a lot of hits and that's just part of the game and the position."
You had Victor Cruz step up and make some big plays in this game. You gotta throw the ball up when guys are covered in this league and ask your receivers to go up and make plays:
"That's kind of the way it was yesterday on that particular play. I thought Eli [Manning] did a real nice job with not only distributing the ball, but also making good solid decisions and getting the ball to people and not putting them into harms way. In this particular case he did trust that Victor would come back on the ball and he did."
It was a chippy game. I thought you have to be happy with the way your team finished on Sunday and got a big win on the road against this Eagles team?
"Well we had talked as you had mentioned Mike [Francesa] about that as theme from the very first moment we came together at camp and not just the Eagles game last year, but on other occasions too. We didn't feel like we finished the way we were capable of finishing in the 4th quarter. Finishing the game properly is something we have talked about for a long, long, time. We did finish it yesterday in a very good fashion and played physical. Both teams played very physical as they always do. The Eagles have a lot of talent. They certainly do press you in a lot of different areas. Our guys responded."
There seems to be a fine line between Antrel Rolle providing leadership and being out of control in these games?
"Well let me just say this: He is a physical force. He's down at the line of scrimmage. He makes a lot of plays tackling down close to the line of scrimmage. There was some back-and-fourth yesterday. I'm not going to defend or say what I thought really took place there, but one of the reasons that I had spoke to the officials was when I thought they had to be sharp at that point in time to keep the game under control because no one wants to lose a player because they get too emotionally involved. We had talked about this going into the game. As a matter of fact at halftime Antrel really came to me and said just all the right things about the second half."