Oscar Robertson Believes Teams Must Have "Talent" to Win it All Because Guys in the NBA Play "too Nice" Today
by Steven Cuce
Oscar Robertson needs no introduction. Robertson is recognized as one of the NBA's most versatile players of all-time. He became the top scoring guard of all-time during his 14 year career with the Milwaukee Bucks and Cincinnati Royals, putting up 26,710 points. Only seven players have scored more at this point than Robertson. He was also known as the first "big guard" playing at 6'5" and 210 pounds.  Robertson averaged triple doubles for an entire season, making players of this modern day look silly when it comes to comparing that statistic. Of all the modern players, only LeBron James has drawn serious comparisons to "The Big O." In fact, that's why we're checking in with Robertson as the NBA Finals are almost upon us and the polarizing James remains in the hunt following the Miami Heat's impressive defeat of the Boston Celtics in a mere five games.Oscar Robertson joined DJ & PK on KFAN 1320 in Salt Lake City to discuss his thoughts on the Miami Heat, the way they went about constructing their team, how close they are to proving their naysayers wrong, seeing a little of his own style of play in LeBron James, whether he thinks there is too much one-on-one play in basketball today, his favorite to win the NBA championship and having any regrets looking back at his legendary basketball career.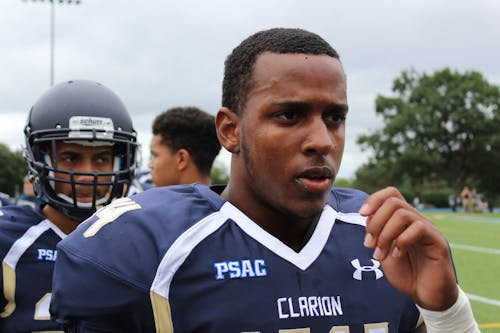 What do you think of the Miami Heat with the way they put the team together and how they're going to go for a championship?
"I think Miami has been very fortunate to have LeBron come to play in some of these games because without a decent center…it doesn't have to be great center, they are winning. I think it goes against all the good fundamentals of basketball. They don't have any good center play whatsoever."
Do you see yourself in LeBron James a little bit?
"Well to a certain extent, but my play, I was a guard. I felt that if you get the inside people, the big people involved in the game that was it. I didn't take a lot of shots. I let the game come to me. LeBron I don't think he can do that. He's got to get the ball to the basket and get it in the basket. If he doesn't score along with [Dwyane] Wade, [Chris] Bosh is in-and-out. They're are in deep trouble."
Do you think there is too much one-on-one in basketball? We see Derrick Rose is carrying the Bulls to help them win this year by doing it by himself?
"His team is winning [Derrick Rose]. That's okay. I was on the phone with a friend of mine and he said "Why do you think Derrick Rose got the MVP?" He was anointed the MVP before the season started. I'm glad he played well to win it because sometimes when you get anointed in that position you don't play well enough to win the award. He played well enough and that's how he got the award because there are a lot of MVP candidates, but he was one of them no doubt about it. He played very well yet Chicago's situation is if those inside guys don't score they are not going to win. I mean he can score 50 points, but if they keep those others guys from scoring inside what do you get? What do you gain?"
Who do you like to win the NBA Finals?
"I don't know. I think Miami has a good shot and Dallas, but don't overlook Oklahoma City. Oklahoma City has a team that can match up very well against Dallas. They got the speed. They got the inside strength. I don't think they can stop [Kevin] Durant or [Russell] Westbrook. I think [Dirk] Nowitzki is going to be a problem, but I don't know that one kid Oklahoma City has… he's about 6'11" too. Isn't he? Serge Ibaka. It should be interesting. It should be very interesting. None of us know. No really knows who's going to win. Sure you have favorites. I'm sure everyone is going to have a favorite. That's what makes basketball great."
Looking back is there anything now that you would have wanted to have done if you were still playing?
"I'll say this — the way I look at basketball today I should have shot the ball more because I shot very well and it seems that everything… it's about how many points you score. How many of this did you score? That's what I should have done. We didn't have the management. We didn't have the right players to win effectively and we didn't. In basketball if you don't have talent on the floor you're not going to win because guys are nice. Because they go home every night to their wives. It's because they go to church. Everybody does that, but if you have talent you're going to win. Talent wins for you."
3 Responses to "Oscar Robertson Believes Teams Must Have "Talent" to Win it All Because Guys in the NBA Play "too Nice" Today"
I agree with Oscar in that the inside game plays a huge factor in determining a teams success. Oscar's style was finesse, poetic motion. He passed, he scored, and I'm sure he played decent defense. Lebron is a power player w/little finess. Lebron has a nice/decent permiter game but prefers to drive the ball to the basket.Teams now days don't really know how to play team basketball, teams that are left anyways, with one exception, The Dalles Mavericks. Jason Kidd will make sure the ball is distributed, he'll get his 8-10 assists a game, unless he feels the need to take over a game like he showed he can do, even at this stage of his career.I DO NOT Agree whatsoever with the way that Pat "Riles" Riley went about constructing this team. Not that it was a rules violation, or some sort of legal issue. Not at all!! I tend to question the loyalty side of players now days, especially in Lebron's case. Where are the Hakeem "The Dreams", The Reggie Millers, The David Robinsons who stick with one team throughout a career for better or for worse.Free agency plays to big a factor in sports and undermines any sense of loyalty to a team that takes a chance on a young fella. Many people would not agree with the style of basketball that the Detroit Pistons played during there dynasty years, but you'll never be able to question there loyalty to their team, and commitment to excellence, team ball, and one another.
I think Dalles Mav's play the best fundamentally but I like Durant and the upstart Thunder. I think the Thunder defeat Memphis today in what has been one of the better playoff match ups in recent memory. I also like Westbrook but he needs to learn how to use other players and develop more of outside game to go along with his unstoppable quickness and sheer athleticism. That's all for me other then this. I will ALWAYS cheer for the other team that's opposing Lebron simply because he left a team that made it to the finals early in his career. He abandoned a city, and left them for broke. I'm more of a Cav's fan then the Heat!! Lebron couldn't stand The Heat, so he got out of the kitchen so to speak because he'd much rather defer to a true superstar like Dwayne Wade who knows what it takes to win. I said my peace and stated my opinions. Thanks for the time to share – have a great day and enjoy the Purest sport around, NBA Basketball!!!!!