Roddy White and Julio Jones Could Make a Prolific Receiving Duo in Atlanta
The thought of adding Julio Jones to complement Roddy White — and also veteran tight end Tony Gonzalez — had Atlanta Falcons fans fairly excited when the team added Jones in the first round of the NFL Draft. Sure, the Falcons had to give up a bevy of picks to get him, but it was hard not to salivate at the thought of a couple of prolific receivers, especially if Jones panned out quickly. To listen to White talk, we're on the verge of seeing something really special. Since basically the first day the two were on the field together, White — already one of the top receivers in the league — has had glowing reviews. And with the veteran there to mentor the rookie, it could be an exciting season.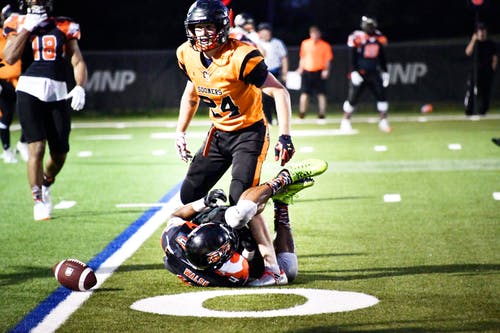 Roddy White joined WQAM with The Michael Irvin Show to discuss being the league's top receiver last year, who he idolized growing up, how he studies the game, the excitement surrounding this season, the addition of Julio Jones and what he is doing to help Jones make the transition.
What was it like when you heard the words "Receiver of the Year Roddy White?:"
"I was excited, man. Any time you get a chance to win awards like that and you have all your peers out there and you've got people like [Larry Fitzgerald] and Andre [Johnson] out there it was great just to know that people put you in that same category and that same sentence."
Who were some of the guys that you liked growing up?:
"I loved [Michael Irvin], I liked Jerry [Rice], Tim Brown, Cris Carter, because they were just old-school, go get you, man. If you come and bump them boys at the line of scrimmage, they would throw you on the ground so you don't come and bump them again."
You still seem to be a guy that runs routes, while other guys run to areas. Talk about that:
"Route-running is just going out there and finding ways to get open. I always tell people I like to start off doing a lot of cone drills and getting my technique down and things like that. But once it's one-0n-one, it's just you and the next man and you've just got to beat him. … Every year I go back to the drawing board, see how I can get better. And I just watch different guys on film and see what they did to get open that season before and why they have so much success in this league. Whatever I can take from their game that I can physically do, I do."
On the excitement of camp heading into the season and the addition of Julio Jones:
"It's been good. We've been looking really explosive. We've got the young guy with us and, Mike, he reminds me so much of you, man — just big, physical, strong. He's just a physically dominating guy. He ain't afraid to make no plays out there. … We'll probably make our run again and hopefully this time we get in the playoffs and get a chance to get back at those Packers again."
What are you doing to help Jones through the transition to the NFL?:
"I'm in his ear every day because I want him to be his best. Like I tell him every day, we're going to work on all the little things that you don't want to do. That's what makes receivers great, it's the little things that you have to go out there and work on every day. … I always tell him, man, just use your hands, especially at the line of scrimmage when people are bumping you. … And always get your step on routes. When young guys come in the league, they think they aren't moving fast enough."