When Floyd Mayweather Jr. does anything, it makes news. The announcement he made on February 19th could have a huge impact on boxing and on the remainder of the career for "Money May." The pound-for-pound king announced that he was leaving HBO for Showtime. Not just for one fight though. Mayweather reportedly signed a six-fight, 30-month deal with his new pay-per-view home which, given the fact that he is already 36-years-old, takes him through the end of his fighting career. This deal means a lot of things. First and foremost, the balance of power in boxing has shifted. For many years it resided with HBO but now with Mayweather, the number one draw in the sport, switching sides, so too does the power. It also reaffirms Mayweather's standing as the number one draw in the sport. But most importantly it means that Mayweather and the sport of boxing will be promoted on the number one TV network in the world. This means boxing will get exposure that it wouldn't have been able to get had Mayweather stayed with HBO, including during events such as March Madness and the Final Four. Jim Lampley joined The Mighty 1090 in San Diego with Scott and BR to talk about his initial thoughts when he heard Floyd Mayweather Jr. was leaving HBO, how much Mayweather has left in the tank, whether he thinks Showtime will have regrets after this deal and on the number of fights Mayweather has agreed to.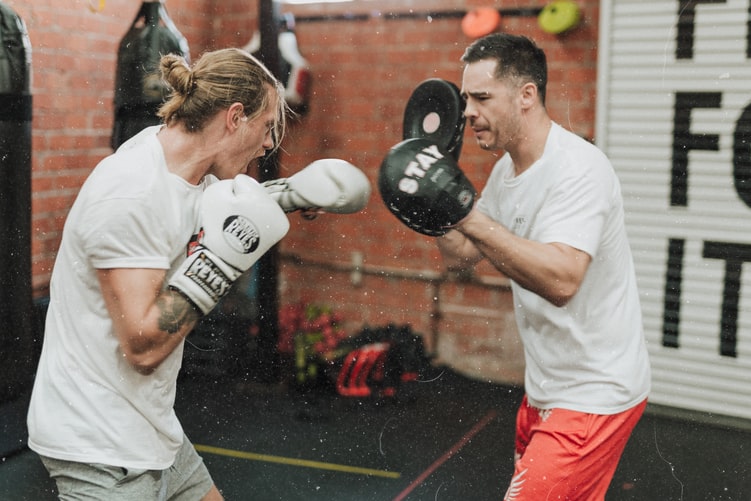 What his initial thoughts are on Floyd Mayweather Jr. leaving HBO and going to Showtime:
"Well, it's not a happy occasion because he is still the number one, most accomplished, pound-for-pound fighter in the sport and probably the toughest one to defeat in the ring. He has a following and that's been proven by his pay-per-view numbers on HBO so you can make a very sound argument that he has the largest following in the sport. I don't think that was true a couple of years ago but obviously (Manny) Pacquiao's has been diminished over the course of the past couple of years. Floyd is within his rights in now claiming to be the number one guy. He was already the highest paid athlete in the world prior to whatever money CBS has given him. You can rest assured it's a mammoth deal because they have a reported five fights over the course of the next 30 months. I will believe that when I see it but those are supposedly the terms of the deal. This is something that CBS/Showtime have been working on for a long, long time and in the past year they have sharpened their knives and worked even harder than ever before to try to get into this arena. It's been no secret in the sport that over the course of the past year Showtime has done all or maybe 90 percent of their business with Golden Boy Promotions, they have catered favorably to guys who are managed by, Al Haymon, Floyd Mayweather's manager so this approach took place on a lot of different fronts, they worked as hard as they possibly could, congratulations to the guys at Showtime and now let's see if any of those five fights in 30 months, if in fact they take place, are competitive. Or is Floyd going to use this to continue to book flights for which we know the outcome in advance? That would be the big question to me."
How much does Floyd Mayweather have left in the tank?
"He's 36-years-old. Just about 36-years-old and obviously he is relatively untouched for fighter that age because of the style in which he fights and the brilliant skill that he brings to it. At 36-years-old, I think what they can hope for is that he's slowed down enough that the fights become a little more exciting. Whether they can persuade him to fight a Canelo Alvarez or an Adrien Broner, the kinds of opponents who could really threaten him and present the possibility of a Mayweather loss, I'm not sure. Leonard Ellerbe has a lot of leverage and a tremendous management style, he is very hard to deal with and it's very clear that this is a risk averse fighter that has been risk averse his entire career. He's not exactly in the business of making exciting fights. It will be interesting to see what they can get out of this for the next few years."
Whether he thinks Showtime will have regrets because they don't get out of Mayweather what they were hoping:
"I think that's entirely possible. The pay-per-view business is more about the promoters and the fighters than it is about the network. A flat percentage of the cake for providing the network deal and it's not exactly the same kind of clover that you look for overall in your portfolio. If you're managing the boxing element correctly at a pay-per-view network you're just as concerned about what happens month to month and Saturday night to Saturday night because that's what builds subscribership. Pay-per-view fighters don't appear on regular nights on the network and they got a huge marquee item, they got the number one fighter in boxing and they can say with absolute confidence tomorrow that they have greater prestige for their brand then they had before. Is it going to lead to more subscriptions for Showtime? Not necessarily. At the end of the day are they going to look back and say, 'well it was all worth it because of our cake for the pay-per-view', that's not really the way the equation works. You're right. There are question marks as to whether this is going to turn out to have been the greatest investment in the world, but today Showtime is celebrating because they won a face-to-face competition against their one and only rival and they won one of the biggest prizes that can be one in that kind of competition."
On the amount of fights that Mayweather has reportedly agreed to over a 30 month period:
"It's a number that I don't believe is going to take place. This is a guy that's fighting once every year and a half for a long time. How in the world is he going to change his whole competitive attitude? I mean the training schedule isn't an issue because he's a 24/7, 365-day-a-year trainer anyway, but you don't build the same anticipation when you do it as frequently as they want him to do it. That has been his attitude in the past is I will wait until the fire is going to be the biggest it can possibly be."