Former OSU Booster Bob DiGeronimo Says OSU AD Gene Smith Is "Lying through his teeth"
Last week, the college football world was rocked by the most disgusting and heinous scandal ever involving the Penn State football program and administration. Lost in that horror story was another black eye for the Big Ten Conference in Columbus. Ohio State was handed a "failure to monitor" charge by the NCAA as they continue to make their decision on Ohio State's punishment that led to Jim Tressel resignation from OSU.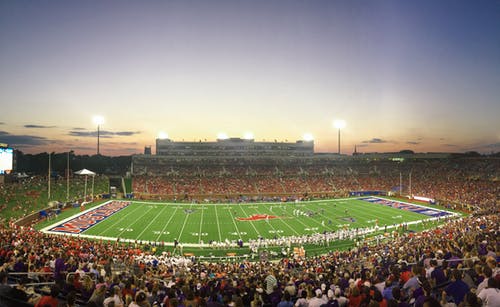 The person at the center of the failure to monitor charge is Bob DiGeronimo, a prominent ex-booster who the university has disassociated itself from.  Along with that, the NCAA has alleged that DiGeronimo provided a total of $2,405 in extra benefits to nine football players. DiGeronimo has since disputed some of these allegations, but took a step further when he finally spoke out publicly about the latest at Ohio State last week. Bob DiGeronimo joined ESPN 1540 KNR2 in Cleveland on Munch in the Morning to talk about Ohio State Athletic Director Gene Smith's comments about DiGeronimo's role in recent charge handed down by the NCAA, what he makes of Gene Smith saying DiGeronimo was escorted out of the Buckeyes locker room before a game for hiding in a locker, his feelings toward Gene Smith, whether or not he ever paid a player more money than they earned, and what his feelings are toward the program now that he has been disassociated.
On Ohio State Athletic Director Gene Smith's comments about his role in the recent charge handed down by the NCAA:
"I'm really kind of surprised at what I heard last night. I got the call from Columbus. I understand when people are trying to save their job they're going to say and do certain things but to out and out lie, those things are a little hurtful to me. I have so many great things going for me in my life that you have to focus on the positives. However I'm not gonna let somebody slander me whether it be Gene Smith or anybody else. I can't let them get away with that."
On Gene Smith saying he was escorted out of the OSU locker room in 2003 after hiding in a locker:
"I was on the sidelines until 2006 so for them to say in 2003 something happened and I was escorted out of there, wow that never happened. (Host: So you were never escorted out of anywhere?) No. Of course not. The only thing that was ever told of me, at one time after a few years in the locker room I was told that the coach, Jim Tressel, would like all the non-Ohio State University people out on the field with six minutes to go on the game clock before the team entered the field. That was the only thing ever said to me. Hiding in a locker? Munch you know me. I never heard a before-game speech. It was always very calm before the teams went on the field and all that. I never thought they're doing that because there's something they don't want him to hear or something like that. I never questioned it and I didn't worry about that."
His feelings toward OSU AD Gene Smith:
"Gene Smith told the reporters last night that he called me in 2006 and told me certain things like stay away and this, this, and that. I said why don't you ask Gene Smith to show you records of his phone call to me because that never happened. I never talked to Gene Smith. The only time I ever talked to Gene Smith, and I'm answering your question with it's a bald-faced lie. I'm answering your question with he's telling them he talked to me in 2006 and I never had a conversation with Gene Smith until this year and the only time I ever met Gene Smith was at a restaurant in Columbus with John Cooper. John introduced me to him. That probably was in 2008. I can't explain when someone is trying to hold onto his job why they will lie through their teeth. I just don't know."
Whether or not he has ever paid a player more than they should have been paid:
"Absolutely not. Absolutely not."
Whether or not he has any animosity toward Ohio State now that he has been disassociated:
"Number one when John Cooper was fired he said he only had a problem with one person and that was Andy Geiger for the way he did it to him. I don't have any animosity for anybody at that University minus a couple of people that are trying to save their rear by attacking me and trying to, as the old saying goes, throw you under the bus. (Is Gene Smith one of those people?) Yeah of course he is. Of course he's the main culprit. Here's the thing and it was in the statement, I'm more concerned about the kids. I'm more concerned about Devier Posey who gave his word to come back after a five game suspension. Then I give them the backup for Devier Posey and what do they do? They allow the NCAA to give him five more games. I'm saying boy who is looking out for the kids? Who is looking out for those kids? Those kids that come from tough backgrounds and penalizing Devier, it has to kill him sitting out the first ten games. I'm more concerned for the kids than I am for myself. We've got a nice business, a nice family, a lot of great friends, and I'll be fine. I can be disassociated for ten years or a hundred years, it doesn't matter anymore. I still have the Ohio State sticker on my car, I have an Ohio State jacket that I'm wearing today, and I don't have any animosity towards.