With the Number One Overall Pick in the 2010 NFL Draft, the St. Louis Rams Select . . .
We are less than two weeks away from the NFL Draft and no one knows for sure who the St. Louis Rams are going to select with the number one overall pick. After Sam Bradford's great pro day and the Rams passing up Matt Ryan and Mark Sanchez in the past two drafts for Chris Long and Jason Smith, it would only seem logical they take Bradford.  Having the first pick in the draft is definitely a luxury but it is also a painstakingly long process which involves face-to-face interviews, group interviews, pro days, interviewing former players and coaches, etc.  Teams want to make sure that this player is a great fit for their franchise because they are going to invest a lot of money in him up front.  This year's number one pick will demand in upwards of $42 million in guarantees.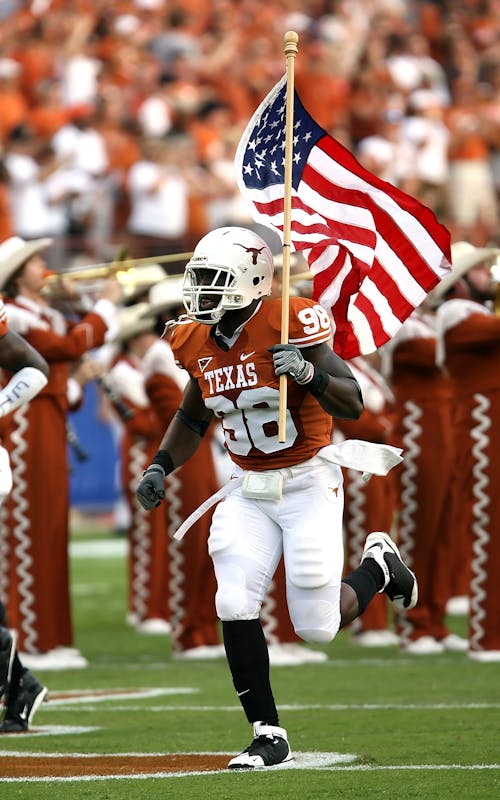 That is an absurd number for a player that had a good to great college career, has great 'upside' and that hasn't even stepped foot onto an NFL football field.  So you better believe that the Rams are going to do their homework.I have been lobbying for the Rams to select Ndamukong Suh because he seems to be the safest pick in the Draft.  Speed is the biggest difference between college and pro football and rookie quarterbacks seem to struggle to adapt to smaller throwing windows and have difficulty making quick passes under pressure.  Just because Suh is the highest-rated prospect doesn't mean the Rams are going to select him.  All signs seem to be leaning towards the Rams selecting Sam Bradford.  I agree with their assessment that Bradford is the best quarterback in this year's Draf,t but I won't agree with them if they pass on Ndamukong Suh.Steve Spagnuolo joined ESPN 101 in St. Louis to talk about who they are going to select with the first pick in the NFL Draft, what he is looking for as he is going from Gerald McCoy's Pro Day to Jimmy Clausen's Pro Day, and on Sam Bradford's personality and whether he is built to be a leader.
Who they are going to select with the first pick in the NFL Draft:
"With the number one pick, the Rams take…  I want you guys to know first, right?  I figured that.  You are trying to sucker me into that one.
"What he is looking for as he is going from Gerald McCoy's Pro Day to Jimmy Clausen's Pro Day:
"Well and you have heard Billy (Devaney) talk about that a lot.  The correct word is that it is a process.  You know it is no different from when we prepare as coaches for a game.  We really don't know what is going to unfold on gameday.  Now our gameday in this whole thing is the Thursday, the first day of the Draft.  You have got to have all of your pieces in place and all of your ducks in order to make the right decision.  I think we are going about it in the right way.  It has taken us a little traveling, but I think it is working its way out like it needed to and I think we are doing the right thing."
What he would learn from Jimmy Clausen or Colt McCoy in-person than on game tape:
"Well in that regard, we do know a lot.  Probably know eighty-five percent of it.  One thing that has been good for me, again I am not a quarterback expert, but to be able to stand there ten feet from these guys one after another.  Now you know we went to Sam's and Colt was yesterday's and Jimmy's is today, it is a good way to compare all three of them.  That is really what you are doing and they are all good football players.  Let's face it they wouldn't be involved in all of these workouts if they weren't.  It's nice for me personally to be standing there next to all three of them and in my mind compare them all together."
On Sam Bradford's personality and whether he is built to be a leader:
"I still think that needs to be answered.  I think we would all agree, if we were all executives for some company and we are interviewing for a new job for somebody and it is hard to tell to hit it dead on in fifteen minutes.  So what you do is it is more than just fifteen minutes.  It is visit with this particular person that you might hire in a lot of different settings so one is maybe in the room with a lot of people and one is one-on-one and one is interacting with other people and then it is all of the research behind that.  You really have got to find out what a person is like when they are not standing there in front of the person that is making the decision whether they are or not.  That is probably more than anything, but we do do the face-to-face stuff because it is a gut feeling, I think we all know that.  So far all of these guys…  I'll tell you what, you are talking about some quality guys and kids, I call them kids because they are still young right now, but they are some quality people in this business and I think there are going to be a lot of quality draft picks.