Undrafted Sam Shields Sends Green Bay Packers to Super Bowl
On NFL Draft weekend last year, Sam Shields never heard his name called. Now, less than a year later, the former University of Miami player played an integral role in icing the Green Bay Packers' victory in the NFC Championship game. Shields' second pick of the day thwarted the Chicago Bears' chances of driving down the field in an attempt to tie the game. Yes, we said second interception, and that's quite the feat for a guy who wasn't even drafted. Now Shields, Charles Woodson, Tramon Williams and the rest of the Packers secondary will have its work cut out for it against the Pittsburgh Steelers in the Super Bowl. Pittsburgh's receiving corps includes veteran Hines Ward and young speedster Mike Wallace, but Shields says Green Bay will be ready for them. Given what he and the Packers have been through to this point, that point would be hard to argue.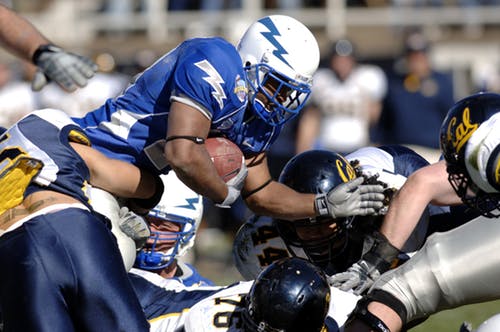 Sam Shields joined WQAM in Miami with the Michael Irvin Show to discuss what his rise from undrafted rookie to multi-pick defensive back has been like, what his time at Miami was like, how the Packers defense withstood so many injuries, the toughest receiver he's faced this year, what he sees in the Steelers and if he's concerned about being on an island against Mike Wallace.
What it's like to go from undrafted to instant star:
"I can't explain how good it feels. I came in with a chip on my shoulder. I came in and I was about work. I got with
some of the veteran guys to help me out so I could get in there quick. It's been going good for me. I'm very blessed right now and I'm loving it."
On why he wasn't this type of player at Miami:
"There was a lot of changes going on at the University of Miami as far as coaches getting fired and things like that, new coaches coming in. There was a lack of depth at the cornerback position and the coaches came to me and asked if I would be willing to go over there and help out. At first, I had never played defense a day in my life so I was like, 'No, that wouldn't work.' I talked to some of the guys and my dad and they just told me to keep thinking about it. I was like, 'Yeah, I'll do it.' … It was hard at first … but I kept working at it and kept getting comfortable."
How the Packers defense progressed through injuries:
"[Charles] Woodson talked to the defense all the time and he always said, 'When you get that opportunity, you've got to take advantage of it.' That's what guys took in, especially me. I got an opportunity and I took advantage of it. That's what it was all about. That's when I felt our defense was all together and we were going to be a shutdown defense."
On the toughest receiver he faced this year:
"Deion Branch. He's a short guy, quick, and he's a veteran out there, so he knows how to read routes and run routes and things like that. It was kind of difficult to guard him."
On going up against the Steelers:
"Seeing them as I watched the game, [Mike] Wallace, the kid is a fast kid, up-the-field guy, go for the deep ball. Quarterback, he's got an arm, he's big, things like that. We've got to keep them from getting the ball up the field, stopping the big plays and things like that. Our DB corps, that's what we preach all day."
Is he concerned about going one-on-one with the speedster Mike Wallace:
"I'm not concerned. Like I say, I'm comfortable with myself. I've got speed, too. It's going to be a big challenge out there and that's what I'm ready for."