Tony Dungy Weighs In On Michael Vick
Tony Dungy is no longer the head coach of the Indianapolis Colts, but that doesn't mean his name doesn't carry a lot of weight around the league. Dungy, of course, is one of the more highly respected men in all of professional football – mostly for his calm, fatherly demeanor and pristine track record motivating and inspiring young men on and off the field.  So it's not really a surprise that Dungy has visited Michael Vick in prison in an effort to help him rehabilitate his life. Dungy joined WCNN in Atlanta and discussed Michael Vick and his other work with prisoners.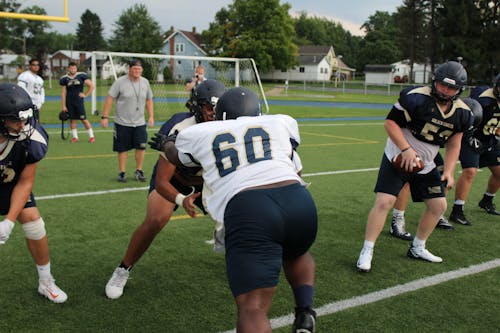 On what led to his dialogue with Vick:
"It is kind of a private conversation, but that's one of the things that I've done.  I've visited a lot of prisons here in Florida, I've visited prisons in Indianapolis and I've talked to hundreds of guys just like Mike.  Guys that made a mistake,who miss their families, they miss their friends and they're looking forward to coming back, going to work and rebuilding their life. Mike just happens to be a famous person that I cvisited, but I was just in Indianapolis yesterday for a job fair for prison re-entry.  We had 250 ex-offenders there who are just trying to get their life started again.  That's what people have to realize…Mike Vick is maybe the face of this, but there's thousands of people that are just looking to get back to normal and I think that's what Mike is looking for."
If you were Roger Goodell would that decision be a lot easier to make having met with Michael Vick:
"I think that's what you have to do.  People ask me all the time if you were still coaching, would you take Michael Vick on your team?  I answer that question because we've had to make that decision thousands of times with guys who've had incidents, who have had something happen in college or high school, or you hear things about them.  What you have to do is sit down and you look the person in the eye, you talk to them, you get a feeling of the situation and you got to get a gut feeling…yes this guy is going to be a good teammate, yes he's going to be good for the NFL and go over things.  I think that's what Roger will do.  I think he'll sit down with Michael and come to that conclusion, but it's got to be a face to face meeting where they discuss everything."
Do you envision Vick back in the NFL as a quarterback?
"You never know.  It's going to be so difficult to predict because there's going to be a lot of teams that will not take him period.  That's just a fact of life.  There's going to be teams that might take him, but they already have a quarterback.  I really don't know and that will remain to be seen."