Tommie Harris Is Excited To Play In Between Dwight Freeney and Roberth Mathis
Tommie Harris' time in Chicago was quite a rollercoaster rise. After bursting onto the scene early in his career, Harris became a disruptive, Pro Bowl defensive tackle in just his second year in the league and quickly became a dominant force on the Bears defensive line. Since his last Pro Bowl appearance in the former first round pick has been a disappointment. Harris has dealt with numerous injuries, he had a spat with Head Coach Lovie Smith, he has just nine total sacks in the past three seasons, and he ultimately lost his starting job this past season in the Windy City.Harris looked like a player a year ago that desperately needed a change of scenery and he is going to get that opportunity in Indianapolis. The Colts took a chance on the former Pro Bowler with the hopes that they can recapture that first round ability by putting him next to Dwight Freeney and Robert Mathis.Tommie Harris joined ESPN Radio Chicago with Waddle and Silvy to talk about other teams that were interested in him and why he picked Indianapolis, how much it will help to play alongside Dwight Freeney and Robert Mathis, what he learned from being in Chicago, whether or not he is healthy, how much the injuries have affected him, how the lockout helped him, what he thinks about Jay Cutler's ability in Chicago, and how he would sum up his time in Chicago.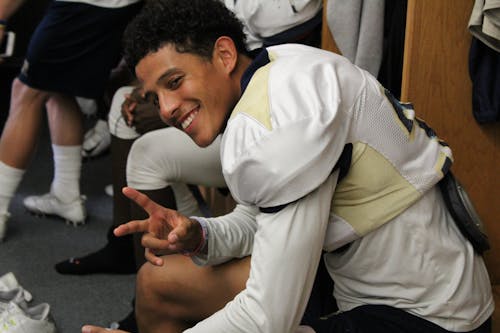 Why he picked Indianapolis:
"Carolina and Indy were the other two options. I just wanted to be familiar with the system and be pretty much under the same tree as Lovie was. To get as close as possible to it and I got it with the Colts and Coach Caldwell."
It doesn't hurt to play with Freeney and Mathis either right?
"Not at all. That was another option man. I had an opportunity to play with a great defensive end in Peppers and Israel Idonije and now to have an opportunity to play with Mathis and Freeney, it's like I'm just switching uniforms."
How healthy he is:
"I've learned a lot from this whole Chicago experience. I've learned to keep my mouth shut and I can show you better than I can tell you."
How much the injuries have affected him:
"Most definitely but I find a way to get my job done. When you have this opportunity, and I'm so fortunate for this lockout, to have this opportunity to see what you really can get done in about six months that we really had off, I'm confident to see how I'm gonna do out there."
How the lockout helped him:
"It just gave me an opportunity to really strengthen things that I didn't have confidence in. When you go into a season, people really don't know that we really have a month or almost two months off before we get right back at it. Before you have other guys touching on you, poking on you, and telling you that they can fix this and they can fix that. To have an opportunity to have all my specialists look at me and check me out and everybody put together a game plan, a person that doesn't work for the team but really works for you, that you paid, that's the type of deal we went through and it helped a lot."
How he would summarize his time in Chicago:
"Great. I lived and I learned. It was like going through school. Through first to 12th grade. You saw my good, my bad, my ugly, and I would always wonder when I see guys like Mushin Muhammad and all these different players come to the facility from different teams and I always wondered have these guys always been like this or do you get a fresh opportunity to start all over? I'm looking forward to it and I thank the Bears for the opportunity. I have nothing bad to say about those guys. That organization is a great organization, my teammates, I love those guys and I just look forward to hopefully one day coming back up there and playing with you guys."
Whether or not Jay Cutler can be the leader of the Bears at QB:
"Yeah he can. Jay could be the leader of the offense. Before you even saw Jay come to the Bears, Jay is a monster. Playing Jay through our scouting report you knew that guy could do anything. He can run, he can throw, and the sky is the limit for Jay. It just takes him a while to really warm up to people and there's nothing wrong with that. People can judge all they want about the guy but I feel like he's a good guy."
On his expectations playing in Indianapolis:
"I don't even know the whole deal but I don't expect anything to be given to me. One thing I just want to be a part of their number. I don't come in trying to demand anything. I just want to present what I can do and let that take care of itself."