Tom Brady On Losing Wes Welker For The Playoffs:
"There's nobody who can substitute in for Wes and think they're going to be Wes."If you're a New England Patriots fan, how do you feel this morning about what transpired on Sunday? On the one hand, the game meant very little for New England to begin with. The #3 seed was up for grabs, but the Patriots wound up holding on to that that anyway by virtue of the Bengals losing later Sunday evening. On the other hand, the Patriots got beat up physically and perhaps even mentally in their loss to the Houston Texans on Sunday. All Pro wide receiver Wes Welker was lost to a knee injury early in the game when he landed awkwardly on a cut he's made countless times this year. The Patriots also happened to surrender 21 unanswered points in the 4th quarter on Sunday. That's not the product of not having Wes Welker in the game. That may be more indicative of this team simply not being that formidable on the defensive side of the ball.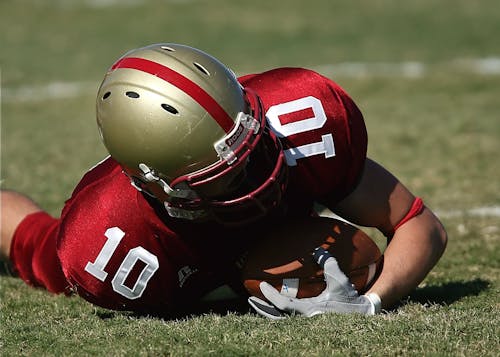 We'll see next weekend if the Patriots are able to recover when they host the Baltimore Ravens in the Wild Card round of the playoffs.Tom Brady, who played most of Sunday's game but not the final series when New England needed a touchdown to tie the game, joined WEEI in Boston with Dennis & Callahan to talk about the loss of Welker, how he thinks he can help him get through it mentally because of having gone through something similar last year, how Welker's irreplaceable, and how he and the rest of the guys on the team need to step up in Welker's absence if they hope to knock off Baltimore at home next weekend in the opening round of the NFL playoffs.

On if he knew beforehand if he wouldn't be playing the entire game or if he learned afterwards why:
"Well we had talked about…Coach had talked about throughout the week that Brian [Hoyer] was going to get some experience this game so that was good experience for him in the 2nd quarter, good experience for him to get in the game. Yeah, just one of those situations where I think he wanted to see how he did in there.
"On if he knew he'd be going back in the game when he was removed for a series in the 1st half
"No, he told me. I went over to him kind of midway through that drive Brian was in there and said hey, what do you think about putting me back in there now. He said, you're not going back in until after the half. So at that point I said okay, no problem."On if the loss of Welker is more than losing just his stats:Yeah you can't replace him, there's no doubt about that. He's one of those guys where there's nobody who can substitute in for Wes and think they're going to be Wes. He's everything you could ask for – he's just an incredible player and leader. And I think as football goes, it's kind of the way it works unfortunately. And we've got to move on and we've got to there and play, and everyone I think in different areas has to pick it up. I've got to play better, Julian's got to play better, Randy's got to play better. The offensive line, the running back, tight ends – we all have to do more.And I think that's the commitment that we're going to make to one another. And you know, Wes..like I said, nobody loves Wes more than me. And going through a knee injury last year, it was hard for me but in a lot of ways it was good for me. It taught me a lot and for Wes I think it's going to do the same thing. And he's as hard a worker as anyone I've been around and he's everything you ask for. So in the short term, you just got to look at it, it could be any injury. It could be an ankle sprain that someone's out with this week. And we've got to find ways to win the game like we've always really done here.
On how defenses react and respond to the Pats offense, particularly Randy Moss, when there's no Wes Welker in the game:
"It's one less player they have to worry about, obviously. But there's going to be other things. We're going to evolve a little bit as an offense now. It was a very Wes Welker-oriented offense. And now, maybe part of the advantage is Baltimore really doesn't know what they're going to see from us now. We're going to have to shift focus. They're really not sure where that focus is going to go. In some ways that's an advantage for us. There's a lot of things we've done with Wes that we don't do with anyone else. We're going to find other areas to exploit, and use the talents of Julian and Sam [Aiken] and Randy and Chris Baker and Kevin [Faulk] and Laurence [Maroney] and Fred [Taylor] and Sammy [Morris] — all these other really great players we have on offense to be able to move the ball.
"On if he thinks he can help Welker get through this tough time since he went through a similar devastating knee injury:
"Sure, sure. I mean, we're all going to get through it. He's going to get through it. He's just that kind of person, he's just a fighter, he's always been a fighter and he's going to attack whatever he needs to do as hard as he can. That's why he's always been successful and you never bet against a guy like Wes because his heart and his commitment to doing what it takes is stronger than just about everybody else's. So, we talked  little bit but he's going to fight through it. I'm sure there's going to be a day or two when he's going to be pissed off, but that's part of it. I think because he loves competing so much, that's going to be the hard part for him for you know, the next month."
On never losing a playoff game at home and on if he thinks there's anyway that streak ends this coming weekend when they face the Ravens in Foxboro
"Well, I don't think I've ever gone in to a game thinking we're going to have a hard time winning this game. You know, I'm always an optimist out there and I have a lot of confidence in what we can do as a team, but you can always lose games, there's no doubt about it. If we play a bad game of football, we'll lose, no doubt. We're playing against a very good team that gave us everything we could handle the last time we played them at home. So, we got to have a great week. We've got to have a great week of practice. It's a pretty tough team to prepare for and they're a pretty exotic blitz team and they have a good offense, a good defense and special teams and they're going to challenge us in a lot of different ways. This is a great challenge for us. Anytime you're in the playoffs, you're going to play good teams, the best the NFL has to offer. And this team's one of them. This team's been consistently good over the years defensively. So, that's really the strength of their team and that's where it's lied for a long time with Ray Lewis and Ed Reed, and they've got Ngata on the inside and Suggs is still on the outside.