Tito Ortiz Is Making His Comeback
by Tas Melas
The biggest news surrounding Tito Ortiz these days is his ongoing feud with UFC President, Dana White.  The two have never seen eye to eye and when White doesn't like someone who isn't a part of his business, you can bet he won't be doing business with him.  It isn't so much as an ongoing feud, just more of a mutual disgust.  As Ortiz prepares for his return to the ring after back surgery, he won't be showing his stuff in the UFC.  It's long been rumored that Ortiz will join the smaller MMA league, Strikeforce.  Ortiz joined the Junkies on WJFK to discuss the oddities of marrying a porn star (Jenna Jameson), how he met Jenna, the best way to learn mixed martial arts, and when it'll be his time to retire.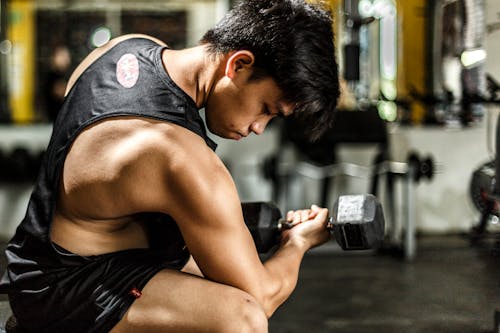 On how first met his girlfriend, Jenna Jameson:
"MySpace.  She came to me, I was like a little doe in the headlights.  I was pretty excited, I was like, 'Wow, this chick's on me like no big thang.'  I was like, 'Alright, cool.'  And, so I started talking to her and before you know it, all the sudden it's almost four years later."
Does it bother him that so many guys have seen his girlfriend and mother of his children in pornography?
"No, not at all.  At least I've got a girl, she's disease-free, she's AIDS-free.  How's that possible?  Well, you've gotta understand, these guys are doing it professional.  They're tested every four months, five months.  To me, I look at her background of where she's been, what she's done and where she's came from.  Her mom died when she was three, her dad wasn't there for her at all, she was a girl who was on her own and prevailed."
On the best way to learn MMA:
"Wrestling, wrestling, wrestling.  You want to learn how to be the toughest man in the world?  If you can make it through four years of high school wrestling, you're gonna learn sacrifice, you're gonna learn desire, you're gonna learn so much, pain of course, you just learn a lot of sacrifice.  Sacrifice is the biggest thing, sacrifice and dedication … Wrestling, Jujitsu and then stand up.  I want to inspire any kids under the age of 19, 20 to spar with each other with gloves and headgear.  Why you wanna be stupid for, man?  You get punched in the face and all the sudden you start talking like Chuck Liddell."
On knowing when it's time to retire:
"36 years old.  36, 37, if the money gets even better maybe even 38.   I think a lot of my fans would love to watch me still compete, but right now I just went through back surgery six and a half months ago.  I've been kind of sucking it up for the last six years and competing against Rashad Evans, Liddell, Couture, Forest Griffin.  A lot guys who I competed against, I wasn't 100%… Now that I'm gonna be 100%, I feel sorry for some of these light heavyweights, man.  I'm gonna rip 'em apart."
Listen to Tito Ortiz with Junkies on WJFK – Part 1 – Part 2 -.