Tim Tebow Looks To Prove His Skeptics Wrong Once Again
Josh McDaniels did some dumb things in the short time while he was with Denver trading away Peyton Hillis for a quarterback that possibly won't ever start another game, Brady Quinn, and for running Brandon Marshall out of town.  Another topic of discussion emerged when McDaniels surprised everyone by wheeling and dealing a cascade of moves that concluded in taking Tim Tebow with the 25th pick.  Tebow, as we all know, was one of the most heralded college football players to ever play the game.  There was never an argument as to whether or not he could play in the NFL.  It was rather, can he play quarterback in the NFL?  So after starting the last three games of the season, the jury is still out on him.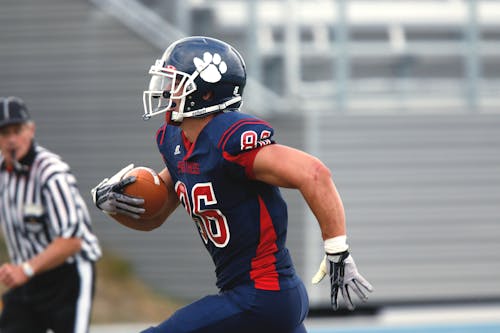 Although Tebow isn't a polished NFL quarterback just yet, he has shown that with another offseason of intensive training and learning that he could potentially be the guy in Denver.  He may overthrow too many passes and still isn't very accurate, but his fearlessness to tuck and run the ball is what makes up for the holes in his game.  Tebow has made a career out of proving people wrong and looks forward to the opportunity to justify McDaniels' faith in him and prove his skeptics wrong once again. Tim Tebow joined 104.3 the Fan in Denver to talk about what he has had to work on to get to where he is right now, how hard it is to hear the criticism about him and his game, and whether anyone has given him some advice about the NFL that has stuck with him.
What he has had to work on to get to where he is right now:
"Well I think this year has been a great learning opportunity for me.  I think from the start of it I have continued to try to work and continue to try to be able to learn, and being able to watch Kyle from the start of the season and being able to just observe was great, but actually getting live reps out there now that is just invaluable how important that is and to be able to actually get those timing routes down with the receivers and everything like that has been great.  I am continuing to try to work on a lot of things to improve my game, just with reads, with fundamentals, with my footwork, with balance, with a lot of things so I am trying to improve all those things, at the same time I love football and being able to compete."
How hard it is to hear the criticism about him and his game:
"Well it is frustrating but at the same time I definitely have to thank them because those people and what they say definitely fuel me and I believe make me a lot better, and it's been very similar all the way since I was a freshman in high school when they wouldn't let me play quarterback my freshman year in high school and they said I wasn't good enough and I could never do it, and then I just had to start proving them wrong then and find a place that would let me play quarterback and ended up having a decent high school career, and then along the way through college and a lot of different times people have told me that you can't accomplish this, you can't do this, you're not good enough to do this, and I believe that is one of the great things about sports trying to overcome obstacles and fighting through adversity, and it's not a huge adversity, it's just little things.  People say I am not good enough and can't do it and we are just playing a sport.  At the end of the day it doesn't necessarily matter too much, but it matters a lot to me because I want to be the best I can be and prove people that I can play at this level and that is a goal in mind that I really want to try and accomplish and I am very blessed to have that opportunity to try and do that in November."
Whether anyone has given him some advice about the NFL that has stuck with him:
"That is a very good question.  I have been blessed a lot to have a lot of support around me, to have a lot of different people mentoring me and feeding good information towards me.  I have had a lot of great players around me to give me some support, ex-Denver Broncos and current Denver Broncos, but I think also hearing it from other teams has been great, but definitely Brian Dawkins has been very instrumental and encouraging to me and just before the game and have him say 'I believe in you and I am right behind you.  Let's go get this thing done.'  I was like, that is pretty cool just before the game to realize where I am at right now and to have Brian Dawkins say that to me, I was pretty fired up and I definitely felt, I wouldn't say more of a burden but passion to be able to go win this game and win it for this team, win it for these fans and this community because it means so much and I care about it so much and I definitely took that to heart and I definitely, that motivated me for sure."