Tim Tebow Continues to Take the Proper Steps Towards Becoming an NFL Quarterback
Tim Tebow is one of the greatest college football players to ever play the game.  He has two National Championships, a Heisman Trophy, and a truckload of individual accolades on his resume.  However, I don't think I can remember a more scrutinized player to go through the NFL Draft process since I have been watching football.  It's no secret that Tebow will be a project quarterback in the NFL and has too many issues to be drafted before Sam Bradford or Jimmy Clausen.  His issues are correctable though.  Mechanics, footwork, and a throwing motion can be worked on and readjusted.  The things you can't teach are heart, leadership, work ethic, and all those other intangibles that NFL scouts crave.  And when it comes to those things, there is no one in this year's NFL draft that can stack up with the former Florida Gator.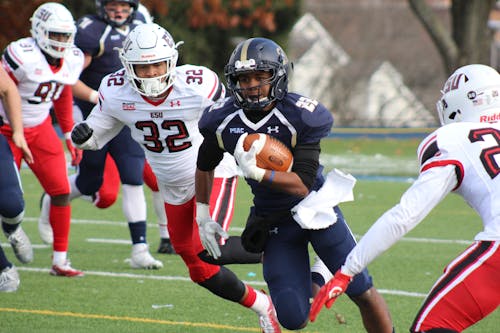 I don't know how effective Tim Tebow will be at the next level.  I don't think anyone really knows.  He is more than likely a player that will need to be coached up for about two or three years before he can really become an NFL quarterback.  But Tebow has made tremendous strides already in just six weeks and just imagine what he can do in about two or three years with continued work and dedication.  Tebow has been doubted his entire life.  He has heard all the naysayers and up until this point he has proven those doubters wrong.  I fully expect him to do the same to those that doubt whether or not he can be an NFL Quarterback.  I have never bet against Tim Tebow and you better believe that I'm not going to start now.Tim Tebow joined WGFX in Nashville to talk about how the pre-draft process is going, when he realized he needed to change his throwing motion, and what kinds of things he learned from Urban Meyer at Florida.
On how the pre-draft process is going for him:
"It's actually going really well.  I've enjoyed the process.  Coming into it you hear a lot of people saying how it's gonna be so overwhelming and it's gonna be kind of a frustrating process and so long.  For me, it hasn't been at all like that.  It's been somewhat tedious with things, but I've enjoyed it.  Going on these visits, I'm meeting with coaches that I've looked up to and watched for years.  And I'm meeting players that I grew up idolizing.  I'm enjoying the process and enjoying just talking ball, working out, training, and doing all the things I love to do.  For me, it's been a great process and I've enjoyed every step of it."
On whether or not he thought the conversation about Urban Meyer failing him was overblown:
"Absolutely.  Coach Meyer's number one job is to win football games and do what they are paid to do; That's win football games and win championships and so far Coach Meyer has done a great job of that.  A lot of other coaches can learn from that as well.  His job is to win championships and take young boys and making them into men.  That's what he does.  It doesn't matter the philosophy of offense that he runs, he does a great job of taking young boys and making them men and winning football games.  Getting them to believe in themselves and believe in the system.  He does a great job with that.  I wouldn't trade my four years for anything at the University of Florida.  I think what most people don't realize about the University of Florida is that we have so many different components to our offense.  We have some digit system, we have some west coast, we have some triple option, we have some single wing, and run so much different stuff that when we go meet these coaches you know football, you know how to talk it, you know how to understand it.  I think that's one of the greatest things that I've taken from Florida."
On when he realized that he had to change his throwing motion:
"I always knew that I had a loop in it and a drop so I knew that going into the Senior Bowl I wanted to work on it and I wanted to improve it and take some slack out of it.  Really for the last six weeks, I've been training hard at it.  Really doing three throwing sessions a day to improve it.  I've enjoyed it.  It's been a great process for me and I really felt like I've improved a lot on it."
On how tough the end of the season was with Urban Meyer's health issues:
"It was a bit of a rollercoaster.  He was dealing with different health problems and he was trying to handle it and it was a lot for him.  It came kinda to a peak after the SEC Championship game and he was trying to do the best thing for his family and that was one of the toughest decisions that he's ever made in his life.  But then he realized that if he just took some time away, relaxed, rested, and tried to get his body under control to get back.  He loves coaching, he loves his players at Florida, and he loves what he does."