Tim Hardaway Knows What Joakim Noah's Going Through Because He's Still Dealing With the Repercussions From Four Years Ago
What a bizarre last few months it's been in the NBA. In terms of the action unfolding on the court, it's business as usual. And though I personally think it's hard to argue that this year's playoffs is deserving of consideration as a top three or even five postseason, it's still been pretty darn captivating and entertaining. Some of the peripheral stuff though sure has been wacky. First Kobe Bryant verbally assaults a referee with anti-gay slurs. He barely sounds remorseful and even appeals the fine even though he's on tape barking out obscene homophobic remarks at an official. Then Rick Welts, the Suns CEO, decides to publicly discuss being gay in an attempt to start and broaden the dialogue about the subject. The immediate reaction was all positive around the NBA and throughout the media. All's well. But wait, Joakim Noah of the Bulls pulls a similar stunt as Bryant during Game 3 of the Eastern Conference Finals. Talk about terrible timing. Of course, the timing will never be right for that kind of stuff, but Chicago had been quite likeable to fans without a horse in the race. Most of us want the Heat to lose. Doesn't much matter who beats them, just get it done somebody. The Bulls were the team in the spotlight trying to take down the villainous Heat, and though I don't think Noah losing his cool and lashing out an unruly fan will make too many folks start cheering for the Heat, he definitely tarnished the collective image of his team and the league.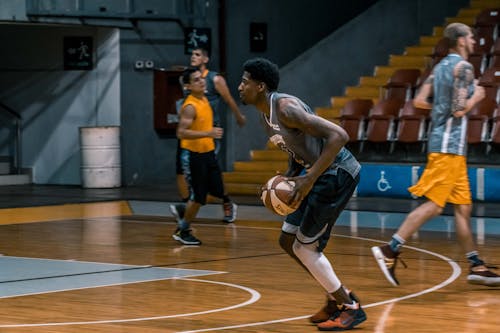 To think I've been privately clamoring for the day when we get full mic'd up access to these guys.
One man who knows a thing or two about getting caught up in the public discourse about the topic is former NBA player Tim Hardaway. Back Hardaway was outspoken when John Amaechi came out back in In case you forgot, the former Heat guard had these choice words to say about the issue — comments that still have him answering questions to this day: "Well, you know I hate gay people, so I let it be known. I don't like gay people and I don't like to be around gay people. I am homophobic. I don't like it. It shouldn't be in the world or in the United States."
As you'll hear though, Hardaway knows he was an idiot then. And he sounds sincere about it. For the vast majority of us, it's hard to believe that this is such a hot-button topic, but this last few months in the NBA certainly has proven that there's still a looooong way to go.
Hardaway joined ESPN Radio Chicago to talk about his own experience of making homophobic comments that got him into all sorts of trouble back in 2007, his thoughts on how Noah has handled the media firestorm since then, whether he thinks the whole incident was a distraction for Noah on Tuesday night in the Bulls' tough Game 4 loss, and how he's still suffering the consequences of his offensive comments over four years later.
On what his experience was like back in 2007 when he made a similarly derogatory and offensive comment that got him into trouble, and on the aftermath of Noah's particular incident:
"Well there's a lot of stuff you can say about that. A lot of the stuff that's said is wrong, a lot of stuff that's said is right. I think Joakim Noah did the right thing — he apologized, he took the onus and went on ahead and corrected the whole situation like I did. That's all you can do is correct the situation. You're not trying to hurt anybody, you're not trying to — how would I say it — offend anyone. But you've just got to take the right approach and hold your own self accountable for it and make everything right. And that's all you can do."
How much of a distraction does he think the incident was for Noah in Game 4 on Tuesday night:
"Well that was a big distraction for him, but I think he came back [Tuesday] and played a good game, a great game. The outcome wasn't what they expected, but they played a great game.  They did what they were supposed to have done; he did what he was supposed to have done. Even though he fouled out, he played his game and helped his team have a chance to win at the end and that's all you can ask for."
If he's still experiencing the adverse consequences of his mistake these days:
"Oh it hurt it tremendously, it hurt it tremendously. I'm still trying to rectify it. People come up and ask me about it and I say 'hey, that's in the past, I'm moving forward.' I'm still learning from it and it's still a bump in the road. But hey, you've got to still move forward and you still got to keep going. And that's the way it is. I take onuses on stuff. I'm not trying to shy away from it, I'm not trying to say I didn't do it. It was me and I'm rectifying it, and I understand exactly what I said and how I said it which was wrong. I'm just trying to move on from it."