Terrell Owens Opens Up As He Remains Homeless
by Bunk
It must be somewhat tough to be a die-hard fan of Terrell Owens, but at the same time, if you ask me, it's hard not to at least kind of like the guy at this point in his career. Or said differently, I don't think the guy deserves all the negative scrutiny that he's subjected to. He's a candid fellow and by most accounts, a great teammate. He is however, without a team as training camp looms ever closer. Surely he'll land somewhere by the end of the month, no? Who knows, Barry Bonds was blackballed from the league when he could still play. I doubt that will happen to T.O., but you never know. Owens joined WGFX in Nashville to talk about a wide variety of topics from his entertainment endeavors, to his Hall of Fame credentials, to potentially be reunited with Donovan McNabb, what he's looking for in a potential team to play for how he thinks he's somewhat fairly criticized, and what he wants his legacy to be.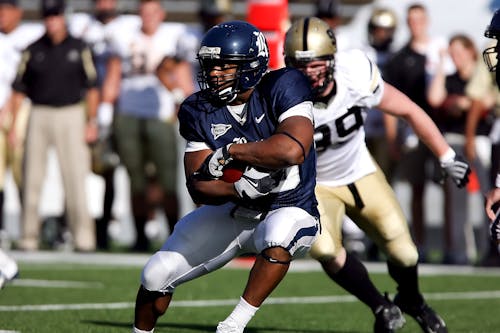 On if he plans to have an hour long announcement on ESPN when he does finalize his plans for 2010:
"Uhhh, no."
On if he thinks he'll find an interested team by the start of training camp:
"As far as what to expect from me on the field, it's the same for me: you've got to expect the unexpected. But as far as finding love, that's still something that's a work in progress."
On the differences and similarities between acting and football:
"Most definitely. If there was a parallel between football and acting I would say it's definitely hard work that has to go into it and that's where you get the great players and the great actors. The one's that are the great actors obviously they perfect their craft by really putting in the long hours and the acting classes. And sometimes you have people out there that have that natural ability to do it, but they don't really progress. And that's when you see you have the good and then the great actors. So I'm definitely at the bottom of the totem pole right now and I'm just starting to get my feet wet. I just did a movie a couple of months ago. It was a comedy with a nice cast, so I'm looking forward to making that transition."
On if there was a make-out scene in his new movie in which Stacy Dash plays his wife:
"My first. My first."
On if he's surprised and frustrated that he's yet to find a team to play for in 2010:
"I think a little bit of both. And for whatever it's worth, I think a lot of people have listened to a lot of the commentary through the media outlets, mainly ESPN, that question my character as far as things that have happened in the past. And I think I may do 99 good things right, if I do one thing wrong, ESPN and the people on there are going to make it to be the worst thing ever. So I think with the years that I've had the last three to four years, I've tried to turn over a new leaf and do things the right way, but still everybody won't let things go of what I did in the past. And I think a perfect example is what I did last year – or didn't do – in Buffalo. There was definitely a lot of opportunity for me to fly off the handle with the way things went…but I stay composed. And I know there are some things in the past that probably could have been handled better by myself, and that comes with growth and that comes with maturity and I understand that. I know for one I'm staying in shape. I'm probably in the best shape of my life. I'm out here in L.A., I'm working out, I'm playing with a lot of NBA guys on the basketball court on a daily basis. So I'm definitely ready for a call and an opportunity to help a team get to a Super Bowl and I know I still have the ability to do that, especially with the way the season went last year. Considering we had so many injuries, we had coaching changes, we had offensive coordinator changes, we had a rash of things happen throughout the course of the year and still, as you said, I caught 55 balls for 829 yards. And you think about all the injuries we had along the offensive line, I easily could have had another 1,000 yard season and more touchdowns. But you know, the rash of injuries it hindered our offense."
On if he's made any visits to teams around the league:
"I haven't made any visits, but I've talked to my agent, and like I said, there are some teams that are interested. And again, sometimes it has to play itself out. Obviously I know that me and teams in training camp know there's going to be injuries which is unfortunate but that's the nature of the game. So I'm hoping that some team will realize that I do have a lot of ability, I still can play this game at a high level, and I can be a No. 1 or No. 2 receiver. So it's not about, what I've heard, an ego thing with me. I know that I can come in and be a No. 2 if I need to. In my eyes, that's what I was in Buffalo last year, it was just so unfortunate with the rash of injuries and things that happened last year."
On the possibility of being reunited with Donovan McNabb in Washington:
"Well you know what? That's definitely something that was on the radar, and if that's a possibility and they want to bring me in and make that happen then I'm open arms to it. And I think Donovan has come out and said that things that have happened in the past were sometimes overblown in the media. It's surprising how it takes some years to go by for things like that to come out, but Donovan and I, we're friends now. We just played in this Pros vs. Joes with him, myself and Antonio Gates against some NBA champions – Hakeem Olajuwon, Rick Fox and Kenny Smith…"
On if there's any other quarterbacks out there that he'd love to play with:
"Well that's funny that you mention that, because as I'm going through this process and trying to figure out where I may land, looking at teams that may be potential contenders to win the championship, you look at a team like San Diego with Philip Rivers. I know they're having some receiver problems out there in San Diego. Obviously you mentioned reuniting with Donovan, but I think going to Washington and playing with him obviously would be a good thing because I feel that their team is really on the cusp of getting to the playoffs and making things happen. I'm trying to think of some other teams that may possibly…yeah definitely, Vince Young has showed tremendous upside as far as what he can be as a quarterback with the situations that he's been through and the way he came on last year. I definitely would love the opportunity to play with Vince if that was a possibility, so again, I'm just looking for a team that's in the hunt to get to the playoffs and obviously win it all. Because honestly once you get into the playoffs, anything can happen….".