Stanford Routt Reflects on Getting Paid, His Performance at the 2005 Combine
Ah, to be a talented cornerback that's coveted by Al Davis. If you're one of the lucky few souls on the planet, you're guaranteed to be filthy rich. The latest Oakland Raiders CB to get paid handsomely by Davis is Stanford Routt, who just recently inked a three-year $31.5 million dollar deal, $20 million of which is guaranteed in the first two years. Not bad for a guy I doubt too many NFL fans have even heard of, let alone know much about. In his defense though, Routt had every bit as solid a year as Nnamdi Asomugha, who's widely regarded as one of the game's best cover corners.Routt joined Mark & John on KILT in Houston to talk about how relieved and pleased he is about signing a new deal with all the uncertainty still surrounding the CBA situation, what he knows about new defensive backs coach Rod Woodson, his thoughts on the Combine's importance for young NFL hopefuls, what he remembers about running a 4.27 at the '05 Combine, and what kind of job and approach Hue Jackson will bring as the new head coach of the Raiders.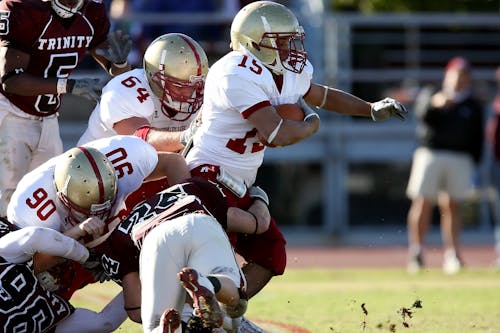 On how gratifying it must be to get a new deal done, particularly with the uncertainty surrounding the CBA situation:
"Oh yeah definitely, not having to worry about going the free agent route, trying to figure out this team, that team, this deal, that deal, the pros, the cons – not have to worry about any of that; just go back to work as soon as the CBA is taken care of."
On his new defensive backs coach, Rod Woodson:
"I actually haven't met him. But I definitely know who he is. I mean, growing up, him and Deion Sanders were my two favorite corners of all time. I know he's going to bring a lot of talent, a lot of prestige, and lot of knowledge to the program."
On how important he feels the Combine is for future NFL hopefuls:
"Well I definitely think the Combine is a tool that you can use to either push up your draft stock or just get noticed. When they go ahead and invite all 300-some-odd football players from across the country, usually with most positions you've probably got one or two that are kind of like the leaders in each group as far as the guys who are picked to go in the first round, or the top ten or however they do it. Then after that you have just a big pile, sort of the also-rans so to speak.  You've got just like a big muddy pile. So the Combine in my opinion is what separates. It either separates you, or it could be just what opens up the gas. Like I said before, it's like a job interview. It's the same way as putting on a suit and tie and going to an office at a desk right in front of someone giving me a resume. It's something you definitely don't want to have a bad performance, but it's a part of life and sometimes it happens. And that's what Pro Days and personal workouts are for after the Combine."
On what he remembers about running a 4.27 at the '05 Combine:
"Oh yeah man, I remember that day like it was yesterday. I really do. And that announced another thing — me coming out of the University of Houston at the time, we had just finished going 3-8 that season. And this was before the barrage of conference titles that UH started picking up. At the time, like I said, I guess U of H wasn't really on the map. U of H really wasn't thought of as what they are right now, so it definitely was pertinent that I went to the Combine and did pretty good in certain events and go ahead and put my name out there and kind of get noticed. I think we ran the 40…I think it was one of the later events as far as like the broad jump, the vertical jump, all that stuff. And to be honest with you, after I ran it, I actually felt like I ran slow; it really didn't feel fast to me. After the entire day was over, you know, with the position drills, the foot work and all that, that's when they had all our results. And I remember when they called my name out, they asked if I wanted to see my time or if they could just say it out loud. And I said they could just say it out loud. And when they said those three numbers, that's when I….I had a big smile on my face. I knew I was going to be okay."
On what he thinks of new head coach Hue Jackson and the new direction he thinks he'll take the team:
"Yeah I think it's going to be somewhat of a new direction. I really think it's probably going to be more of a different angle per se than a different direction. Because Hue, I know he's a fighter. He's definitely got a kamikaze all-out mentality obviously just like Tom Cable did. And you know, he's going to do a great job. He's going to do a great job just like he did last year with the offense. I think they finished number six or seven in the league in points scored, and like I said, it's just going to get better this year.