Stanford Football Continues Looking for National Recognition
The Stanford football team is coming off a season in which it upset USC on the road. The Cardinal also had a Heisman Trophy finalist in Toby Gerhart. That should give them the benefit of the doubt heading into , right?Now Stanford has another Heisman hopeful in quarterback Andrew Luck. And coach Jim Harbaugh says he has the perfect football player in two-way starter Owen Marecic. Shouldn't they ought to give Stanford a shot at a Pac-10championshipMaybe not, say the national prognosticators. Stanford may have talent, but they still aren't getting national, or even conference respect. With a brutal schedule, most still have them finishing in the middle of the Pac-10 pack.Jim Harbaugh joined KNBR in San Francisco with Fitz and Brooks to discuss the expectations for quarterback Andrew Luck, how the Cardinal will be different without running  back Toby Gerhart, how Stanford's depth chart is deeper than ever, how and why Owen Marecic is playing on both sides of the football and how the win at USC last year changed the perception of USC football.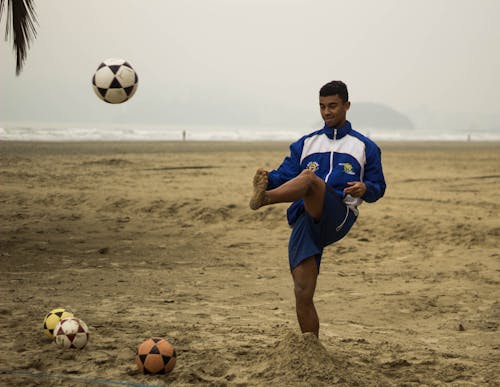 On how good sophomore quarterback Andrew Luck is:
"He's the best I've been around, pro or college. He's just got no red flags about him whatsoever. He's a really hard worker. He's got a lot of talent and a great work ethic and I think he's got a chance to be even better this year."
On whether there are reservations of handing the team to Luck:
"He's still one of the guys. He's one of the pieces, the way it always is in football. Giving him the team, he's been in that leadership role because he's the quarterback and I think he's embraced even more leadership going into his redshirt sophomore year. He realizes that there is a lot of attention on him. He sees ESPN , he sees that the Mel Kiper's of the world are predicting he'll be a No. 1 pick in whatever draft he chooses to come out and Heisman watch and things like that. The interesting thing, though, with Andrew, is he's really used that to work even harder to use that as motivation to make sure he's ready. He's not the kind of guy who's the big man on campus or the celebrity quarterback. Quite the opposite."
On changes to the team without Heisman finalist Toby Gerhart:
"Well Toby was a great player, is still a great player. He's just playing with the Minnesota Vikings. It gives great opportunity to younger guys and guys who have been waiting their turn behind guys like Toby Gerhart. … I don't think anything motivates quite like playing time and carries, so I'm sure our guys will be running hard and looking forward to the competition."
On the increase in competition and depth at Stanford:
"We really do [have that]. We have it at the running back position. We have it at the linebacker position, the tight end position, in the secondary and also at receiver. So we are pretty deep in those areas and it's been great building that. You'd like to have every position like that, but it's definitely coming along."
The biggest surprise in recruiting players to Stanford:
"The great players who come to Stanford, even from a far distance like the East coast or the South, the Northeast, Southern California. Great players who come to Stanford because of the reputation of the school and now the winning of the football team. Probably the biggest surprise in our recruiting since we've been here for the four years is Owen Marecic, who is a two-star guy who had an opportunity to go to Army. … He turned out to be the perfect football player. We're going to play him both ways this year, at linebacker and at fullback, where he is the best fullback in the country, in my opinion. And also he'll be the only two-way player, starter, in college football."
On how to play a guy both ways at the Division I level:
"It's something you've got to monitor: the risk, the reward, the peril, the merits of where he's at in the game. I don't think it's a percentage [of playing time] or a number of downs, like a pitch count with a baseball pitcher. It's got to be monitored by what kind of play he's in on. If he's in on a 40-yard run, that's going to take more out of him than a simple dive to the tailback and vice versa when he's on defense."
On how the perception of Stanford changed with the upset at USC:
"I don't know exactly. I'm sure it's the perception, the public perception, has benefited from that. It was a great win, but it was nine or 10 months ago. Internally, it's irrelevant to us because in football you could've proved it a thousand times before. Every time you've got to go out and prove it again.