Ryan Tannehill Says The Dolphins Have High Expectations
This past year's NFL Draft was headlined by two quarterbacks. Andrew Luck and Robert Griffin III. Ryan Tannehill was also in the draft but he was known as either the former receiver who turned into a quarterback or the guy with the hot wife. He has played six games in his NFL career so it is still early but it looks safe to now refer to Tannehill as the quarterback of the future for the Miami Dolphins. Coming into the year, there were numerous questions about Miami and it looked to be another rebuilding year, but as the Dolphins head into the bye week they sit at 3-3 and have the same record as the other three teams in the AFC East. Tannehill's play is a huge reason for it. He never looks rattled, the game isn't moving too fast for him and he has played better than people expected him to.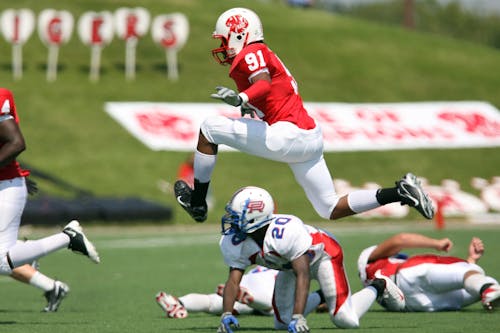 Ryan Tannehill joined 790 the Ticket in Miami with Dan LeBatard and Stugotz to talk about whether he has been rattled yet this season, what he thinks his best game has been as a pro, when he had his welcome to the NFL moment, what part of his game he thinks continues to improve as the season goes on, what he was hoping to do for the team before the year started and whether the game has slowed down.
Whether he has been rattled yet this season:
"No, I don't think there was a time where I felt rattled. I definitely felt frustrated that last six minutes in Houston where things were going bad in a hurry for us. There wasn't a whole lot we could do about that as a team. Collectively it was just some tough breaks that we faced but I don't think there was a time where I felt rattled per se."
What game he thinks has been his best so far:
"I don't know. I hope my best game is my next game. I just try to get better each game and hopefully our game against the Jets in a couple of weeks will be my best one."
When he had his welcome to the NFL moment:
"I think in Houston, the first time I got sacked in Houston, think it might've been JJ Watt, he got me pretty good underneath the chin. I got off to the sideline and looked at the other quarterbacks and said 'well I guess I'm officially in the NFL now."
On the area of his game that he feels has improved the most week-to-week:
"I think just being in the pocket. Working behind an NFL offensive line and against NFL rushers. I think just something I had to get more comfortable with was staying in the pocket and having the small movements within the pocket as opposed to escaping. Any time I felt a little pressure, I think you can go back and look at the first game, I was quick to escape the pocket. I could've stepped up or maybe made a slight slide step. I was getting out of there as opposed to staying in there and being able to throw the ball downfield. Think we've really worked on that in the past few weeks and it's something I feel like I'm getting better at."
What he felt like he could do for the Dolphins before the season even started:
"Hopefully lead my team to the playoffs. We have high expectations on this team. Outside I don't think we had a whole lot of expectations put on us but within the locker room we were confident in the team that we are. Going into the bye week at 3-3 and tied for the division lead I think we're confident that we can get better as a team, have more offensive output and continue to win games."
Whether he feels like the game has slowed down for him:
"Yeah I think it has definitely slowed down. I don't think dramatically but I think the biggest change and my vision of the game in spring and fall camp and training camp and going against the defense and getting a lot of reps so I felt really comfortable going into game one, but the more reps I get the more comfortable I get for sure."
On his confidence:
"Thank you. I try to be. I think that my teammates around me help me to be confident because of the way they're playing right now."