Ryan Mallett "I think you don't put all your eggs into one play of a players career, especially at college."
Fourth-year junior quarterback Ryan Mallett elected to forgo his senior year at Arkansas and declare for the NFL draft a month ago. Mallett has been an ideal pocket passer under Bobby Petrino for the Razorbacks having a strong arm to say the very least. Mallett told Gambo and Ash of KTAR that he can throw the ball as far as 80 yards down the field and once threw it 85 yards in high school. His numbers prove this notion to be a reality completing 64.7% of his passes in while averaging 9.41 yards per throw compiling 3,869 yards this season along with 32 touchdown passes.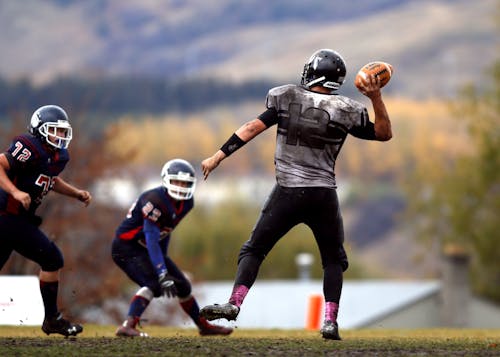 The problem for Mr.Mallett is that there is one image fresh in most people's mind and it came to light for myself when I hear his name all the time. It was indeed Mallett's final throw in the Sugar Bowl game last month against the Ohio State Buckeyes. After trailing 28-10 at halftime, the Razorbacks clawed back into the contest behind two Zach Hocker field goals and two touchdown throws from Mallett making it 31-26. With help from a Terrelle Pryor injury the Buckeyes offense came to a screeching halt. Arkansas did the impossible and blocked a Ben Buchanan punt and recovered it at the Ohio State 18 with 1:09 remaining. The game looked to be tailor made for Mallett to ride off into the sunset and finish off Ohio State while raising his draft stock in the process. The only problem was two plays later Mallett never saw a blitz coming and was picked off by Soloman Thomas. The fairy tale ending turned into a nightmare. Mallett would like to think one play does not judge a whole resume and he'll look to prove that for whichever team chooses to draft him at Radio City Music Hall in New York City this April.
Ryan Mallett joined Sports 620 KTAR in Phoenix with Gambo and Ash to discuss does he ever look back and regret transferring from Michigan, does he feel that the interception on the final drive of the Sugar Bowl game against Ohio State hurt his draft stock, does he feel his body of work over the last two years in the SEC speaks for itself in terms of being the best quarterback prospect, where does he expect to be drafted and is he scared at all entering the draft given the current state of the NFL with a potential locking looming between the owners and players.
Explain the decision to go from Michigan to Arkansas. I mean you looked like you were in line there as a Wolverine and then the coaching situation went south and you came to Arkansas. Do you ever look back on that and regret it at all?
"Oh definitely. I don't ever look back on it though. It was a great experience. I met a lot of great people and made a lot of great friends. As far as it goes, you obviously don't want to go to a school then transfer after you decide to go there, but I wouldn't change anything about it. I had a great experience and learned a lot of things from the coaches there. Coming home was great though and playing for the team that I cheered for growing up."
A lot of people believe that if you would have led the team back to a comeback victory over Ohio State in the Sugar Bowl on that final drive rather than throw the interception to seal the game you would have been a top five pick without question. Do you feel that one play hurt your draft status?
"You know I don't think so, stuff…I mean things happen all the time. I'm going to come back whenever I get on the field again fired up. I'm not beheaded for it all. You know it was kind of a…I don't want to say a fluke deal. The way they [Ohio State] ran the blitz it was a busted assignment and when I turned back and got to my hot read the guy was there and I never saw him."
I look at some many plays you have made over the last 2 years at Arkansas and I feel that the body of work is sufficient to prove how good you've been. We feel that one play is so scrutinized, but your body of work speaks for itself?
"I'd have to agree with you. I think you don't put all your eggs into one play of a players career, especially at college. I think you need to look at the whole thing. When you interview for a job you know you have a resume. My resume is the film that I put together for the last 2 years. I've done some good things and made a few mistakes, so you know the teams will evaluate that. I have to live with what they decide."
What are you hearing? What are you expecting? Where do you think you'll go in the draft? What do you think you need to do at the combine? What do you need to do to prove to these NFL front office types?
"I'll go down there. My main thing is I'm ready to get face-to-face with teams and talk football and talk the duration of the organization and how I see myself fitting into those. Obviously I want to go down there and perform well on the things I will be participating in. The drills things like that, so I'm trying to go down there to put on a performance as we called it in Arkansas when it was game-time we called it "Showtime," so I want to go down there and put on a show."
What's your thoughts on the CBA negotiations with the NFL? Are you scared or concerned going into the draft now? Is it frustrating?
"A little bit, but the way how I see it is there's so much…first of all there's so much money involved with the teams and the owners that I was watching "SportsCenter" the other day and they said if there wasn't a season you know the revenue or something is like $400 million dollars or something like that. That's one thing people take into account you know the owners especially because that's what it's about making money. It's a business. I don't think it would be smart to boycott any of it. I think you just need to go ahead and proceed it. You know take care of business like normal and get everything else worked out along the way."
 Responses to "Ryan Mallett "I think you don't put all your eggs into one play of a players career, especially at college.""
My son went to Texas High with Ryan Mallet… he was thrown in as a starter in a 4A playoff game in 03….The senior QB was thown off the team the morning of the game after a joint was found in his ashtray in the school parking inlot..Ryan threw an interception to end the game…In 04 as a sophmore he faced ENNIS in the playoffs against Graham Harrel (Texas Tech)…..also ended the season with an interception…..As a junior a in 05 gainst Dallas Highland Park and Matthew Stafford {Detroit