Philip Rivers on the Rumors of Panthers WR Steve Smith: "Any time you can add a player like that you're all for it"
The NFL lockout is officially over and teams will be getting back to work this week. It figures to be a wild week as well. Teams will be looking to re-sign their own free agents, sign undrafted free agents, and also take a look at bringing in talent from outside the organization.After a disappointing season, Philip Rivers and the Chargers are probably itching to get back to work and will try to reclaim their spot at the top of the AFC West. For Philip Rivers and the Chargers it could be a tough offseason. Vincent Jackson seems to be disgruntled and his future in San Diego is still cloudy, Malcolm Floyd is a free agent and could be in line for a big payday from another team, and one of the bigger threats for the Bolts, Darren Sproles, might leave San Diego as well.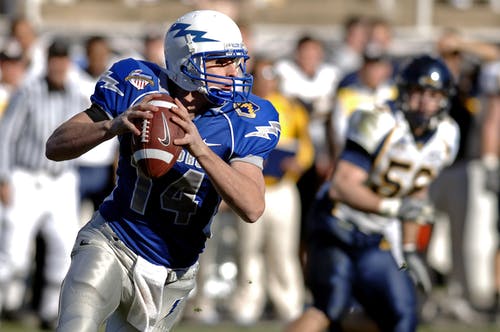 While Rivers remains one of the top quarterbacks in the game, it might be difficult for the Chargers to reclaim the division from Kansas City if he loses some of his top weapons in the passing game.Philip Rivers joined XX 1090 in San Diego to talk about the lockout coming to an end, what word he would use to describe how he feels about the lockout ending, whether or not he has talked to Norv Turner, the possibility of San Diego acquiring Steve Smith, what he expects to be different for him since he hasn't had mini-camps or OTA's, and how tough he thinks it will be for rookie QB's with a shortened offseason.
On the lockout ending:
"I know. I felt like it wasn't as bad as everybody made it out to be Thursday, Friday, and Saturday as it looked like on the outside. Everybody thought it was falling apart. I didn't get that information from Nick (Hardwick) or any of the other guys that were involved. I'm just speaking from the outside I wasn't really in the know. You get to the end of ironing out a ten year agreement with all that's involved and it's harder to do then just vote, vote and we're done, we're done and go play. I think that's what took the weekend and then we're not wasting any time. We're getting going in a hurry this week. I thought we may have a little bit of time before thing got started but jump right into it signing guys tomorrow and we'll be on the field here in a few days."
What word he would use to describe how he feels now that the lockout is over:
"I don't know. I mean people may think I'm crazy but from day one, and I'm not just saying this, I really truly never thought there was any chance we were gonna miss a game. I just said there's just no way we're gonna miss football games. I thought maybe a preseason game or two but no way were gonna miss a game. It hadn't gotten to the point to where I felt we've missed anything and I know that says a lot when you think about mini camps and the whole offseason program. I just don't feel like we've missed anything. We were gonna report July 27th had there not been a lockout. You get the month of July off either way. It's just like here we go. I just feel like as crazy as it's been, it feels normal. Other than the first week, the first week is gonna be weird because you're gonna have half of your team out there, you're gonna be adding guys or having your own unrestricted free agents not signed yet. It could be a weird week. After that I think it will be a typical training camp and preseason."
Whether or not he has talked to Coach Norv Turner:
"I have and just talked to Coach Ramsdale as well. I told Rams I said man are you happy to have somebody to coach finally? It's funny, as coaches, for them they've been working but have nobody to coach up there. I'm sure they've got all kinds of new ball plays drawn up and well have a blast here in a few days."
What he thinks will be different for him because of a shortened offseason:
"I think it will be exactly the same. I think what was going to be tweaked and where it's gonna take some getting used to is I'm sure Norv and the coaches are sorting out is all the rules as far as practice. Even during camp there's been a lot of tweaks to the rules in terms of what you can and can't do. Then obviously in season. I think that's gonna take a little bit of getting used to. Norv will put together a great plan and well get the feel for that here the first week. The first week is gonna get interesting though, if I'm understanding everything correctly you can agree to terms or negotiate with our unrestricted free agent guys or other unrestricted guys but they can't officially sign until Friday. You won't have them and I don't guess they can practice till August 4th. I don't know how many guys it will be but you will have a handful of guys that can be there in the meetings and do everything but they can't go on the field and practice. That will be a little weird till the league year opens up."
How difficult things will be for rookie QB's this year:
"Those guys they're talented guys and you never want to underestimate what they can do but it's demanding. That first rookie season, that first offseason in May, June, and July I learned a ton and really felt like I grew a lot those three or four months. They're definitely behind but you never know. Sometimes a situation like this takes a little bit of pressure off and you can just go play. Go look I didn't have the whole summer, I didn't have this nobody is expecting much, I'm just fixing to go play this game the way I've always played it and sometimes that's the best route anyway."
On the rumors about the Chargers having an interest in Panthers WR Steve Smith:
"It's hard when you speculate on guys like that. I'd love it. Any time you can get a player like that you're all for it. I'm happy with the guys we got. We've got a great group. I've been fortunate to have the guys I've had. It would be great. As far as developing a relationship with a guy like that it would take you about 30 minutes. I think Pat Crayton came here last year at the end of training camp. He and I met up there and we threw for 30 minutes and I said we're good to go, we can go play a game. When you get a guy with experience that knows how to play it doesn't take you very long until you feel pretty good."