In his first two seasons with the Indiana Pacers, Paul George showed a lot of promise but he also showed maddening inconsistency. The talent was there but something was missing. George averaged just 7.8 points per game in his rookie season while struggling to find his fit. In his second year, he improved on that number but not as much as Indiana was hoping from the former 10th overall pick in the NBA Draft.This season, it looked like it was going to be much of the same for George early on. In the NBA's first month, he averaged just barely over 14 points per game while shooting a very disappointing 39 percent from the field. And with small forward Danny Granger missing from the lineup, more was being expected of George. But he was falling woefully short of expectations. Then a game against Golden State, where George went 0-for-7 from the field, woke him up and turned his season around completely. Since that night against the Warriors, George has turned all of his potential that once made him a Top 10 pick into production. He's shooting the ball better, he's more aggressive on offense, he's playing more minutes and he understands the game better. Paul George is finally putting all of it together. And he has blossomed into one of the bright young stars in the NBA. The first-time All-Star is first on the team in scoring, he is second on the team in rebounds, second in assists and he leads the team in steals.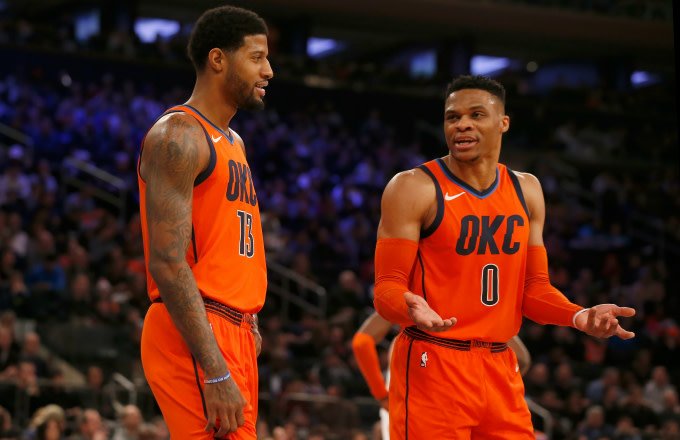 Paul George joined 1070 the Fan in Indianapolis with Grady and Big Joe to talk about how Roy
Hibbert's offensive improvement has helped his game, on Metta World Peace saying he is the best defensive player in the league and what led to his growth as a player this season.
On the impact that Roy Hibbert's made on offense since the All-Star break:
"It hasn't changed much (for me) but it's made my job easier. Now Roy is making shots down there and creating his own. That's just freeing up the whole floor and freeing up driving lanes for myself. His emergence and him coming back around with his confidence has been great for us."
On Metta World Peace saying he is the best defensive player in the game:
"He's obviously been on the defensive team, he's been Defensive Player of the Year so he has the recognition and everything behind him to back that up. I obviously can't do that as of now but I'm up there. If he considers himself the best defensive player of the game, I consider myself the same. I guess a tale of two sides."
On his growth as a player:
"I switched it all up, just my whole preparation. I come in early, I lift before every game and I get about 300 or 400 shots up prior to the game as well. All of that really came from Kobe Bryant. With him being around Brian Shaw and Brian Shaw being around us and me having a relationship with Brian Shaw and the conversations we have had, that's how Kobe prepares and gets ready for games. Me, idolizing Kobe growing up in L.A, that's really how I changed my whole season around."