Montana Fishburne Only Partly Following In Her Father's Footsteps
Usually when you think of the progeny of multimillionaire movie stars, you think of wealth, privilege, and jobs or opportunities in just about whatever they choose. Will Smith's son has appeared in movies and is not a shabby football player; countless others have gone on to careers in Hollywood in their parents' footsteps. Others still are just fine being socialites or jetsetting around the globe as rakes living off others' fortunes. Then there's Montana Fishbourne, who recently made her debut in the porn business. Yup, Morpheus's daughter is in sex tapes, and not just the amateur variety that get leaked on to the internet. Nope, Montana was in a Vivid Entertainment feature and reportedly has been offered a contract by the company to do many more in the future.And what does her father think of all this? What the hell do you think? He's furious. So furious in fact that he's refusing to speak with her. That's not sitting so well with Montana, but as you'll hear, she's confident everything will sort itself out in the long run.Fishburne joined KFNS in St. Louis to talk about this whole sordid development, how she knew she wanted to take this path when she was the tender age of 16, how she and her father have until recently had a great relationship, her future career plans, dating a fellow pornstar, whether or not she'd consider working with women in upcoming movies, and how her father's friends tried to buy up all the DVDs of her movie so that they wouldn't be distributed.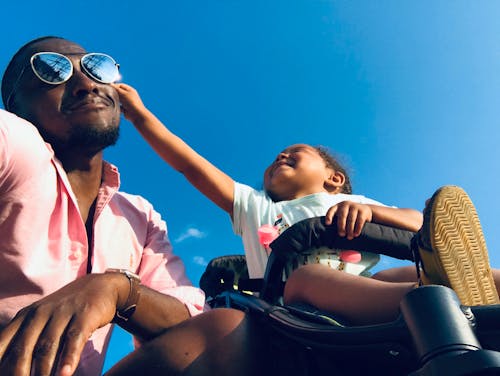 On her new sex movie that came out last week:
"Yeah it did really well, I'm really excited about it. It sold out the first day and it's continuing to do well so I'm really happy about it that people are excited about it."
On how she made up her mind at a younger age that this was what she wanted to do:
"Yeah about  I decided, but I kept it to myself because I didn't want to hear people's negative opinions until I really did it or until I could do it, or if I was going to do it. So, you know, I'm excited."
On if she has plans to do future movies in adult entertainment:
"Yeah I have plans to do more movies. Nothing's set in stone but I've been talking about it. So it is something I want to continue."
On if she might be interested in signing a contract with Vivid:
"They've offered me something but I haven't accepted anything just yet."
On if she's holding out from signing with Vivid or somewhere else because she's considering getting out of porn after just one movie:
"No, no, no. I'm saying I want to do more movies, but with so many different offers are coming in, if I decide not to do a movie right away and something else, and come back a do another movie later on."
On if it's true that her father, Lawrence, offered Vivid $1 million dollars to buy up all the inventory of her first film:
"Yes. Yeah, his friends hired a lawyer to try to buy up the tapes so they wouldn't be distributed, but they had already been shipped out."
On if she has real breasts or if they are fake:
"Yeah I have real breasts."
On if she would work with women in upcoming films potentially:
"Yeah in the future I would consider working with females."
On if it's an accurate quote that her father won't speak to her until she turns her life around:
"Pretty mcuh. We're not really on the best of terms until he's going to understand my decision and be okay with that."
On how long they've not been speaking:
"No, it's recent with this video coming out."
On if she's always or frequently had a rocky relationship with her dad:
"No, yeah, we have a really good relationship, so I'm not worried about further problems. I feel like we'll get through it because I love him unconditionally and I know it's something he'll understand later on."
On if she thinks her decision has anything to do with wanting to form her own identity away from her father's shadow:
"No, I mean I have my own identity no matter what. That's why I don't think people should put it on my dad as him being a bad father, or us having a bad relationship. Because I am my own person, this has nothing to do with him. The reason I decided to do this is because I like porn. It's not anything about how he raised me or our relationship. It's something independent on my own.