Mayweather vs. Mosley is the True Mega Fight
Everyone wants Manny Pacquiao and Floyd Mayweather. It's a fight that's been talked about since Pacquiao beat Oscar De La Hoya in December of 2008. Each dismantling that Pacquiao has amassed since is blood in the water. The shark frenzy that is the boxing community reported on every bit of "news" that came out of the Mayweather/Pacquiao negotiations. Ultimately those talks broke completely down over the window of blood testing for performance enhancing drugs.With the Mayweather fight now completely off the table, Pacquiao signed on immediately to fight Joshua Clottey. Mayweather, with no opponent in sight, was rumored to be sniffing fights with Matthew Hatton (Ricky's brother), Paul Malignaggi and Yuri Foreman. The biggest losers in all of this seemed to be the people who were going to pay to watch these fights.Shane Mosley at this point was completely off the table to both fighters as he had a late January date with Andre Berto. The massive earthquake in Haiti three weeks before the fight sent tremors all the way to the USA. Berto, a Haitian native, couldn't possibly be asked to fight with eight relatives dead and more missing.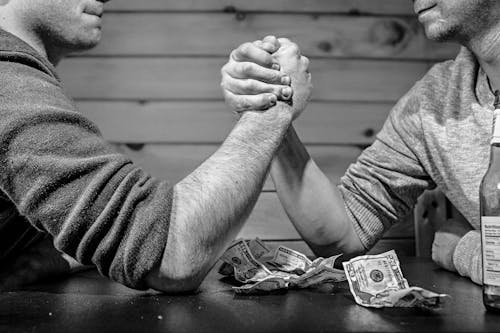 At this point we have Shane Mosley, the top rated welterweight in the eyes of the IBO, WBC and WBA, and Floyd Mayweather, the pound for pound greatest, or second greatest depending on who you ask, looking for fights. It was a natural to pit the two against each other, but its made sense for these two to fight three weight divisions and 10 years ago and every year along the way.Mosley lacks the star power of a Manny Pacquiao, but to people who watch boxing not only when the biggest marquee names are fighting will tell you that this is a tougher fight for Mayweather than Pacquiao could give him. Mosley may be on the wrong side of 30 at this point, but if you watched the beating he laid on Margarito, you could see that he still has plenty left in the tank.However you draw the map to where we are today, be it a major earthquake, blood testing, a senate seat, us boxing fans are the lucky ones who will get to see the best pure boxing match that's available in the sport.Shane Mosley took time out of his busy training schedule to join ESPN Radio in Los Angeles with Andrew Siciliano and Mychal Thompson to promote the fight and throw a few verbal jabs Mayweather's way.
Mosley was asked how he feels as Mayweather keeps referring to him as a "kid":
"He's been called Little Floyd his whole life so I think he wants to be the big dog. I'm the elder in this equation and I have the most experience in this equation. I don't pay attention that stuff, I just pay attention to the fight."
On if he's bothered by Mayweather's complete lack of respect for him:
"No, it really doesn't bother me. I know it's just a strategy he's trying to pull outside the ring. If I get involved and go back and forth with this, then he'll win that battle. I think that's what's driving him crazy, is that I wont engage in any type of that stuff. I'm just going to speak the truth and tell the truth, that's it."
Mosley was asked if he's winning through six rounds if Mayweather just gives up knowing he has an automatic rematch clause in the contract:
"I don't think so. I think he wants to protect his undefeated record. I think that's very important to him. He'll do it however he can do it. I know he's going to have to fight until the end. If not, I'll be victorious in that fight with no problems."
On if he's going to employ some of Marvin Hagler's style he used against Tommy Hearns in being the aggressor through the whole fight:
"Well I'm going to make him fight. Tommy Hearns was a power puncher where Mayweather isn't really a power puncher. It's a different style. Where Tommy Hearns wanted to prove that Marvin couldn't just walk him down, and that's how come he was able to get caught. Mayweather is not that type of fighter where he's going to try and combat with me and go back and forth because he knows that I have the advantage in the power. It's a different type of strategy. You have to beat Floyd with your mind, and with your power and speed too, but I have to really use my mind to outthink Mayweather. I'll be aggressive, and I'll try and be as aggressive as I can, but the important thing is to win the fight."
Mosley was asked about the comments Mayweather has made including Mosley's former steroid abuse on the HBO 24/7 show:
"What's weird to me is that everybody on his whole team, all of his security guards, they all look like they're on steroids. They all look like they're on roids. I don't understand it. Why he keeps saying "steroids, steroids, steroids" and I noticed that Floyd always shaves his head all the time. His head is starting to look a little bigger. He has all these people around him that's on steroids, maybe he's dibbling and dabbling a little bit. The guys that usually talk about it all the time, "oh man, steroids, steroids, steroids, oh, oh" they're usually the ones on it."
On if he's accusing Mayweather of taking steroids:
"No. I didn't accuse him. I didn't accuse anyone of anything. I'm just saying that when someone is saying different things all the time. He wants to talk about my suit, he wants to talk about the curls in my hair, that I'm getting a nose job. Is he funny? Is he gay or something? Why does he need to know all these different things about my personal stuff?"
Listen to the audio here.
27 Responses to "Mayweather vs. Mosley is the True Mega Fight"
Oh my, I was looking at the HBO highlight reels of both Mosely and Mayweather and for the life of me I can't understand why Mayweather is a top pound for pound fighter. Unlike Mosely, who fought some tough Hombres (Vernon Forrest, Miguel Cotto, Margarito) Mayweather doesn't have one Marque name on his resume. Come on, Corrales, Castillo, Baldomir, Ricky Hatton at 147lbs., And of course Arturo Gatti, I love the guy but lets face it he has no skill and has been a punching for years before he fought floyd. The contender dude(Gomez) smoked him.Marquez came up three weight classes (he fought Pacquiao at 130) to fight floyd and floyd didn't have the dignity to even make the weight) It was a split decision. Come on this guy is a total hype job. Come on a split decision with Oscar thats humiliating!To bad Shane is way over the hill to run down a rabbit like floyd.Super fight, yeah right, super hype you bet.you got that right kbb, i totally agree with you pal.this is no mega fight. just another boring event.waste of time and money.and why is floyd on the pound for pound ranking when all he do is counter punch and run, cherry pick smaller opponents and only gets a UD? all floyd has is an Americancitizenship thats keeping him on top of all this ratings.moseley knocks out this floyd jr any takers….
Hype all you want but people around the world will view this as one boring game due to the following:
 All Mayweather can show is jab and backpedal for the whole 12 rounds.
 Mayweather has already said he is into it for the money and not for the game of boxing.
 The last 4 games of Mayweather are all classical boring games.
 Mosley is almost 40 years old. Those who watched Hopkins-Jones could attest how boring is it
to watch 40 year old boxer in the ring.
 Mosley has been deprived to use PED. That is his only weapon to last the 12 rounds and he has
been deprived to use it.
After this game this will be a talk of the town thing…people who watched it will be saying they
never learned from previous Mayweather games, that they are indeed a fool for watching a boring
game. They gave up their hard earned money just to watch this boring game being hyped as
something interesting.