LaMarr Woodley: "Every year we seem to prove everybody wrong and be a contender in the Super Bowl."
Assuming there is NFL season, LaMarr Woodley is scheduled to play under the Franchise Tag for the six-time Super Bowl champion Pittsburgh Steelers. Does Pittsburgh plan to keep Woodley around long term and re-sign him to a big contract at some point this offseason or next? Most Steelers fans sure hope so, but I'm not convinced the organization will pony up the money it could take to retain him. I'm also not convinced that Woodley is going to age as well as some, like say, his counterpart on the opposite side, James Harrison. That will play itself out eventually. Woodley's already played the waiting game once last year while seeing if he was going to get paid handsomely by the team that drafted him in the second round of the draft. From the sound of it, he'll be just fine staying focused and helping the team win for another year before worrying about his future with the Steelers.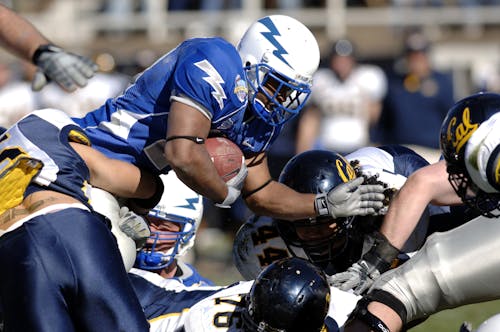 Woodley joined 93.7 The Fan in Pittsburgh to talk about how the lockout has affected him personally, if he feels like he'll be at a disadvantage from not having worked out in a group with his teammates this offseason, how long it took him to get over the Super Bowl loss to Green Bay, what game outside of the Super Bowl was most memorable for him last year, if he was at all affected mentally last season by not being re-signed by the Steelers to a long-term deal, reaching out to rookie defensive lineman Cameron Heyward, how he thinks the defense can still help the Steelers get back to the SB despite everyone thinking it's too old, and how he's going to try to make it out to LA next week to support Hines Ward in the final of Dancing With The Stars.
On how the lockout has affected him personally:
"I've just been doing what I do every year and that's just staying in shape. A lot of people are so concerned about the Lockout right now, but we're locked out during the season. Usually right now, we'd probably be in OTAs which is non-contact practice with helmets on, but every guys is just doing what he's supposed to do to stay in shape even though we don't have OTAs."
If he feels like he'll be at a disadvantage from not having worked out in a group with his teammates this offseason:
"No disadvantage at all. When we were in OTAs, most of the time it was watching film and practice maybe lasted an hour. So that don't put us at a disadvantage at all, there's no contact involved. It's not like it's full speed. Once we get to "training camp, everybody's on the same playing field."
What what would happen to him and his future if there is no Franchise Tag in a new Collective Bargaining Agreement:
"Honestly, I can't tell you what would happen in that situation right there. They told me once the CBA was worked out or whatever that we were going to work out a long-term deal. So either way it goes, hopefully we're working on something when everything gets figured out."
How long did it take him to get over the Steelers loss in SB XLV to the Packers:
"You know, I was actually just watching the NFL Network's Greatest 20 Games from the 2011 season and the Super Bowl made No. 19.  I know we had opportunities to win that game and we just had too many mistakes. Green Bay was just a better team that day. But it's not a game that's going to be in the back of my mind throughout the season. All I want to do is make sure we get back to that Super Bowl, and when we get back there, hopefully this time we win the game."
If there was a game outside of SB XLV that he thought was most memorable last year:
"Oh, the game I probably enjoyed the most was probably a great game for us against the Baltimore Ravens. I think they had us down 21-3 going into halftime which was somewhat similar to the Super Bowl. But against a team like Baltimore, we fought all the way back and came out on top."
If he was mentally affected by not being re-signed to a long-term deal at around this time last year:
"No, the approach I was taking and always take is 'things you can't control, don't be upset about it, don't worry about it.' That was out of my control whether the Steelers wanted to sign me to a long-term deal. So I wasn't worried about it. I had a few interviews and sometimes people asked me questions, I just tell them what's on my mind and sometimes they can get taken the wrong way. But I wasn't one of those guys who was really concerned with their contract situation because I wasn't going to let that be a distraction towards me or my teammates going into the season because I knew the ultimate goal was going to the Super Bowl."
On if the defense can help the Steelers get back to the Super Bowl again despite its age and if rookie Cameron Heyward will be able to contribute:
"Oh definitely. Every year they talk about our defense being an old group, but every year we seem to prove everybody wrong and be a contender in the Super Bowl. So we're not worried about how our team is aging. When he comes in he's going to be with a bunch of veteran guys, guys like Aaron Smith showing him the way. He's really going to learn a lot and he's really going to help us win this year."
On Hines Ward's impressive showing on Dancing With The Stars:
"He's been doing a great job, definitely focused. The guy can move! I didn't know Hines can move like that, and he keeps that smile on his face and he's really into it. Actually I'm thinking about going out there on Monday to be in the audience this week. I've been invited before but the whole thing I'm hesitant about is that five hour flight — that's a long flight to the West Coast."
Is Ward going to get any flack from his teammates for the whole DWTS ordeal:
"Oh no. I tell you one thing, he looks better than Ochocinco out there. So that's another beating we gave the Cincinnati Bengals having Hines Ward outperform him."