Jimmy Rollins: Keeping Cliff Lee is "Just a Move the Yankees Do"
I'm guessing it had nothing to do with Jimmy Rollins' comments on the Dan Patrick Show, but Rollins is making waves within baseball and his Phillies' organization for his take on the team's decision to move Lee in the off-season deal that brought in Roy Halladay. Rollins makes some good points, but this came down to a classic baseball debate regarding potential greatness now vs. sustained success.The deal that involved the Blue Jays and Mariners was done in parts and probably did not have to include the parts with Lee (or the Mariners). But, with Halladay coming in, Phillies' GM Ruben Amaro made a conscious decision to add pieces for the future at the same time as opposed to paying would-be free agent Cliff Lee the $9 million for one year to help comprise one of the more potentially dominant rotations we have ever witnessed.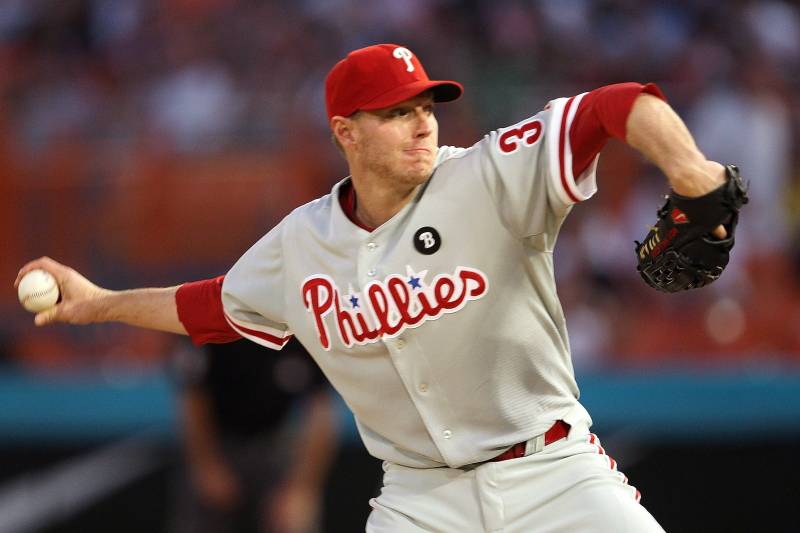 Clearly, it was a goal of the organization to replace to top prospects it needed to send elsewhere to land Halladay with three more prospects who could help the team in the future.It's a classic debate. Some teams, like the Yankees favor winning now and constantly adding Major-League caliber pieces, while others, like the Rays, stockpile prospects to build from within. Of course economics come into play, but the Phillies are much closer to the Yankees than the Rays in that category. Ultimately, Philadelphia is trying to do a little bit of both by getting one of the best pitchers in baseball to continue to win today while not leaving the prospect cupboard bare for future. It's a fine line to walk. Personally, Rollins' and the Yankees' preference seems to be more effective. You know, a bird in the hand… Well, I can let him explain it.Jimmy Rollins joined the Dan Patrick Show to discuss Cliff Lee, expectations for the year, starting pitchers vs. relief pitchers, and Donovan McNabb.
On why couldn't the Phillies afford to keep Cliff Lee:
"That, I have no idea. I'm sure we could afford him. We turned nearly 4 million people through the turnstiles last year. I don't know. You should have (Phillies GM) Ruben (Amaro) on here… When the trade happened, I actually got a text from Jayson Werth and he was like, 'What are we doing?' And I was like, 'Didn't we get Halladay?' And he was like, 'Yeah, but we traded Lee.' And my mouth dropped like, 'That wasn't part of the deal.' I really don't know. I thought we had enough to keep him. I thought we could have done enough to keep him. I guess that's just a move the Yankees do… That's just the truth. The Yankees would have been like, 'Hey, we got a chance to keep both of them. We'll pay them both for a year or two and we got a chance to win a championship.'"
On if fans would treat him differently if he didn't have a World Series title:
"Oh, 100% differently. There is no doubt about it. But that's the great thing about winning. You get treated as a champion. Those expectations of being a champion are there, but those are the ones that you enjoy. You enjoy going to the ballpark everyday with people expecting you to win every single ballgame although that's impossible. I really do expect to win a World Series this year. We have a great ball team. Some help in the bullpen. Roy Halladay of course, a better, balanced lineup and hopefully we can pick up where we left off with day one. "
On who is odder, starting pitchers or relievers:
"I would have to say relievers. Relievers have their own world. It's like the relievers club. Starters' wives hangout. Position players' wives hangout. And then the relievers wives are just as crazy as they are."
And on Donovan McNabb's trade from Philadelphia to Washington:
"Whew. Well, I like Donovan in an Eagles' uniform. Obviously, when you go to a place you have three quarterbacks and you haven't won a Super Bowl, everybody starts to get upset and someone has to go. In baseball, we always know it's the manager. In football, I guess it's easier to deal a quarterback."