DeMarco Murray Runs Into the Cowboys Record Books in His First Ever NFL Start
Welcome to the NFL DeMarco Murray. Murray started at running back for the Cowboys for the first time in his young NFL career because of the injury to former first round pick Felix Jones. It was an opportunity for the rookie to shine and he delivered in record setting fashion. Yes it was against the St. Louis Rams putrid run defense, but in his first ever start Murray wiped out Emmitt Smith's single game rushing record in a Dallas Cowboys uniform, rushing for 253 yards and leading Dallas to a victory.The Cowboys have always had an explosive passing game with Tony Romo, but if Murray continues to run the way he did yesterday, they will finally have the running game to compliment it.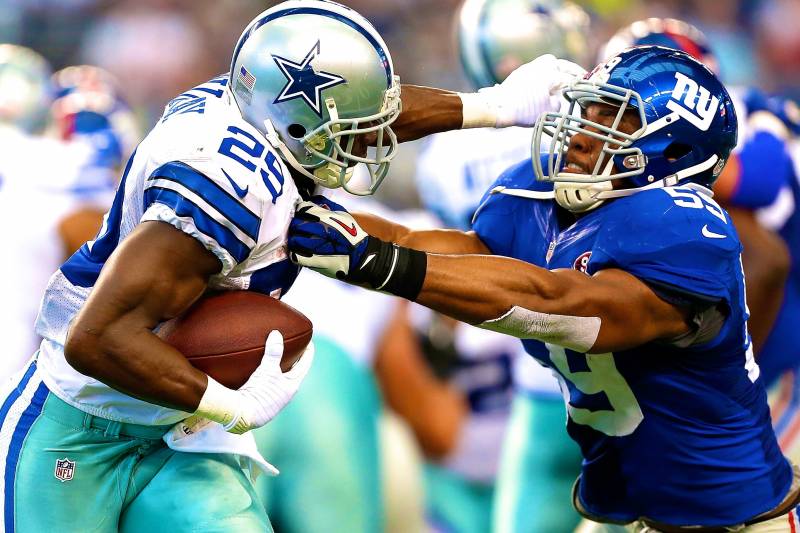 It's not often that a former first round pick loses his job to injury, but Murray's performance should be enough to show the Cowboys that he belongs as the new starting running back in the Lonestar state, especially since Jones has been a bit disappointing and can't seem to stay healthy.DeMarco Murray joined 105.3 the Fan in Dallas with Shan and RJ to talk about whether or not it has hit him that he broke a Cowboys record in his first ever NFL start, why the offensive line struggled so much earlier this season but played so well yesterday against the Rams, whether or not it was his best game of his football career, the most surprising person he heard from after his career day, and whether or not he thinks he has earned the opportunity to be the starter moving forward.
If it has hit him that he already broke a Cowboys record held by Emmitt Smith:
"To be honest it really hasn't. I'm blessed that I have this opportunity and I'm blessed that I have five great O-Lineman that open up huge holes for me. The tight ends and receiving core did a great job blocking for me all day. It really hasn't sunk in yet to be honest."
On the offensive line struggling earlier this year and playing so well yesterday:
"Yeah they did and the running backs also struggled to make the right cuts. We were all on the same page this week. We worked hard in practice, it got a little physical out there on Wednesday, and I think that kinda lit a fire under guys so we knew that we had to get the running game going to help (Tony) Romo in the passing game. He had a great day passing the ball and our receivers did a great job receiving. If we get those two things going I think we're a pretty good team."
If this was the best game of his life:
"I believe it was. You dream about playing in the NFL and you never realize or think you will have this opportunity. It's crazy to be playing for the Dallas Cowboys let alone have a game like that. I'm blessed, God has blessed my heart tremendously, and I'm just thankful for my teammates and happy we came out victorious."
On the most surprising text or tweet he received following his game:
"It definitely had to be Emmitt Smith and Tony Dorsett just sending out a tweet. That was awesome. I looked up to those guys. I've never been in the same breath as those guys. Those guys are far beyond. In athletic ability they are way better than I am. Just having a chance to talk to those guys a little bit and hear them congratulating you it's humbling and breathtaking and I'm so blessed and gracious for this opportunity."
Whether or not he feels guilty that he took a record from Smith:
"(Laughing) Yeah you can say that. It's just weird. I never thought in a million years I would do it. I don't think of individual accolades so I just go out there and work hard and look for the victory and it's just crazy."
When he knew he was close to the record:
"Actually (Jon) Kitna pulled me to the side after that run and he was kinda just explaining you've got three yards for the record. I was thinking about it at all. Once you hear something like that you definitely want to get out there and continue the game. It was just crazy though."
If he thinks he has earned the starting job moving forward:
"It's hard to say. Felix is our guy and I don't know what my role will be when he returns. Hopefully he returns very soon. Whether it's starter, second, or third string, I'm gonna do it with a smile on my face and try to contribute as much as I can. It doesn't really matter who is the starter but no matter what happens I'm gonna continue to work hard and try to win some ball games."