Chris Bosh Could be the Key to a Miami Heat Finals Run
by Chris Fedor
Chris Bosh has heard all the criticism throughout his career. He probably even hears it in his sleep. They say he's too soft. They say his game has too much finesse. They say that he's not a star. They said he couldn't win a playoff series. While there are always going to be doubters, Bosh finally won his first ever playoff series when Miami got past Philadelphia and make no mistake, Bosh was enormous in that series against the 76ers. Bosh averaged 19.8 points per game, 9.0 rebounds per game, and 1.2 blocks per game. This series with the Celtics, Bosh is going to be even more under the microscope. The six-time NBA All-Star will be going against one of the toughest defenders in the NBA on a nightly basis and after winning his first ever playoff series and attempting to silence the critics, the murmurs increased after his rough afternoon on Sunday.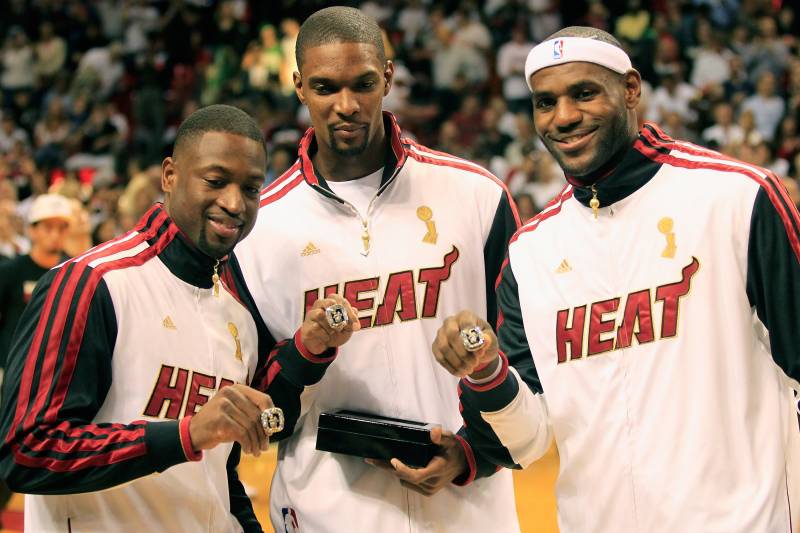 While he had to change his game a little to join LeBron James and Dwyane Wade in Miami and he is not going to put up the numbers he did in Toronto, Bosh is a very important piece in Miami's potential run to the NBA Finals and they are very close to unbeatable when he and the other two are on top of their game. It's going to be a tough series for Bosh going against Kevin Garnett, but he is going to have to give Miami more than just seven points on 3-10 from the field. Chris Bosh joined WQAM in Miami with Sid Rosenberg to talk about the physical game against Boston over the weekend, whether or not he is intimidated, why he struggled so much in game one, whether or not he agrees with Paul Pierce getting ejected, and how much confidence Miami has after winning the first game of the series.
How physical the first game was:
"Really what it's about is really wanting to win this series. It's the playoffs. Everything is under a microscope, the possessions are more physical, it's going to be more of a halfcourt game, and that's how it's going to be sometimes. We understand that and they understand that as well. Nobody wants to lose and all these games are very important. The extreme importance of these games, it puts more emphasis on the loose balls and the rebounds and when you foul somebody you make sure they can't get a shot at the basket as well. It's a part of the game. They've been there before, we've been there before, and I was telling people earlier I think the intensity is going to go up as the series goes so we just have to be ready for more."
Whether or not he is intimidated playing Boston:
"I mean it's basketball. It's just basketball at the end of the day and if you let someone intimidate you then that's an advantage they have on you. The way I look at it, it's basketball and I'm just gonna go out there and do my job. At the end of the day it depends on how much will you have to win. Individually I have a strong will to win and as a team we have a strong will to win together. If you're going to work this hard you don't want to just give up and let it come easy to the other team. You want to play as hard as you can and do your job the correct way."
On his rough first game in the series against Boston:
"Everything is always difficult. Against that team everything is always difficult. I took some shots that I wish I could've had over. Half of them, I just missed them and that's going to happen in this series. I'm not really worried about the offense I know that comes and goes and I can't do anything about a missed shot or some rattling in and out. I'm just trying to pick and choose the right moves and put myself in a better position. I'm keeping that in mind for game two. I was just focusing in on staying in there mentally and making sure I'm where I'm supposed to be on defense because if we score more points than them we're going to win the game. Defense is more important."
On the ejection of Paul Pierce:
"Like I said before I don't know what happened. I just know they ejected him and it was a bunch of commotion of course because they disagreed with the call. Most of the times in important games, sometimes emotions get the best of you. Whether it was the right or wrong call I'm not sure I haven't watched the game over again."
How much confidence they have:
"I think the confidence is there. You have to have confidence. I think that's extremely important in anything you do if you want to be successful. At the same time we respect our opponent. We're confident when we do the things that were supposed to do. With that said we need to come out with the same disposition, come out with the same energy, and just use that home court advantage and put their backs up against the wall even more. We know they're not going to play the same way. It's going to be a different game than game one and I think as long as we keep that in mind and make sure we don't get complacent and come out with a lot of energy too I think we will be fine."
On Osama bin Laden being killed:
"It was surprise and shock because I heard the President was making an announcement. The first thing that was going through my head was oh no, what's going on. The President isn't going to make an emergency announcement for no reason. We were watching it on TV and he came out and gave that information. It was shocking. You kinda just put some in the past and you're like oh well that will happen when it happens and then the President makes his announcement and you see so many people's reaction and I think it was an important day for US history."