Chris Bosh Awaits The Day That The Miami Heat Achieve Rivalry Status, Get Their Own "DVD Box Set"
Chris Bosh has really had his life come full circle over the last two years. He signed with the Miami Heat two years ago and lost in the NBA Finals to the Dallas Mavericks. This past season, Bosh became a father in early May and then won an NBA title in June.Bosh is loving life in Miami and believes his team has a chance at doing something special. He grew up watching the Chicago Bulls' dynasty of the 1990s and believes the Heat have a chance at winning multiple NBA titles.Chris Bosh joined 790 The Ticket in Miami with Hochman and Zaslow to discuss his emotions after winning an NBA title last season, the Miami Heat wanting to be remembered for winning multiple NBA titles, Mario Chalmers having lifetime immunity from the fans after winning the Heat an NBA title and loving life in Miami.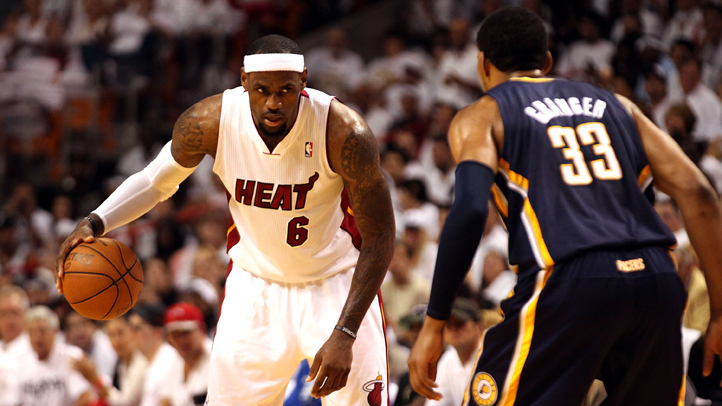 Did winning the championship this past year feel better than losing in 2011 hurt?
"Yes. [Laughs] I know what you mean. It hurt really bad. It hurt. First off, it hurt really, really bad to be in that position in 2011 because, like I tell people all the time, when we were playing and when you get that far you just expect to win. We were up 2-1. We had a lead in Game 4. We had plenty of chances to win that series and just to come up short. The mistakes? There's nobody else to point the finger but yourself, and that's what hurts the most, when you make mistakes and you know nobody can save you. Just to make it that far … we had went through all that adversity and I felt we were owed a championship, but that pain hurt. It cut deep, but it also made us stronger. It made us stronger as a unit. It made us stronger individually and it helped me realize that nobody owes you anything. You have to go out there and take it. You have to be willing to put yourself out there again and when we won it, it was sweet man. All those memories of losing went through my head again and that made me celebrate harder."
Now you guys have to get greedy and win a few more titles to be remembered, right?
"Absolutely. When you think about the Bulls' three-peat, this is when I was growing up watching basketball — the bad boys back to back, 'Show Time' running the 1980s and the Celtics in the 1980s, Kobe and Shaq, the Spurs' dynasty. This is what people talk about … and there's kids watching us right now that are going to remember this and it's going to help them make the league. I just think about that because I watched Michael Jordan, Scottie Pippen, Tim Duncan and David Robinson. These are great, the all-time greats of the game. You know what I am saying? I think we are in that position right now, but we have to take it one day at a time of course, but we can't let the opportunities slip by us. We have to really seize the moment. After last year I was looking at it as a whole. We have a very unique opportunity right now to just really try and win as much as possible and when the smoke clears at the end of our careers we can look back and say, 'Man, that was a great run. We really did this.' And they'll give us a name and we'll have a DVD box set hopefully. We can do all that stuff."
Does Mario Chalmers have lifetime immunity from the fans and players after leading the Heat to an NBA title last season?
"[Laughs] I enjoy yelling at him too much. Mario Chalmers is a really good player and just like everybody, we make mistakes and we have to stay on Mario because he's the point guard. That's an extremely important position and I don't think it's any coincidence that, by us staying on him, I think that brings out the best in him. It may not seem like he likes it, but like one of my old coaches told me, 'You have to worry when guys stop getting on you. That's when you have to stop worrying, because they don't care anymore.' We care about him. We want him to be the best player he can be and he's a championship point guard and that's not an easy job."
Do you like living here in Miami?
"Love it here. Love it here. It's easy. Come on, the sun is shining, it's great. I always tell people all the time … you really have to appreciate it because I wear shorts and a T-shirt to practice every day and after practice we can go to the beach and go hang out somewhere outside and that's just so unique. Where I was before you couldn't do that."