Braves Pitcher Tim Hudson Calls the Infield Fly Play One of the Worst Calls Ever, Backs Up Fans
It's time to get some reaction after last Friday's controversial call in the St. Louis Cardinals-Atlanta Braves Wild Card play-in game. It goes without saying that the infield fly rule call made late in the game by Sam Holbrook was a brutal call that shouldn't have been made, but that doesn't excuse the classless actions made by the Braves fan base no matter how bad the call was.However, pitcher Tim Hudson has come out to defend the Braves fans. Here's his take on the controversial call that cost the Braves a crucial eighth-inning out.Tim Hudson joined 790 The Zone in Atlanta with Mayhem in the AM to discuss his take on the infield fly call made against the Atlanta Braves in the wild card play-in game versus the St.Louis Cardinals, the umpire needing to make his infield fly rule call earlier than he did on the play, Joe Torre and the umpires being the only people who supported the call, the Braves not losing because of the call and the reaction of Braves fans.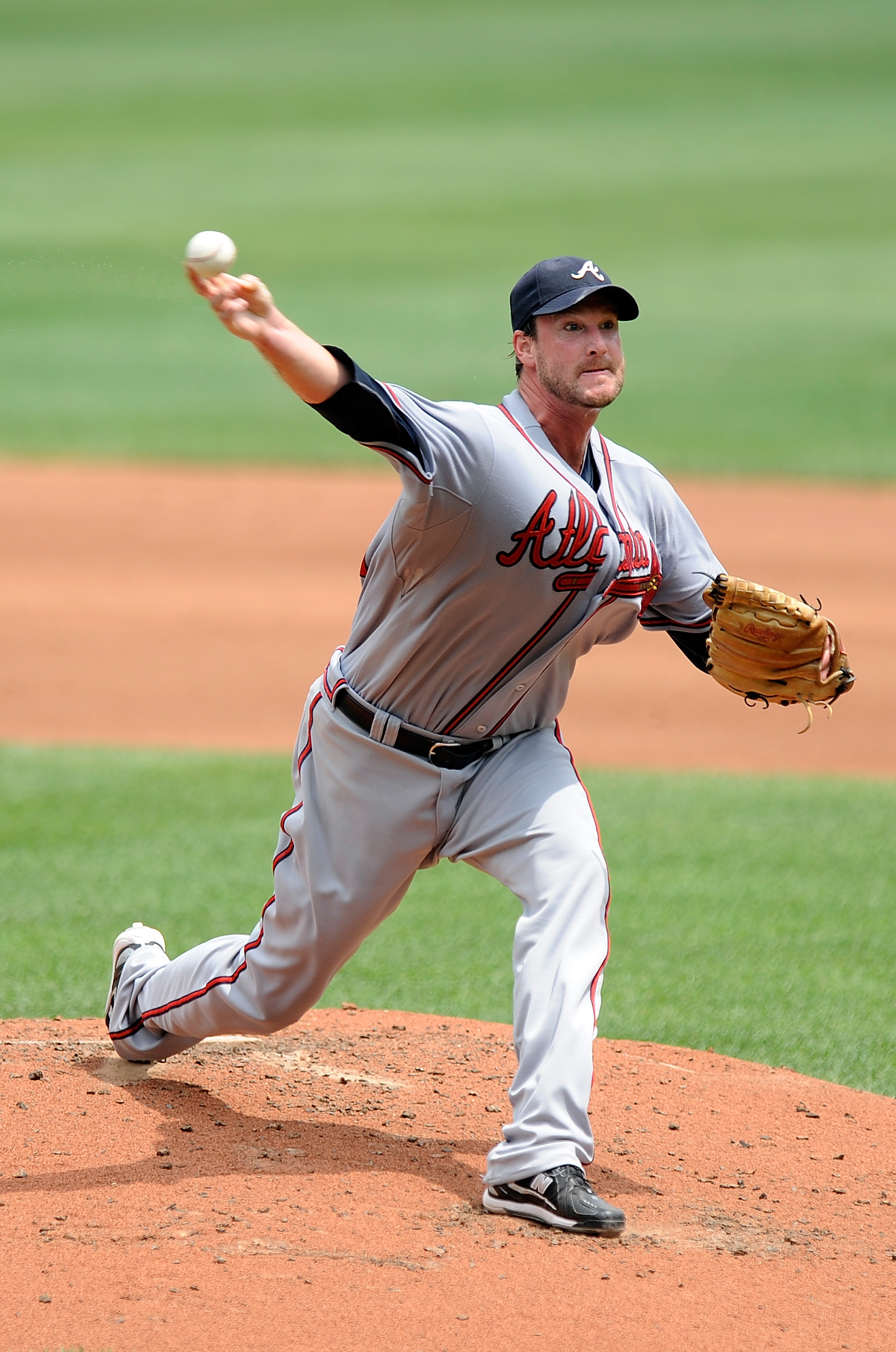 How would you rank the infield fly call?
"I think it's one of the worst judgement calls I've ever seen. Obviously it was a pop up, but it was a pop up that was in shallow left field. It was a baseball play in my opinion. There was nothing routine about it. … The rule of the infield fly rule was to keep the infielders from being able to deke the runners from getting an easy double play to not leave the base runners out to dry. That ball was so deep that even if they did drop it on purpose they couldn't even have got one force out at any of the bases. Dan [Uggla] was on second base and he was half way between second and third because he was anticipating him not being able to make that catch because it wasn't a routine ball. It was so much further than any infield fly rule that I have ever seen and at the same time there is plenty of pop-up balls that land in that bermuda triangle that are base hits a lot, that are misplayed. In my opinion it was a baseball play. It wasn't an infield fly rule."
Do you agree that if the umpire was going to make an infield fly rule call it should have come earlier than it did to protect the runners?
"Yeah they are suppose to make that infield fly call when the ball is at its peak height. That ball was only 30 feet from hitting the ground when you saw his arm go up. There's no way anyone on St. Louis' team was anticipating that being an infield fly rule. Nobody on the St. Louis Cardinals team, not one guy, thought that was an infield fly rule when the field umpire called it."
On the big difference between having the infield fly rule called and have the bases loaded with one out for an opposing pitcher on the road in a playoff game
"You have Brian McCann coming in right there pinch hitting. It should have been bases loaded, one out. Obviously it's a much different ball game for who was it: Mitchell Boggs pitching at the time? He's a guy that has great stuff, but when you have bases loaded in a visiting ballpark and you are only up by three runs with one of your big boppers at the plate … you know that pressure gets a little tighter around the throat. … I saw that as our opportunity to get back into the ball game and obviously with that bad call, I don't care who you are … if you are a baseball guy you understand that wasn't an infield fly rule. The only people, in my opinion, that are saying that it was the right call are the guys in baseball who are trying to keep the crap storm from stirring any further than it is. That's usually the guys affiliated with the MLB, whether it be Joe Torre or the umpires or whatever. They know in their heart of hearts it was a bad call. It was a bad judgment call. By rule it might have been the right call. Just saying it was a judgment call, but it was a horrible judgment call in my opinion. You can say a guy didn't swing when he takes a full hack if the home umpire doesn't call a swing and he checks with the third-base umpire and he says he didn't swing, but if the guy swings and it's obvious to everyone in the stadium that he swings, but the two umpires have the judgment call no swing, then there's nothing you can do about it. That's the same kind of situation we were dealing with the infield fly rule."
So you guys aren't saying the bad call by the umpires lost you the game because you put yourselves in a bad position to begin with?
"Listen, we shot ourselves in the foot already. There's no question about it. We put ourselves behind the eight ball and it was not in our character to do that. All season that wasn't the kind of team that we were, but the one thing is we needed some kind of opportunity to get back into the game. We needed some help because we had been so bad for the first six innings defensively, that we needed some help and that was our chance. I felt like that was our opportunity. I felt the momentum was slowly starting to turn our way a little bit for those last two or three innings and then all of a sudden that bad call pretty much pulled the carpet out from under our feet."
Have you ever seen a stadium get punched in the stomach the way the Braves fans did after that infield fly call?
"Well I just think that it was such an obvious call. It was such an obvious no call is what it should have been. It should have been a baseball play and let the play play itself out. It's just one of those things where the guys are supposed to be the most professional guys in that area, which is the judgment of baseball rules and the calls. It seems like they were the only ones in the stadium that didn't know how to score that. It was one of those things where it was like 'C'mon guys, what are you watching?' You cannot let this happen in this game. It's such a big game and obviously it's a one-game playoff and something that will potentially impact the outcome of a game.
I thought for sure they were going to change it, but it's something that they didn't and they still say they stand by their call, which in my opinion is dead wrong. I don't blame the fans for doing what they did and reacting the way they did. Show them some passion and let them know that they didn't get the call right. That's not something that I condone or the Atlanta Braves condone, but I was fired up to see everybody in the stadium just ticked off at what just happened. We were the same way and it's something that, after a little while, I think it's a little bit embarrassing, but at the same time one side of me was just happy to see our fans just backing us up and letting them know how they felt. And one side of me was saying, 'Let's get back to baseball. Let's stop throwing the beers for another day.'"