Blaine Gabbert on his Critics: "The biggest thing is I have got to respond on the football field."
If there was anyone breathing a sigh of relief when Tim Tebow was dealt to the New York Jets it had to be Blaine Gabbert. The former Missouri quarterback was heavily criticized in his rookie season with the Jacksonville Jaguars, while speculation began to rise around Tebow making a return to play professional football in his hometown. It all ended up working out as the New York Jets seemingly offered a better trade package for the Denver Broncos, and Tebow was apparently more familiar with the Jets coaching staff.The No.10 overall pick in the NFL Draft will be a learning a new offensive system under first year head coach, Mike Mularkey. This time around Gabbert will have a full off-season/training camp under his belt. The Jaguars second year quarterback is ready to prove his critics wrong.Blaine Gabbert joined WFXJ in Jacksonville with Pete Prisco to discuss learning a new offense under Mike Mularkey, national critics who believe he lacks pocket presence, proving critics wrong out on the field, the biggest aspect of his game that he needs to work on, and playing with an undisclosed toe injury last season.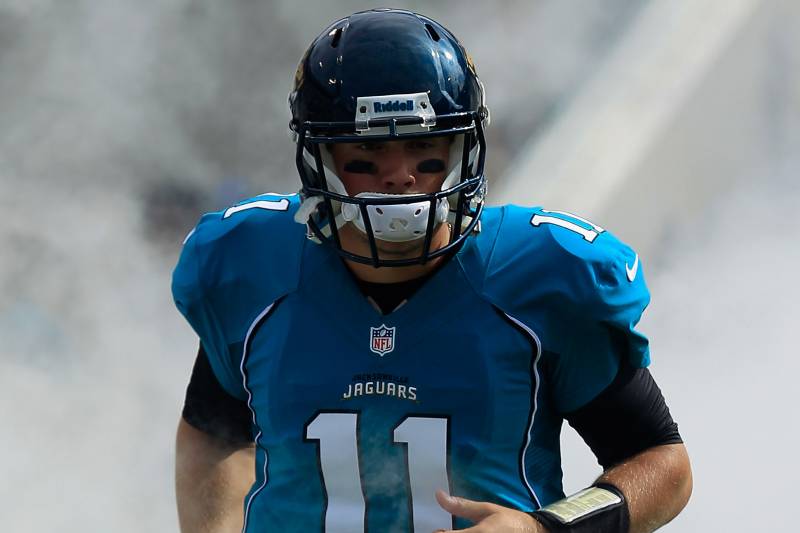 Is it still a learning process to pick up this new offense?
"Yeah it is. We do have a new offensive system. It's definitely going to help having this summer to kind of go over the whole deal, have some mini camps and OTA's and really get this thing down in training camp."
How do you respond to all the critics nationally about your pocket presence?
"The biggest thing is I have got to respond on the football field. Everybody is going to have their criticisms of certain quarterbacks throughout the league and that's just mine. Some of it's necessary and some of it's unnecessary, but the biggest thing that I worry about is how I come across to my coaches and my teammates. That's all that matters to me. Their opinions are the ones that I value and if they are saying I am doing a good job I'll take their word for it."
You seem to be a guy who won't say anything to the critics and let it play out on the field?
"You gotta pick your battles in this profession, but being a competitor is just part of our job description. We're all competitive people or we wouldn't be where we are today. We've had to work extremely hard to get here and get a lot of the circumstances we have been faced with and just keep competing every day. That's how you stay in this business."
What do you think is the biggest thing you have to work on? One thing or a variety of things?
"It's just a variety of things. You really want to make strides going into your tune. This off-season is going to help working with a new coaching staff and getting this new offensive system down and just becoming a better football player. I expect to play better on the field this year having the experience I gained last year."
You tweaked your toe during the season and never said anything about it. Why didn't you say anything about it? That's not the way you are?
"It really doesn't matter. People play in this league with injuries on a daily basis. It's just part of the deal. You gotta learn to deal with pain whether it is a lot of pain or a little pain. You have to learn to play with it, push through it and still perform."