Bert Sugar Still Believes that the Mayweather-Pacquiao Fight will Happen
The fight that every fight fan in the world wants to see between Manny Pacquiao and Floyd Mayweather Jr. is now on hold or may never happen, who really knows at this point. A couple of weeks ago it looked like Manny Pacquiao and Floyd Mayweather Jr. were finally going to step inside the ropes and prove once and for all who the best pound-for-pound fighter in the world is. The debate can go on all day and nobody can have an actual answer. Right now, it's all based on opinion. The only way to prove it is to have Mayweather and Pacquiao fight. Right when it looked like it was finally going to happen, Mayweather started to run his mouth and make demands that Pacquiao did not want to meet. Pacquiao felt bullied. To that point in the negotiations, Manny Pacquiao had done everything that Money May asked of him. Well, the one demand that he refused to meet was the one that has apparently called a halt to the fight. Mayweather's father has accused Manny of using steroids and because of that, Floyd requested Olympic Style testing for the fight on March 13th, which would require blood testing. Pacquiao agreed to urine tests leading into the fight and any other kinds of testing but did not want to give blood that closes to the fight. Because of that, the fight has been postponed and both fighters are scheduled to fight on March 13th, just not against each other. This is getting extremely frustrating. It's the fight that everyone wants to see. It could be the biggest fight of the new decade and it makes me wonder whether or not Money is simply just ducking the one fighter that could hand him the first loss of his professional career.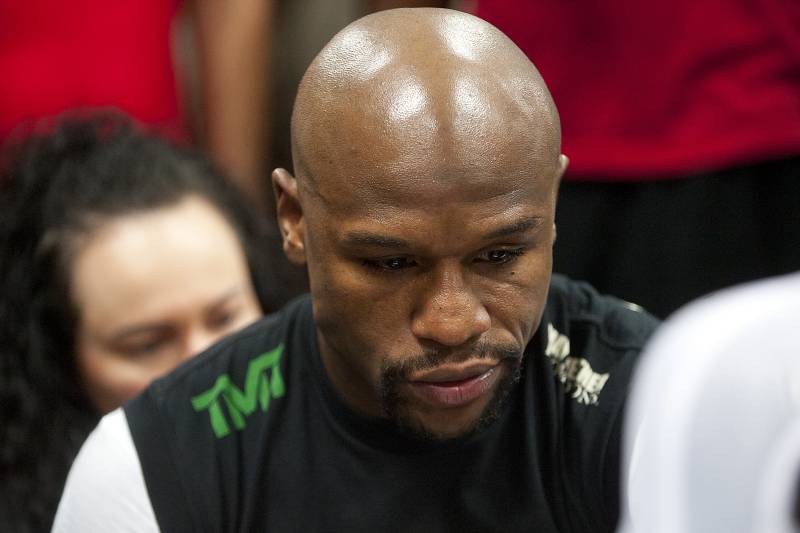 Bert Sugar joined ESPN 980 in Washington D.C. with Coach Thompson and Doc Walker to talk about the Mayweather-Pacquiao fight being called off, what happened from the time it was agreed to until now, and whether or not he still thinks the fight will happen.
On whether or not the fight is off forever:
"I don't know that it's off forever but for the moment it is. Mayweather might hear from somebody. Leonard Ellerbe, his counsel, has been trying to talk him into coming off his high horse. But what has happened in the meantime is, Manny Pacquiao, because I don't think that Floyd considered this, as an Asian this is a loss of face being blamed for taking steroids and he has sued him for millions of dollars. That suit is now in court against Mayweather and his promoters Golden Boy. It's something that he didn't want to do, but at the same token, he has been called on to do it by his Philippine countrymen because you can't lose face over there. The people who will buy it and buy into this thesis by Mayweather…it's one of those do you still hit your wife? They believe it, but I'm of the opinion that you have to prove these things and he'll get a chance in a court of law under a slander suit. But what is going to happen more importantly Coach if this doesn't come to pass is I think it's going to work against Mayweather because Manny Pacquiao's legacy has been made. Seven different weight classes, seven different titles. Mayweather's is that he's undefeated but didn't fight a man that could beat him. Could, not would. Could because he's chosen every one of his other opponents and this one was forced on him. I think it's gonna hurt Mayweather more down the line than Pacquiao if it doesn't come to fruition."
On whether or not he believes Mayweather wants this fight:
"I think yes and no depending upon what moment it is. If he listens to his dad he doesn't want it. If he listens to his advisor Leonard Ellerbe, he does want it. There's too much money here. 14 million dollars they are saying. That's the downstroke, what's the override on pay-per-view buys? I think one time he's gonna has to come to pass with I want the money if not the fight. I think it will happen. Floyd has always done things like this trying to get under somebody's skin. Unlike Muhammad Ali who called Ernie Shavers an acorn and Floyd Patterson a rabbit and George Foreman a mummy, that's just talking. But to say somebody is on steroids is different. Ernie Shavers didn't sue to prove he wasn't an acorn. By the same token, nobody has looked at Floyd Mayweather's career, he started at 106 pounds as an amateur, same doggone thing and nobody is claiming he's on steroids."
On Manny Pacquiao suing Mayweather:
"Now it changes the whole equation. It's not just you threw a rumor up and people will believe it. I still think down deep this will happen. It may not happen March 13th though because by the time everything is cleared, they might either just drop back to March 20th, the next week, or Cinco De Mayo which really was the first choice of everybody but Manny wanted to run for Congress in the Philippines. Now to tell you how much Manny gets concerned about fights, Pacquiao, two and a half hours after his fight against Cotto is hosting a karaoke concert. He was hosting a karaoke contest the same night."