Bernard Pollard on Rash of Fines Being Issued by NFL for Physical Play: "It's most definitely killing the game."
The Baltimore Ravens are gearing up for their Week 9 showdown with the rival Pittsburgh Steelers. Coming off a loss in Week 7 to Jacksonville and then a shaky Week 8 win against the Arizona Cardinals, one might think that Baltimore is in for a world of hurt on the road in Pittsburgh. But considering the Steelers' injury situation and how closely the two rivals typically play each other (Baltimore's Week 1 blowout win was definitely an outlier compared to recent history's tightly contested games), I don't think too many fans are expecting anything but yet another bloodbath, down-to-the-wire affair. All that's at stake for the winner is top spot in the AFC through nine weeks of the 2011 NFL season.Despite the enormous game looming for Baltimore, safety Bernard Pollard was mostly asked about his take on the rash of fines being issued by the NFL against its players for what the league deems to be unsafe and/or illegal hits. Pollard, who was recently fined $10,000 for a questionable hit on a Jaguars RB, thinks the league's approach is not only inconsistent, but actually 'killing football'. Take a listen.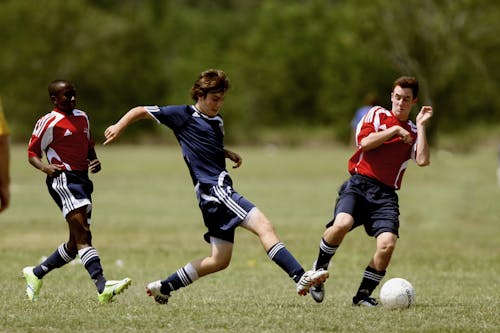 Pollard joined KILT in Houston to talk about the Ravens' struggles against two mediocre teams — the Jaguars and Cardinals — this past two weeks, whether he thinks he's perceived as a dirty player, why he doesn't think anybody who's never played the game should comment on matters like that, why he doesn't want his son to play the violent game of football, how most players risk far more of themselves physically than they're likely to see back in the form of financial compensation as NFL players, being fined $10k for his hit against a Jaguars RB in Week 7, how the whole fine and appeals process works, and why he thinks all the fines for physical play is the number one thing that's threatening the game that players and fans love so much.
On being down by more than 20 points against the Cardinals before finally getting it together and putting Arizona away late in Week 8:
"It was a battle, man. You've got to take them whatever way you can — whether it's ugly or pretty, whatever way you get it, we'll take it."
On struggling against the Jaguars and now the Cardinals in consecutive weeks:
"It was one of them things where we were playing, a couple of turnovers on our side of the field and they were right there. A punt return for a touchdown; and it was just one of those things where anyway you can get a win, we'll take it. You don't want the scores to be that high, obviously nobody wants that. But like I said, we fought back. Our offense came back in the second half and played their butts off, and we just continued to play ball throughout the game."
What his response would be were a New England sportswriter to have written a column about Pollard being a dirty player after Tom Brady was lost for the season in 2008 as a result of the hit he took from Pollard:
"Well, first of all I would tell that sportswriter that if you've never strapped on pads, if you've never played this game, then be quiet. A lot of people were taking it back to 'is that the example you want to set for the kids?' Well, of course that's not the example we want to set for kids, but having said that, this is a violent game, this is a game that I don't want my son playing because this a game that takes its toll. Now, nobody gets on that sportswriter when he dogs whatever player, his own players when they're not playing good, so is that the example he wants to set for his own kids by degrading a person? Because at the end of the day, that's what the person is about — if you can degrade a guy, if you can get the best out of an article to get people to like it on their status like Facebook, then all of a sudden you hear 'well, I got 30,000 hits from fans so somebody must like it.' Well, no. Is that the example you want to set as a guy that degrades other people, that puts other people down, that slanders another man's name — do you want to set that kind of example? So that guy needs to get a life, he needs to write other stories, so…"
Why again does he not want his son to play football?
"This is a violent sport man. Every day that I wake up, we as players are truly blessed to play this game, and for the fans and everybody — players make a lot of money and this and that, but I don't think everybody understands what we put into this game. A lot of players make a lot of money, but a lot of these players, they can't even scratch the surface of what some of these other players make. So not everybody in the NFL is millionaires, but everybody is out there putting it all on the line day in and day out. I can't even cough, I can't laugh, I can't do anything because I've got bruised ribs. And those aren't excuses. I'm going to continue to go out there and play my butt off because I signed up to do that. But I just don't want my sons to have to do that. So I'm trying to prep them for basketball or whatever else he wants to do, but I'm going to put my foot down and tell him no to football."
On if he was in fact fined for his hit on Deji Karim during Baltimore's loss to Jacksonville two Mondays ago:
"Oh yes, definitely. I was pissed off. But like I told them, I would go out and do it again."
And how much was the fine for if he doesn't mind sharing:
"Oh I don't mind telling you. It was only $10,000."
How the payment of fines works — is it take out of his paycheck?
"Oh man, that's the bad part of the league, when they fine you — right or wrong — they take the money out immediately. As soon as you appeal the fine, it takes you almost a whole year to get your money back. But they want to take yours immediately but it takes them a year to give it back. I don't know or understand why that is, because they have a lot of money…a lot a lot of money. But it's one of those things where we've appealed it already, but they pull it right out of your check immediately."
On what reason the league gave him for issuing the fine:
"You know what, I need to find my book back. They actually told me I struck the crown of my head to his face. I don't know if they're watching the same film as I was, but that wasn't the case. It's just one of those things. I know you guys remember last year when we played Tennessee, I hit Justin Gage in the chest and it was a way harder hit, I got $40 grand for that, and all of a sudden I got a $10,000 dollar hit for that. So I think the $10,000 dollars was just because hey they just want to kind of slap me on the wrist and go Bernard is a guy that we've been looking at or whatever. So with $10,000, we're going to try to get $5,000 back, but they're going to keep some of that money."
If he thinks all these fines are killing the game:
"Oh yeah, it's most definitely killing the game. Because like I told reporters here in Baltimore, they're taking away from it. This has been a game where, I say 'do not tell somebody go run smack dab at 85 miles into that wall but be careful, you don't do that. Don't wear a seat belt but be careful. This is a game where it's a car crash; this is a game where guys are putting it on the line; this is a game where coaches are trying to out-strategize other coaches across the field, and it takes 11 guys to get it done. So you've got 22 guys running around, they're fit guys, and they're running around hitting each other with helmets on. There's no way you're going to tell me be careful by doing that. I understand you want to tell the guys don't hit helmet-to-helmet with blows or whatever else. But in some of these cases, you're going to create some issues now, because like I told them, you're going to get a lot of players that are going to make them eat their own words when they're saying, 'don't hit with the helmet, don't hit in the chest.' Okay, I've got something for you — when a receiver is running full speed, he's catching the ball, and I'm about to run into his knees when he don't see me. So now, that's what you're going to get, and that's going to lead to more injuries so you might as well strap the flags on to the side, take the helmets off and let's just play flag football."
On the league trying to have it both way in terms of promoting the violence but then acting like they're trying to eradicate it from the game:
"I'm in 100 percent agreement with you, and I think they need to make some type of replay system. If these want to stick with their calls, if they're going to go with them, they need to be fined as well. I don't know how much they're paid, but it needs to be applied to them. There needs to be a replay system because this is killing a lot of teams. This can be a drive-stopper, this can be a crucial situation in the game, and these refs are going to make a call just because they said 'well, I was told to make the call.' Hold on, if you're told to make the call, stick behind it, I'm going to take the money right off the track because we can be right, wrong or indifferent – they're taking our money. So at the end of the day, they need to take those stripes' money too."