Animal Kingdom Owner Barry Irwin: "This will be the freshest horse in the history of racing that won the Derby and went into the Preakness."
by Eric Schmoldt
Barry Irwin won't deny that he has been very vocal over his career in horse racing. To many, it was hardly a surprise that he created a stir in the winner's circle following the Kentucky Derby victory by Animal Kingdom — a horse owned by a syndicate that is managed by Irwin. In a post-race interview, Irwin said he now sends his horses to train under Graham Motion because he was sick of other trainers lying to him. Given that Irwin has been associated with some of the highest-profile trainers in the sport, the rumors started running rampant.He did his best to clear some of them up in the following interview, but certainly will create some more water-cooler fodder with other comments. Irwin says that trainers are the only thing holding up legislation regarding medicating horses on raceday, and then later goes on to say that Animal Kingdom is going to be the freshest Derby winner ever entered in the Preakness. We'll see in a couple weeks when the horse goes for the second leg of the Triple Crown.Barry Irwin joined WFAN in New York with Mike Francesa to discuss what he originally saw in Animal Kingdom, his comments about trainers having lied to him, why he has looked to Europe for much of his syndicate operation, what exactly goes into building and running a syndicate, why he wasn't necessarily surprised Animal Kingdom won the Derby, and his plans for the horse this next two weeks leading up to the Preakness.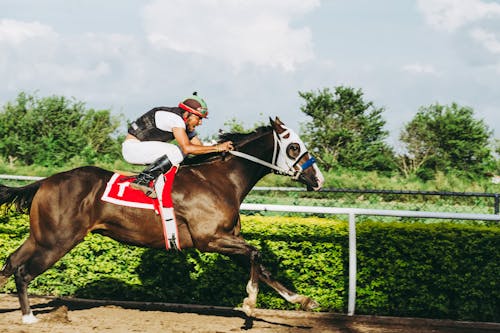 What did the syndicate initially see in Animal Kingdom:
"First of all, I bought his sire for a guy, but his dam for one of our partnerships. We bred him and then, as we do sometimes, we sell them as yearlings. When he was sold, I bought him and formed a new partnership to race him. What I liked about him is he was a tall, masculine looking horse that looked like, as he got older, he'd develop into something that might be OK."
Would he care to expound on his winner's circle comment that he's tired of having trainers lie to him?:
"I was walking, right after I crossed the path to go to the winner's circle, and [the interviewer] got ahold of me and I was anxious to get over to where my horse and family were. I kept having to wait and wait and then he started and he said to me, 'You went to [trainer] Graham Motion last year and moved all your horses, what precipitated that?' And I didn't really think about it that much, it's just something that's in my mind, and I just said, 'I was tired of trainers lying to me and I wanted a guy that would tell me the truth and Graham would tell me the truth.' Then he said, 'How many of them lied to ya?' My response was, 'Plenty.'"
Does he care to single out any trainers that have lied to him?:
"I don't think so." [laughter]. … People are speculating, 'Who are the trainers that lied?' I'm not going to say who they are, but I will tell you that the two the focus was on, one was Todd Pletcher and the other was Wayne Catalano. I have more respect for Todd Pletcher than anyone in the horse business. He's the smartest guy in the horse business; he's the best trainer in the horse business. I've never had a problem with him. … Wayne Catalano, I love the guy. … As far as I know, he never lied to me."
Does he wish he could take the comment back?:
"If I could get it back, I'd probably take it back, yeah."
Why has he looked to Europe with his racing operation?:
"Right now, most of the organizations that are involved in horse racing, want to end any kind of drugs or medications on raceday. The main group that doesn't want to do it are the horsemen, the trainers. They are hooked on this stuff with their horses and they think they need it and they don't want to let go. Until they do, the sport is not going to be at a high enough level where people are going to have enough confidence in it that they're going to want to gamble on it."
Was there any strife amongst the syndicate in terms of who would go to the Derby and how everyone would get treated?:
"There's a problem because we have a lot of guys. Let's say a guy owns 10 percent of the horse and he's always wanted to get there and he doesn't want to just show up with the wife and kids. … So we had probably I would say 100 people there and we probably got seats for about 50 or 60 of them. Some of them were substandard and I just didn't want my people to sit there. I just took my tickets back to Churchill and just said, 'Hey, give me a refund.'"
How many different people have a stake in Animal Kingdom?:
"Twenty. … We have usually about 12 to 14. This one's a little bigger. … We had four guys that didn't make it [to the Derby]."
Does he handle all the management decisions?:
"Everybody has a vote and the vote's counted on a percentage basis. We vote on anything that has a financial impact. If we're going to spend some money or sell a horse or we're going to do anything that costs money, we take a vote. In terms of who's going to ride the horse or what race we're going to go in and stuff like that, I take care of that."
Was he surprised Animal Kingdom won?
"I think anybody that owns a horse is optimistic. … Naturally, you want to be upbeat about it. I've been in this game too long and seen too many disappointments … so while I was hopeful, you could never say that I was confident. The reasons that people thought he didn't have a chance, that didn't bother me. The one thing that really bothered me the most was that this horse only had four previous races."
What are the plans for Animal Kingdom leading up to the Preakness?:
"He vans from Churchill Downs up to Fairhill. He will train there up til a week from Friday. … Then we will van him down to Pimlico, which is about an hour and a half away and then he'll run the next day. I will tell you one thing: This horse will be the freshest horse in the history of racing that won the Derby and went into the Preakness. He had six weeks between races. I don't think this race knocked him out at all."