Andy Dalton Won't Forget the NFL Teams That Passed On Him in the Draft
It looked like this offseason was going to be a nightmare for Cincinnati. They lost some of their best players and their Pro Bowl quarterback made it clear that he didn't ever want to play another game with the Bengals. It turns out this offseason is going to have a major impact on the franchise moving forward. In a positive way. The Bengals used the NFL Draft to land the best rookie duo to come into the NFL in a long time when they snagged A.J. Green and Andy Dalton with their first two picks.Even though four quarterbacks were taken ahead of him in the draft, Dalton hasn't had to take a backseat to any rookie this season. Along with Green, the second rounder from TCU has given fans in Cincinnati a reason to believe again. Cincy is 5-2 this season, just came off an undefeated month of October, and are very much in the conversation for a playoff spot. No matter what happens the rest of the year, the future is bright in Cincinnati with "The Red Rifle" firing dimes to A.J. Green.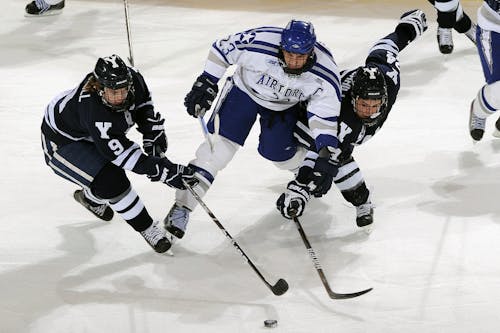 Andy Dalton joined WLW in Cincinnati with Lance McAlister and Dave Lapham to talk about how he defines a winning quarterback, what the mindset of the team is, what it is like to have so much talent on offense, what his relationship is like with Offensive Coordinator Jay Gruden, how tough it has been for him taking over for Carson Palmer, and if he has extra motivation playing teams that passed on him in the draft.
What he defines as a winner:
"Being a leader and getting guys to respond to what you're doing. Doing whatever it takes to win the game. I feel like that's what I've been able to do through my career and it's what we're doing here."
On the mindset of the team:
"Every game is going to be different. We're just doing whatever it takes to win. Regardless of the situation we're in, whatever it is, we're just trying to fight and make sure in the fourth quarter we have a chance to win the game."
What it is like to have so much talent on offense:
"We have a lot of talent. It makes my job a lot of fun. You're not focused on one guy. There's a lot of guys that are going to make plays. It's nice going up there knowing we have a lot of playmakers."
On his relationship with Offensive Coordinator Jay Gruden:
"We have. That's been nice to come in and have that relationship from the start. He's always asking me what I like, what I don't like, if there's something we want to take out, something we want to add and just things like that. I know when I'm out there he's gonna call something I like."
On the approach that he took with the team coming in as a rookie:
"I was just trying to be myself. They've been with Carson for a long time. I wasn't trying to be Carson, I was coming in to just be me. First show them how I work and the rest, they made it a whole lot easier for me coming in because they really accepted me from the start."
On the story about him saving a dog in college:
"I was coming back from a summer workout in college and I think it was before my junior year and there was a lady on the side of the road in my neighborhood where I lived. It looked like something was wrong. She was waving her hands, so I pulled over to see what was wrong. She said 'my dog is passed out can you take me to my car right down the street?' So I took her right down the street, dropped her off, saw I had some water in my car, followed her back to where the dog was, gave the dog a little water, and helped the dog into the car. That was it."
Whether or not he knew that the Bengals would be the team to draft him:
"I met with the Bengals five different times before the draft. When I was going into the second round I felt like okay I'm probably gonna end up in Cincinnati."
If there was extra motivation last week playing against Seattle:
"I don't think about that. Regardless of who we're playing I just want to do my best. I do know the teams that passed on me. I guess there is a little extra motivation there. (Host: A little edge? A little extra motivation there?) Yeah I'd say so."