After the Draft Mike Trout Felt He Needed to Prove People Wrong
Mike Trout got a late start to his season. After beginning the campaign in Triple-A, Trout got the call at the end of April and has wasted no time getting acclimated and catching up on the missed time. The 20-year-old outfielder for the Angeles has not only been named an All-Star in his first full season, but he has energized an offense that struggled at the start of the season. If he keeps up his incredible play then Trout may be able to add MVP to his list of accomplishments in what has become a magical season. It's early yet of course and there is a lot of baseballs left to play but despite missing almost the entire first month of the year, Trout leads the American League in batting average at .353 and he tops the league in runs scored (he's tied with three others) and stolen bases as well. Not bad for a 20-year-old rookie who couldn't make the major league roster out of spring.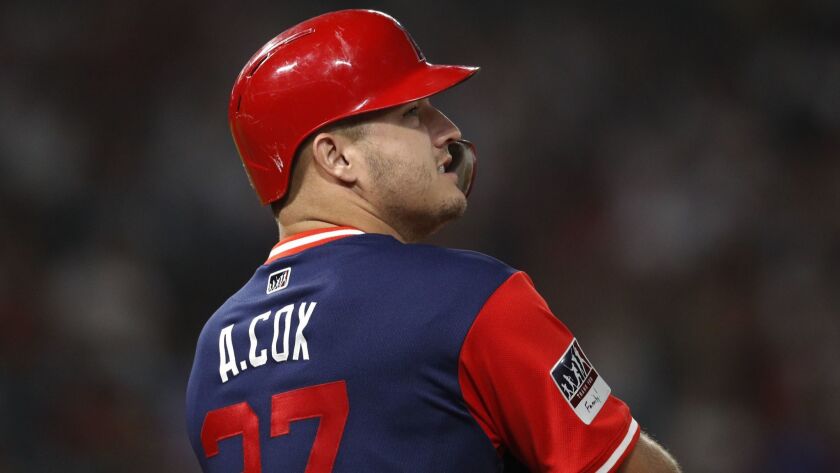 Mike Trout joined The Dan Patrick Show to talk about how much fun he is having right now, who the toughest pitcher has been for him so far, what stat of his he is most surprised by, why he thinks 24 players were drafted before him if he thinks the Angels are better than the Rangers and what he makes of getting compared to Bryce Harper of the Nationals all the time.
How much fun he is having right now:
"It's been pretty crazy. I'm having so much fun going out there, getting hits, watching Albert (Pujols) hit, Torii (Hunter), (Mark) Trumbo hit long ones so it's been fun for me."
On the toughest pitcher he has faced so far this season:
"When I first faced (Yu) Darvish my first time, he has some pretty good stuff. He had like 12 pitches he threw at me. None of them were straight."
What stat of his he is most surprised by:
"Probably batting average. I feel great and every game I feel more comfortable at the plate. It feels great right now."
On why he thinks 24 players were drafted in front of him:
"I don't know. I guess I was just an east coast kid and in Florida and California they play year-round and in Jersey, I played basketball and football and I didn't play year-round so they didn't get to see me as much. I just looked at it as 24 players were better than me and I had to prove some people wrong. Just go out there and prove I'm the best. It's been pretty crazy so far."
Whether he thinks the Angels are better than the Rangers:
"This series coming up is going to be big for us. I think we face them three or four games at home and then we go on the road to play them and in the last couple of weeks, it's going to be fun to watch. We just have to take it one game at a time and see how it goes."
What he thinks about getting compared to Bryce Harper:
"Every day I'm compared to him. (Host: Do you have a problem with it?) No, no, no it's all good stuff. There are always some negatives but it's two young kids chasing their dream. I shoot him a text every once in a while if he has a good game. I think he had an RBI triple I saw on ESPN and we're both out there having fun just like everybody else."