After Shedding Dreaded Interim Tag, Romeo Crennel Ready for Next (and Perhaps Last) High-Profile Role as Kansas City Chiefs Head Coach
Romeo Crennel is getting another crack at being a head coach in the NFL, this time for the Kansas City Chiefs. Crennel shed the interim tag this week after Scott Pioli decided that Crennel was the best man for the job apparently, and then ended the speculation about Crennel's future by announcing that he'd assume the full-time head coaching duties of the Chiefs effective immediately. It appears that the Chief's locker room welcomed the vibe that Crennel brought to the team over the final three weeks, arguably no clearer indictment about the tension that former head coach Todd Haley created while in charge.
The landmark victory for the Chiefs this season was upsetting the Packers in Week 15, giving Green Bay their only loss of the regular season. The biggest decision coming Crennel's way is what to do with the quarterback position? Find out his initial thoughts on this matter in the following interview.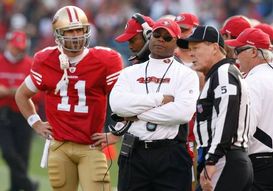 Romeo Crennel joined WHB in Kansas City with Between the Lines to discuss the nerve-racking process of waiting to find out if he would become the head coach of the Kansas City Chiefs, what he can say about the likelihood of Matt Cassel being the starting quarterback of the Kansas City Chiefs next season, upgrading the quarterback position by bringing Kyle Orton back, talking with ownership about pursuing Peyton Manning and if he believed he would get another chance to head coach again following his unsuccessful stint in Cleveland."Well you know what the biggest deal was trying to win games. That's the most nerve-racking, but the players in that locker room? They responded real well. We won two of out of three [games] and had an opportunity to win a third one, but we didn't play well enough, so that was a big part of it and then after the season was over I knew that the Hunt's and general manger, Scott Pioli, had to go through a process of talking to people, which included myself and they had to make a decision. I am extremely excited about the decision they made naming me the head coach and now the big challenge really gets started of adding depth to the team, figuring out which direction we are going and then trying to get to the point where we win all three of them rather than two of three."
If the season were getting under way right now and you had the roster you had right now is Matt Cassel or Kyle Orton your starting quarterback?
"Well see that's the thing right now is that I don't have Kyle Orton on this team because he is an unrestricted free agent. You can deal in hypothetical as much as we want, but the reality is that he is an unrestricted free agent and what I have on this team is Matt Cassel and Ricky Stanzi. So those would be the two I have to choose from. Matt Cassel has taken us to the playoffs and proven he can be a very good quarterback in this league and so with what my choices are than Matt Cassel is going to be the guy."
Would you like to upgrade the quarterback position? Keep Kyle Orton? What are your thoughts going forward?
"Kyle did a very good job for us in those three games and no one who watched those three [games] can dispute that. Now he will have a choice in his free agency of choosing where he wants to go and so what we are going to do is evaluate personnel here over the next couple of weeks and prioritize our list of free agents who we would like to pursue and then go from there. Right now I am not able to tell you if Kyle…where Kyle is on that list. I can't tell you whether he is at the top of the list. I am not saying he is at the bottom of the list, but he will be on that list somewhere and then we'll make a decision after we compile the list."
Have you talked about upgrading the quarterback position with ownership? How about going after one of the quarterbacks from the Colts?
"We talked about personnel. The thing we said about personnel is that you can never have too much competition on your team. You build competition by doing a good job in the draft, doing a good job with free agency, so that you can put guys on your team that give you enough depth and enough competition so the guys can get better every day. Whether that is at the quarterback position – whether that is at the nose tackle position – that's what we try to do."
Did you think you were going to get this chance? Did you think you would be a head coach again?
"Well you never know because this NFL is a strange league. Things happen just like releasing Hue Jackson. That was a surprise in one respect. Other people didn't feel like it was a surprise, but you go through and you just never know what is going to happen, so you do your best. You put that best foot forward and then like I tell the players: 'Let the chips fall where they may.' If they do their best they can never hold their head down. You can always walk with the head up knowing they have done the best."